Institute of Embedded Systems (InES)
Networked devices are increasingly pervading our everyday lives. The Internet of Things is already a reality in many areas of life. These embedded systems, including the communication solutions required for networking, form the core competencies of the Institute of Embedded Systems (InES). With our expertise, we enable miniaturized devices and intelligent, networked systems.
The InES was founded in 2003 and today has over 60 employees working in research and teaching. Thanks to interdisciplinary expertise, we achieve a high standard in the education of students. At the same time, we guarantee professional and scheduled project implementation with our partners.
We identify and implement innovative technology solutions for our business partners and help you achieve your goals faster and with less risk. In doing so, we focus on the following research areas:
Reference implementations
As an independent research institution, InES supports new technologies and helps with their introduction. Our high-quality reference implementations provide rapid and low-risk access to innovative and cost-effective solutions. In this way, we achieve efficient technology transfer from research to products.
Bachelor's degree programmes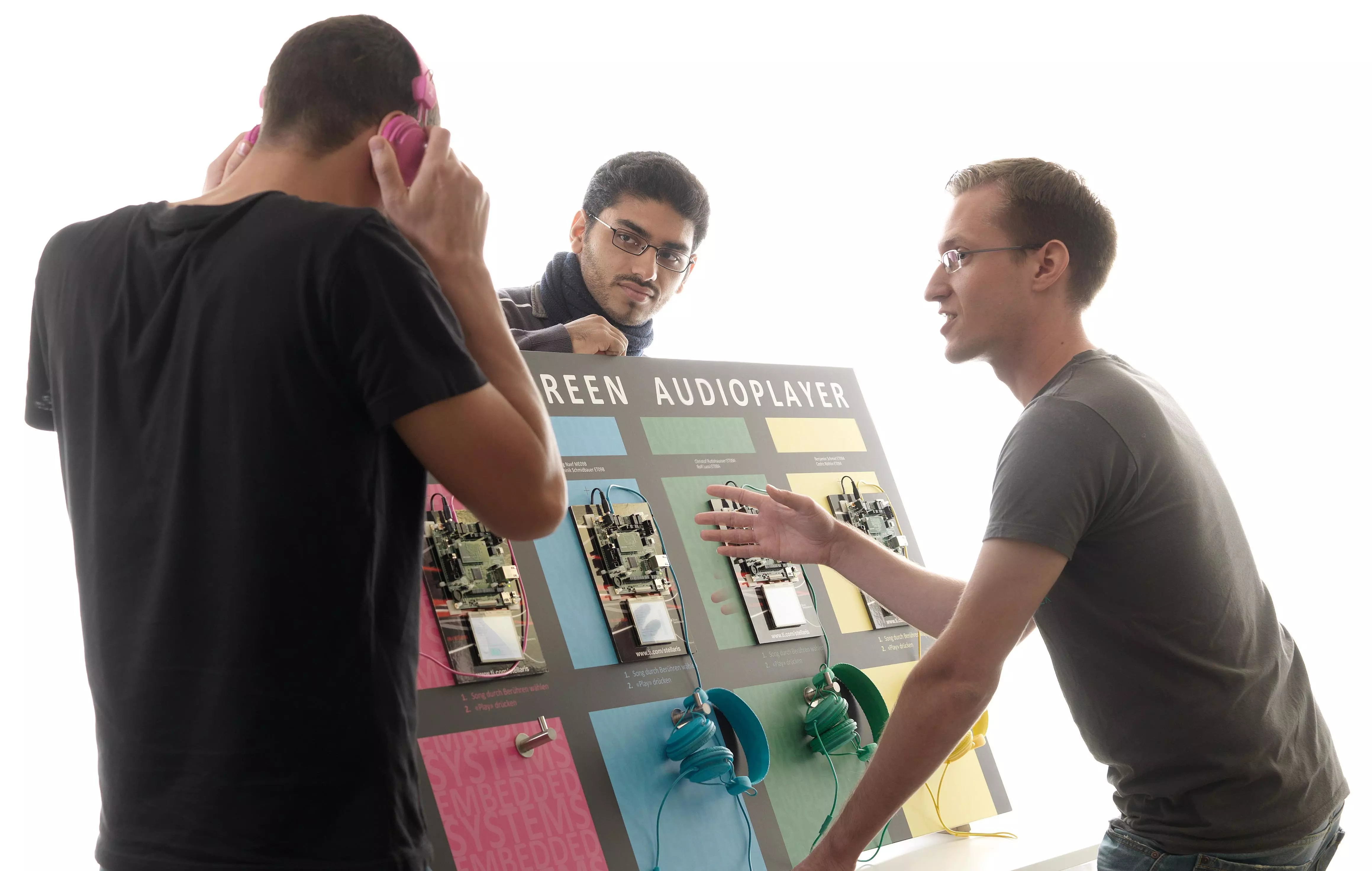 We provide our students with solid theoretical foundations and application expertise. Based on our research, we continuously update both to the state of the art. Thanks to our close cooperation with industrial partners, we know the long-term requirements for engineers and gear our modules to these. As a result, we impart distinctive practical know-how and sound engineering skills.
During your bachelor studies, you will deepen your theoretical knowledge in specialized laboratories; in project and bachelor theses, you will work on current problems of industrial partners. In this, you will be supported by our lecturers, who have broad professional experience in the fields of communications and information technology as well as above-average scientific qualifications.
We offer our modules in the following bachelor programs of the School of Engineering: Computer Science, Electrical Engineering and Systems Engineering.
Master's degree programme
Did you achieve good grades in your Bachelor's degree (Grade A or B) and would like to develop your knowledge further? Then we recommend the Master of Science in Engineering (MSE) at InES, which 21 engineers are currently pursuing. This degree program allows you to specialize in communications and information technology. As an MSE graduate, you will be well prepared for a responsible position in the industry.
The MSE degree program is oriented toward professional practice. More than half of the study program is project-oriented in two in-depth theses and one master's thesis.
You can complete the MSE during full-time studies of 1.5 years or part-time studies (e.g. as a research assistant at the InES with 50 percent work hours) in a maximum of 3 years.
The part-time course along with an employment at the InES is especially appealing for students who wish to acquire additional professional experience. Thus you can gain professional working experience in research projects during your studies and collaborate with the industry.
We are proud that we have been able to realize exciting research and development projects with a large number of innovative companies and, in numerous cases, have been able to establish long-term collaborations with them.