Swiss students studying abroad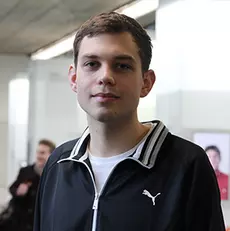 "During my foreign stay in the USA, the many practical tasks enabled me to see a number of dif-ferent problems (which I was familiar with in theoretical terms) from a new perspective and thus understand them. The exchange semester was a great experience from a personal point of view as well: I made many new contacts during my stay and I hope to keep in touch in the future."
Andreas Eberhart, exchange student at Grand Valley State University, Michigan (USA)
The ZHAW School of Engineering supports its students with the planning of a foreign stay during study programmes. A semester abroad at one of the many partner universities in Europe, Asia or the USA or a placement abroad are valuable experiences which not only improve professional prospects but also extend cultural horizons.
Exchange semester during a Bachelor's or Master's degree programme
Students who wish to complete a semester abroad during their degree programme have a number of possibilities. For example, an exchange can take place through the Swiss European Mobility Programme SEMP (Erasmus+). Contracts are also in place governing student exchanges with various partner universities outside Europe. Students who wish to complete a semester abroad at a university which does not have a contract with the ZHAW School of Engineering organise their stay themselves to a large extent. However, training at the guest university must in any event correspond to the level at the ZHAW School of Engineering. It is also possible to write a Bachelor's or Master's thesis at a foreign university.
Together with the Windesheim University of Applied Sciences, the ZHAW School of Engineering offers a double degree within the Engineering Management study programme at Bachelor level. ZHAW students spend the sixth semester in Windesheim before writing their Bachelor's thesis there.
In addition to the ZHAW Bachelor diploma, students also receive the diploma of Windesheim University, which entitles them to attend a Master's degree programme at a Dutch university.
Completion of a placement abroad is a further opportunity to acquire intercultural experience and to establish an international network of relationships. For many years the ZHAW School of Engineering has worked in this area with the IAESTE agency, which specialises in the global procurement of industrial placements for students of technical and scientific degree courses. The placements mainly take place during the summer months. Students must have completed the fourth semester before starting the industrial placement.