Graduate Profile: Commercial Pilot
Full speed ahead on the airstrip
Mathieu Wanner studied Aviation and concurrently trained for his commercial pilot license. Today, he works for Swiss International Airlines. During his studies, he learned to understand aviation infrastructure and systems.
Staying on the ground was never an option. After his academic baccalaureate, Mathieu Wanner initially aspired to be a military pilot. "I was particularly intrigued by the helicopters," he says, looking back. He had already cleared the first hurdles when a wrist injury upset his plans. "At this point I was no longer eligible to become a military pilot, for medical reasons." Fortunately, he had simultaneously enrolled for the SWISS airlines' commercial pilot training. "I've always tried to keep as many options open as possible," the graduate continues and adds "and I always give one hundred percent."
Dual education as a unique opportunity
Even before Mathieu Wanner had the go-ahead for his pilot license training with SWISS, he started his Aviation degree programme at the ZHAW School of Engineering. "It was clear to me what I wanted to study. When I learned that it is possible to combine a study programme with the pilot training in Winterthur, I was immediately sold." Mathieu Wanner's plan has clearly worked out. During his first year of study, SWISS green-lit his dual education plans. This format is unique to Switzerland and it is shorter than a conventional training programme because the curriculum already lays the academic groundwork for the licensing theory . The practical training takes place outside study hours and in the months after completing the Bachelor's programme.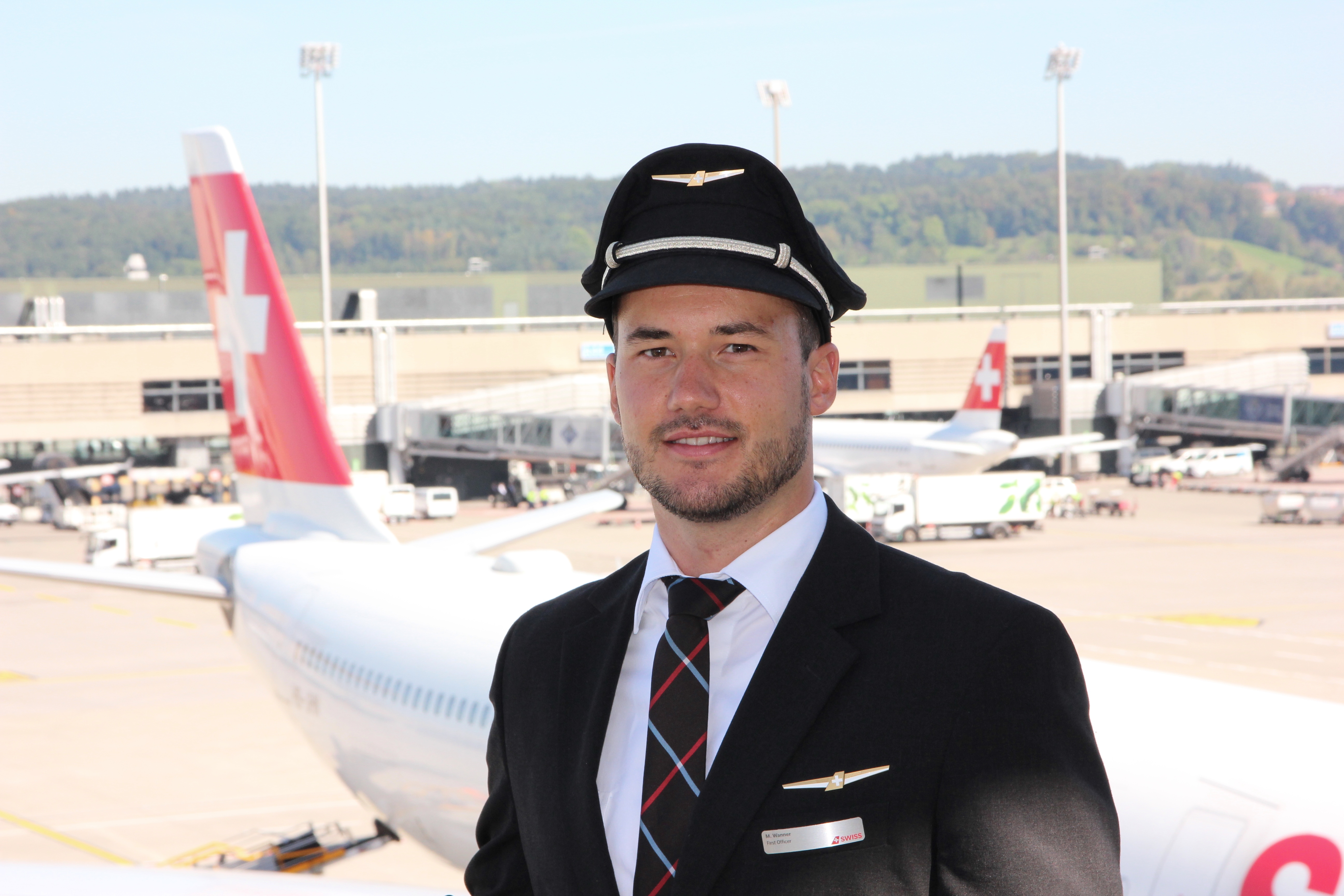 Creation of a new education format
The practical training schedule outside study hours is very tight and leaves little room for other activities. "Some financial planning is required as well - there is hardly any time for paid work during this time," says Mathieu Wanner. "On the other hand, we shouldn't forget that this dual education format is shorter than studying and training to be a pilot consecutively." Mathieu Wanner's Bachelor's thesis revolved around the dual education format as well. In it, he developed a new, modular training concept in collaboration with the Horizon Swiss Flight Academy. The concept's subsequent implementation was based on the conclusions laid out in his research. Today, students may choose between two dual education formats if they wish to combine their commercial pilot training with a degree in Aviation.
"If you study Aviation, you don't learn to fly - you learn to understand aviation in its complexity, which opens a range of additional opportunities."
Mathieu Wanner
Degree broadens the range of opportunities
In addition to specialist skills and knowledge, Mathieu Wanner has acquired soft skills during his studies. "Structured thinking and developing unconventional solutions is something you definitely learn in the course." As a pilot, he receives technical information on a daily basis, mostly instructions relating to specific processes. In order to stay up-to-date, pilots must work through all of these updates. Thanks to his specialist knowledge, Mathieu Wanner also understands the operative side of the business. "If you study Aviation, you don't learn to fly - you learn to understand aviation in its complexity, which opens a range of additional opportunities," the graduate concludes. Also, he does not rule out that he might, at some point in the future, choose to stay on the ground.