Dutch intern Yannick van Til at the ZHAW School of Engineering: "I fell in love with the country and the people"
Despite Corona, 23-year-old Yannick van Til from Delft in the Netherlands decided to do a five-month internship abroad. In this interview he talks about his work at the ZHAW Institute of Energy Systems and Fluid Engineering (IEFE) and how he explored Switzerland.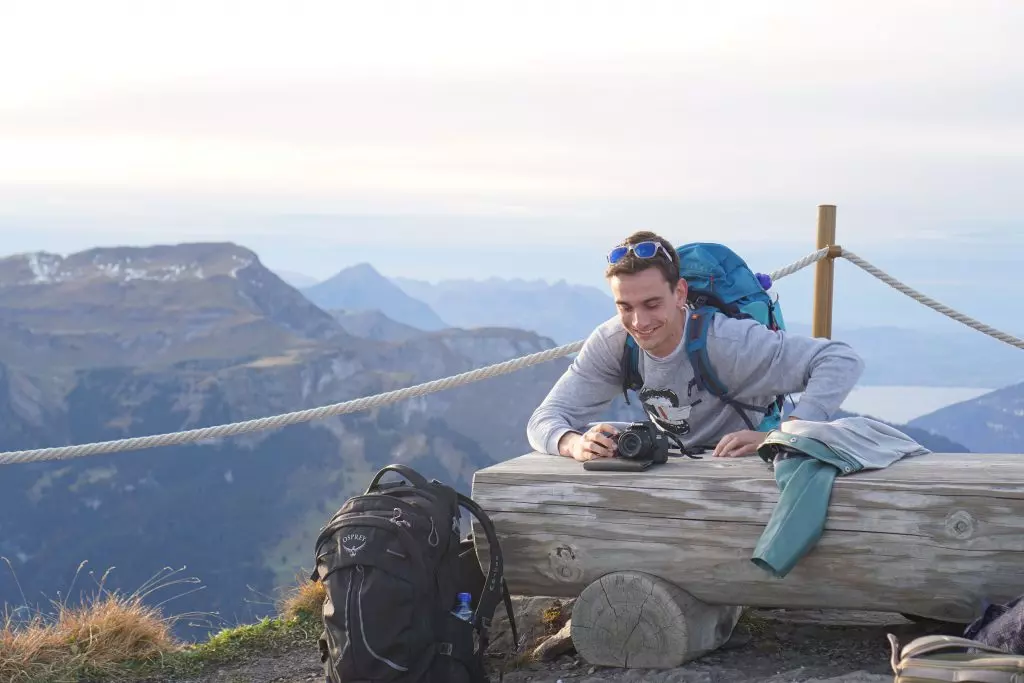 Yannick van Til, how did the search for an internship turn out under difficult conditions?
When I started looking for a challenging job in spring 2020, many companies withdrew their offers because of the corona virus. Luckily, one of the first countries where jobs were available again after the first wave was Switzerland. The application process for a job never went as fast and smooth as this one.
Why did you choose the ZHAW School of Engineering?
The position advertised by the IEFE was the most interesting for me. I'm currently doing my Master's in renewable energies. Before writing my Master's thesis, I wanted to gain practical experience in a different place than the Netherlands. The IEFE offered the perfect opportunity.
Describe your tasks at the institute.
My job was to programme a model that simulates complex heat pump systems. To validate the model, I took measurements on replica heat pumps in the IEFE's refrigeration lab.
What did you learn?
The internship showed me that wherever there is a will, there is a way. It has taught me how to work independently and it showed me how a project can still work very well remotely.
How did your colleagues welcome you at the Institute?
They were very open-minded and helpful. When it was still allowed, they loved to spend their Friday afternoons together in the local bar "Das Schmale Handtuch", which I enjoyed taking part in. Although most of my colleagues were great in English, they never missed an opportunity to teach me some words in Swiss German. Even with basic skills in German, Swiss German is trickier than you think!
You also exchanged with other IAESTE interns.
Yes, in September IAESTE organised weekly meetings around Zürich for all those who worked in the area. We met in bars or in one of the beautiful parks of the city.
About the organisator IAESTE
The International Association for the Exchange of Students for Technical Experience, IAESTE for short, arranges internships abroad for students in the fields of mathematics, information technology, natural sciences and technology (MINT) all over the world. In addition to arranging internships, IAESTE also supports students in finding accommodation, clarifies entry formalities or organises leisure activities.
The independent and non-political organisation was founded in 1948 by ten states and today links 87 member countries on six continents.
Sounds like you didn't let the corona virus stop you.
At the beginning the infection rate was low, but when it increased, I had to work from home during the second half of the internship. But I don't want to complain about that – I'd rather talk about what was still possible despite Corona and why my experiences were all the more impressive.
Tell us about these experiences.
The first IAESTE meeting in September took place on the banks of the Limmat – it was over 20 degrees, and we didn't miss a swim in the river. I met many great people with whom I spent most of my free time from then on. We promised each other to make the most of our free weekends and explore Switzerland. In fact, I never spent a weekend at home from then on.
What did you do?
A different excursion every week: we visited Bern and Lucerne, went hiking in the Swiss Alps a lot and swam in the ice-cold meltwater of the Oeschinensee. One of the highlights was climbing the Allalinhorn, for which we left early in the morning at 04:00 and fought our way through a metre of fresh snow. When winter arrived, we went skiing of course – Gstaad, Engelberg and Scuol were very impressive resorts.
Would you recommend an IAESTE internship at the IEFE to other students?
Definitely. I fell in love with the country and the people and the adventures will always be high in my memories. If that isn't recommendation enough, I don't know what is! Finally, I would like to thank Director of Institute Frank Tillenkamp and my direct supervisor Christian Stahel. They have always supported and guided me.
About the interview
Yannick van Til originally wrote a text about the experiences from his internship for the International Blog of the ZHAW School of Engineering.
The original Text can be found here.
In consultation with Yannick van Til, we have adapted the text slightly and put it on the IEFE website as an interview.
Any questions? You can contact Yannick van Til via e-mail: