Poster prize for ZHAW School of Engineering: Bachelor's thesis from the Energy and Environmental Engineering program wins at renowned solar conference in Bern
At the recent Solar Conference in Bern on 29.03.2022, students Arturo Bänziger and Andrin Schneider were rewarded for their hard work: the two were awarded the poster prize for their bachelor thesis on solar optimisers.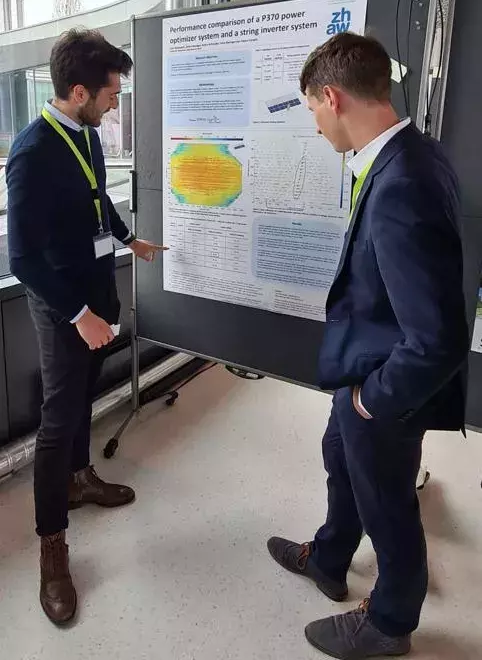 More expensive does not automatically mean more efficient. The winners of the poster prize were able to prove this with their work in the solar sector. Their research results showed that complex and expensive power electronics behind every solar module do not necessarily lead to more efficiency. With their Bachelor's thesis on solar optimisers, the two students from the Bachelor's programme in Energy and Environmental Engineering at the ZHAW School of Engineering have hit a nerve in solar research.
With light shading there is no need for a solar optimiser
The work was based on measurements carried out by the students in the laboratory of the Institute of Energy Systems and Fluid Engineering (IEFE) at the ZHAW in Winterthur, under the supervision of Prof. Dr. Franz Baumgartner. These data were combined with detailed simulations of the annual yield. Arturo Bänziger and Andrin Schneider were thus able to prove that robust conventional solar inverters are more efficient when there is only slight shading of the solar modules, for example by a chimney or small tree. The more complex individual solar optimiser would only enable efficiency gains in the case of very heavy shading.
Rarely in history have experts in the new energy world been so sought after. Driven by short-term market problems of fossils and long-term climate change.
Prof. Dr. Franz Baumgartner
Head of the Energy and Environmental Technology programme
Shortage of skilled workers in the photovoltaic sector
Around 400 participants attended this year's Solar Conference in Bern. The industry meeting is organised by Swissolar, the industry association and the Association of Swiss Electricity Companies (VSE) and the Swiss Federal Office of Energy (SFOE). In addition to the poster prize, the shortage of skilled workers in the photovoltaic industry was also discussed. Approximately 10,000 new employees are urgently needed in the solar industry by 2030. The tasks of photovoltaic companies include planning solar systems and installing solar modules mechanically and electrically on the roofs of houses. In addition, they increasingly supply batteries for buildings and charging stations for electric cars and ensure that heat pumps are controlled according to solar output.