Food Chemistry Research Group
Tracking the constituents of food.
The purpose of the Food Chemistry research group is to analyse value-determining constituents of food.
We investigate the occurrence, impact and relevance of food constituents on food composition. Furthermore, we explore their potential uses in cosmetic products.
Our research group combines sensory and instrumental analytical methods in order to establish innovative food processing techniques. Our aim is to extract as many valuable constituents as possible from raw food materials and to preserve them during processing.
Many of our research projects are conducted in close collaboration with partners from science and industry and include research conducted by our students.
Flavours Sensory Workshop 2023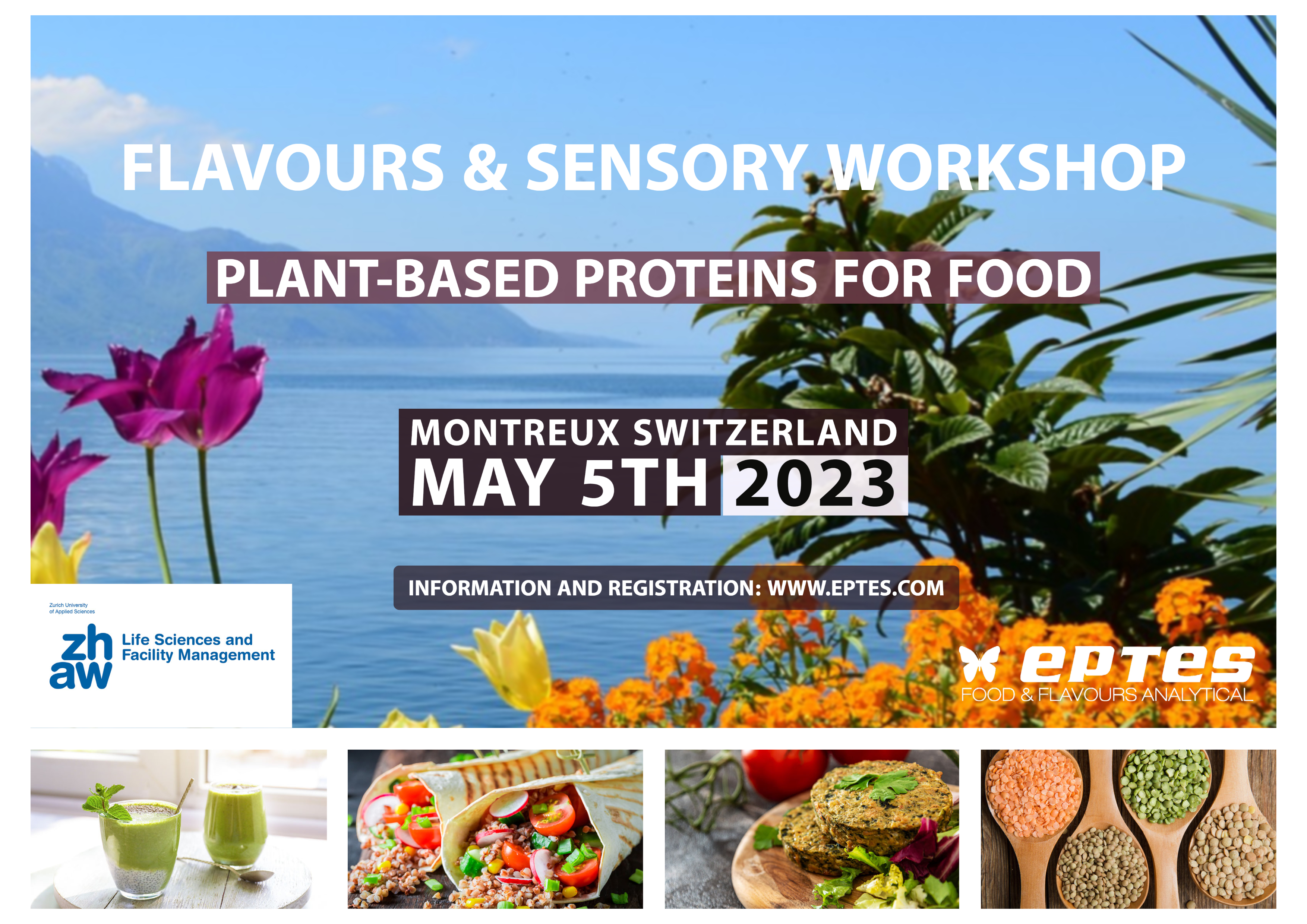 Eptes Food Flavours Analytical, would like to invite all scientists and the international research community from industries and universities working in the emerging field of alternative source of proteins to participate in this exceptional workshop on flavour composition and sensory impacts. The 2023 workshop is organised in collaboration with The Food Chemistry Research Group of the Zurich University of Applied Sciences.
Topic: Plant based proteines
Date: Friday, May 5th 2023
Venue: Montreux
In the Food Chemistry research group, we mainly focus on the following activities:
Aroma is an essential quality criterion for food products. It is responsible for consumer acceptance and popularity of food products. For this reason, we investigate aroma composition using methodologies that combine human odour detection and instrumental analysis that decodes aromas on a molecular level. Using state-of-the-art aroma research technologies, we examine aroma constituents of different food groups such as cocoa, chocolate, vegetable oils, bakery products, fruit, vegetables, herbs, spices, and alcoholic and non-alcoholic beverages. Furthermore, the above mentioned techniques also enable us to investigate the appearance of off-odours in diverse food matrices.
Analysis & Extraction of non-volatile food constituents
The preservation of value adding food constituents during technical processing is one of the main goals of our institute. Analysing selected food constituents helps us to better understand processes, and to be able to control and optimise them. Apart from the analysis of different quality and safety markers along selected food value chains, we focus our research activities on the extraction and chemical characterisation of polyphenols. Furthermore, we also investigate the chemical and physical properties of alternative proteins.
We process value adding ingredients and by-products from food production processes into innovative beauty and nutrition products, allowing us to create value sustainably. In our formulation laboratory, we develop cosmetic product prototypes at a laboratory scale of between 1 and 3 kg. We also investigate the physical and chemical stability of these prototypes using rheological indices, as well as microscopic picture and instrumental analysis of their active components. In addition to this, we perform sensory analysis of cosmetic products in order to optimise product formulas.
Our modern laboratory infrastructure and our analytical expertise allow us to comprehensively analyse value determining food constituents along the whole food value chain – from field to fork. Furthermore, our equipment enables us to target the extraction of selected food constituents and then apply them in different food and cosmetic products.
Selected Publications (Peer-Reviewed)
Current Projects – selected cooperative research projects
Oro de Cacao & Yello-Founder Dieter Meier
We are currently assisting Dieter Meier, founder and owner of Oro de Cacao, by making sure that only the most desirable constituents of the cacao bean make it into the final chocolate. We have provided assistance in the implementation of an industrial cold extraction process by analysing key aroma compounds and further value adding constituents throughout the process. Our expertise can be seen in the unique aroma profile and taste experience of this new chocolate, which is extremely aromatic, while at the same time exhibits a very low level of bitterness.
Leibnitz-Institute for Food-System Biology
Since autumn 2018, we have been researching quality and authenticity markers in cocoa beans of diverse origins in cooperation with the Leibnitz-Institute for Food-System Biology. The research results will provide the foundation for defining and guaranteeing quality throughout the cocoa value chain, from cultivation to the final product.
We offer various opportunities for project collaboration. Projects are carried out in the form of research projects, development projects, services or student projects, such as semester papers, Bachelor's theses, or Master's theses.
For more information on project collaborations
For project inquiries, please contact Dr. Irene Chetschik