Master of Science in Life Sciences - Pharmaceutical Biotechnology
Therapeutic proteins and antibodies are examples of bioengineered drugs, so-called biopharmaceuticals. They enable diseases to be treated in a completely new way. Biotechnological techniques are now essential tools for medical progress.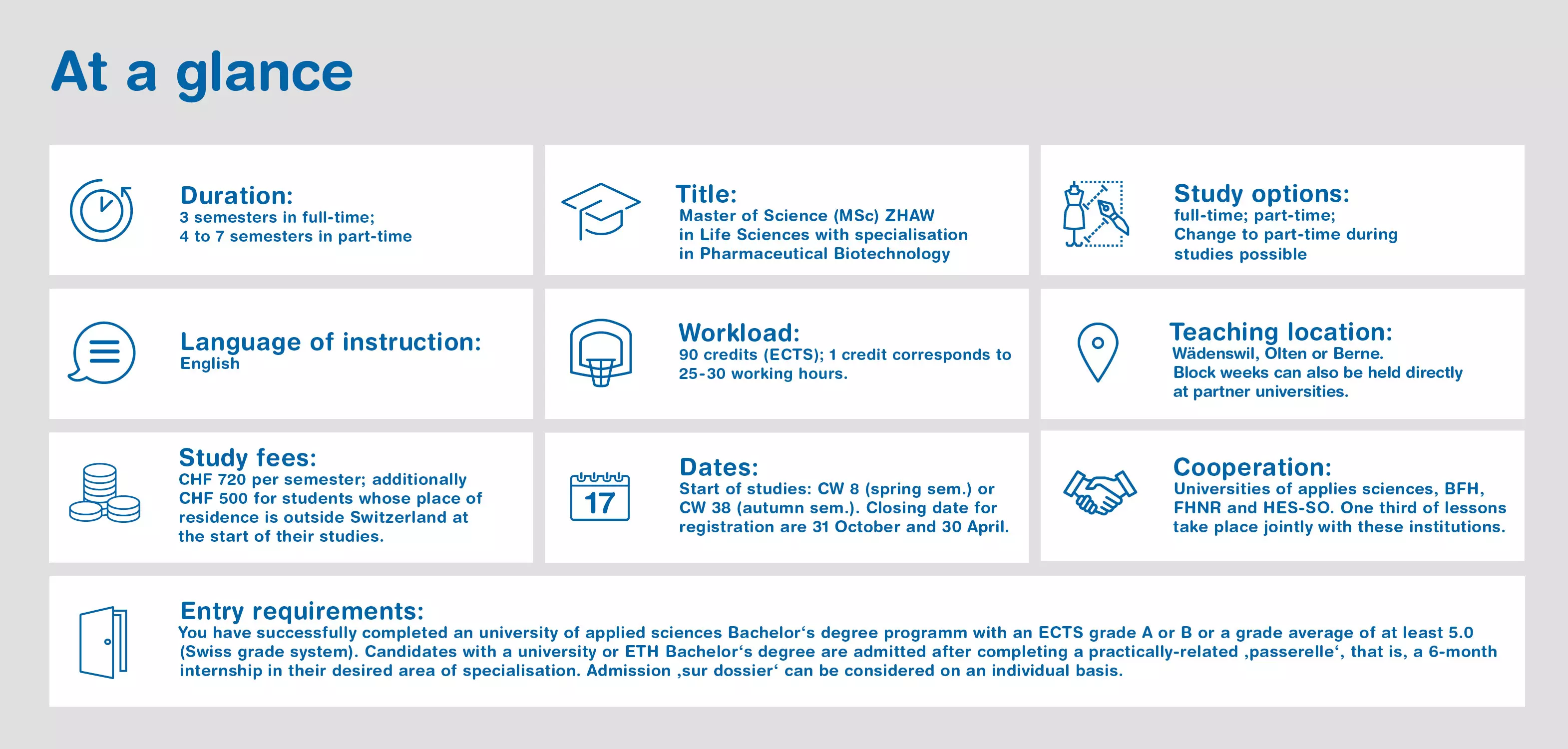 Why pursue a Master's degree in Pharmaceutical Biotechnology?
Career - from gene to medicine
Recombinant DNA technology allows drugs to be produced from genes. As a professional in pharmaceutical biotechnology, your skillset will relate to the intersection of applied research and commercial application.
The Master's programme lays the groundwork for an international career. You will be a sought-after expert in a growing market, as well as in adjacent fields such as medical diagnostics, process engineering, marketing and sales, product management, food technology, cosmetics and environmental biotechnology.
"I wrote my Master's thesis in pharmaceutical technology on the topic of "Formulation and characterisation of topical semi-solid dosage forms of interleukin-1α". For a cosmetics company, I studied the effect of IL-1α in skin models, and demonstrated a way to keep the protein stable in a cosmetic dosage form."
Melanie Huber, MSL (Medical Science Liaison), AbbVie AG
read more - in German(PDF 1,3 MB)
Your background
You are fascinated by topics such as: Bio- and cell therapeutics, tissue engineering, personalized medicine, process development and optimization, bioanalytics and diagnostics, formulation and approval of pharmaceutical research, digitisation as well as the development and evaluation of new business ideas.
You hold a Bachelor's degree in: Biotechnology, pharmacy, medical technology or related disciplines (admission with other degrees may be granted at the programme directors' discretion).
Career: Holding a Master's degree in Life Sciences in Pharmaceutical Biotechnology will allow you to...
choose between various career paths in the pharmaceutical and biotechnology industries, for which you will have acquired the necessary foundation.
play an active role in scientific and medical research and development, and use your practical experience to develop new products.
actively contribute towards solving the problems of the future through creative and innovative ideas.
work in a field where health, technology and medicine come together, and combine entrepreneurial with scientific thinking.
build an international career, because your expertise is valued by global companies, both nationally and internationally.
continue studying and pursue a doctorate degree in cooperation with foreign research institutions.
be ready and prepared for interesting and multi-faceted leadership roles at industry and public research institutions in areas such as cell culture and cell engineering, biotechnology processes and equipment, bioprocess informatics, biochemistry, cell and molecular biology, environmental sciences, pharmaceutical technology and natural materials, and diagnostics and sensors.
"Actually, it's only today that I realize how well the course content was aligned with reality."
Joel Varonier, Senior Manager Operations mRNA, Lonza
read more - in German
Here's what our graduates have to say about their studies (in German):
Good reasons for a Master's study in Wädenswil
We offer a customisable Master's programme that can be completed on a full-time or part-time basis.
The programme offers an attractive mix of research, science, practice and business modules .
You will have the opportunity to conduct a business case study with renowned coaches from your industry.
You will grow both as a professional and as a person, to evolve into a sought-after specialist with leadership skills.
We offer exciting research projects for your Master's thesis.
You will be able to join an active research group where you will be able to extend your knowledge through scientific work.
You will benefit from state-of-the-art infrastructure and equipment to use for your research, for example confocal laser scanning microscopy and electron microscopy, bioreactors and single-use systems for the cultivation of microorganisms to stem cells, 3D printers, RT-PCR, a biogas plant, MALDI- TOF and HPLC-MS analysis devices.
You will benefit from small class sizes in the specialisation modules, which offer interactive learning activities that will allow you to take charge.
Study programme and course content
Your studies include three areas of competence plus a Master's thesis, with a total of 90 credits (ETCS).
Based on your interests, before starting your studies you will work out your own personal learning objectives with your specialisation director and your supervisor. You will define the topic for your Master's thesis and design your own personal study path from the range of available modules.
While working on your Master's thesis, you will be part of a research group that is working closely with our business partners or doing research at one of our institutes.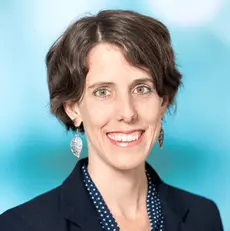 Your new skillset: You will be able to...
plan, implement and evaluate drug development and production processes.
combine scientific, technological, social and entrepreneurial thinking. develop new, innovative solutions for the medicine of tomorrow.
acquire interdisciplinary expertise, which you can present convincingly and which is guaranteed to find broad application in pharmaceutical biotechnology.
fall back on the network you have built during your studies whenever you need it.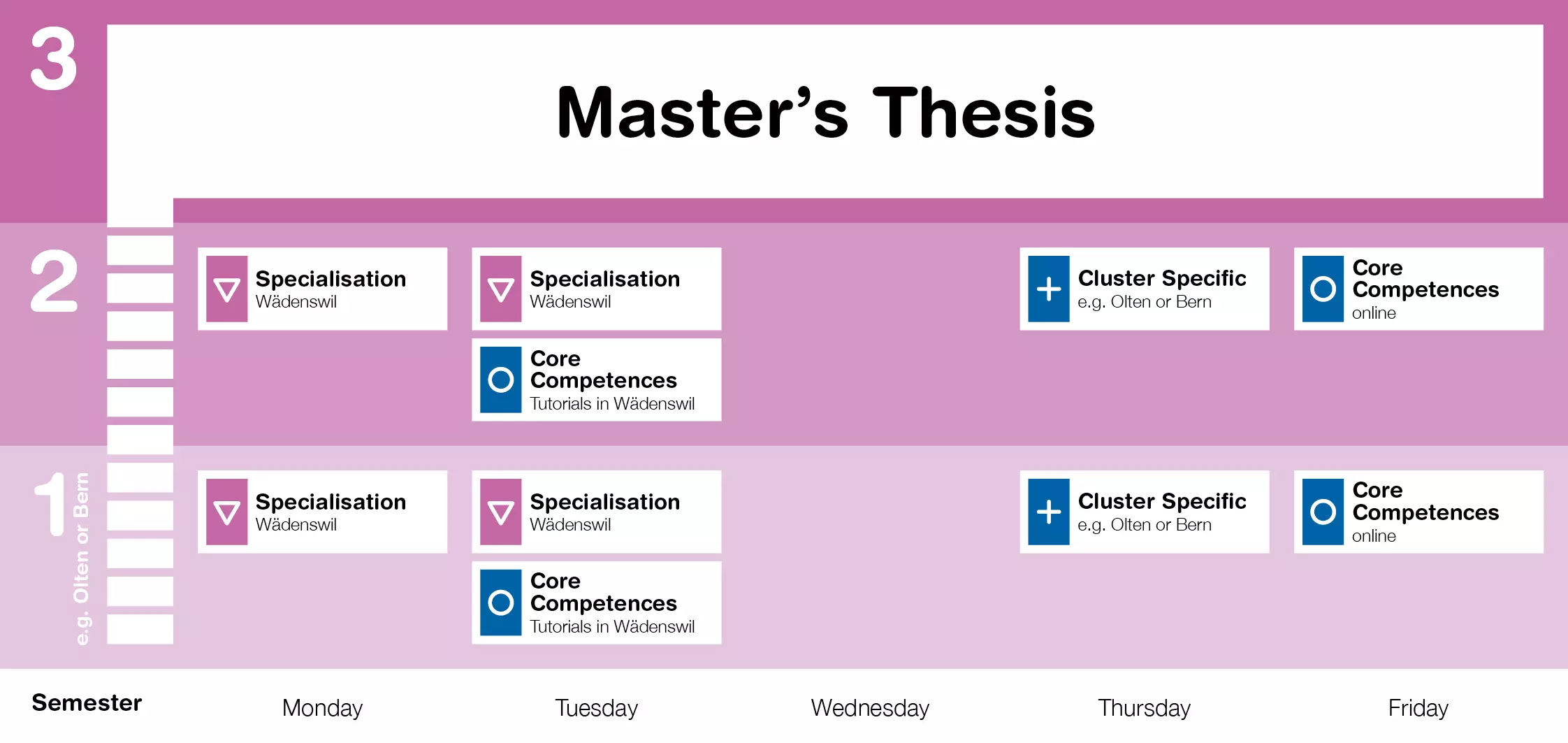 By joining a research group of the Institute of Chemistry and Biotechnology, you become part of our creative research environment. You will acquire the working methods most in demand in the industry, but also learn about project management, communication and presentation skills. The practice-oriented research focus of your Master's thesis will strengthen your ability to innovate, change perspectives, and combine entrepreneurial with scientific thinking.
Working in the research group also trains your creativity, initiative and critical thinking abilities.
Thesis
Interesting research questions are created with partners from industry and retail.Our graduates have already developed interesting, relevant and viable answers and solutions in their work.
Do you have any questions?
This might also interest you
Registration Master's programme
Ready for a new chapter in your life? Apply now.
Organise your studies
Fees, important dates, timetables and the Study App at a glance.
MSLS Community Centre
The Moodle learning platform for modules taught jointly with other universities of applied sciences!
Registration Master's programme
Ready for a new chapter in your life? Apply now.
Fees, important dates, timetables and the Study App at a glance.
The Moodle learning platform for modules taught jointly with other universities of applied sciences!