Zoom In: André Bruggmann
André Bruggmann is a Geospatial Solutions Expert and Co-CEO of Crosswind GmbH. He has just completed his Master's thesis for the MAS Business Administration (MAS BA) at the School of Management and Law on the impact of the Corona crisis on the Swiss labor market. We asked him to tell us more about this.
September 2021
André Bruggmann grew up in the peaceful town of Kradolf in the canton of Thurgau. On leaving the cantonal school in Romanshorn in 2007, he studied geography at the University of Zurich and earned a doctorate after completing his Master's degree. He merged approaches traditionally used in geography with data science methods in his work at the University of Zurich's Geographic Information Visualization and Analysis Department. Since 2017, he has been working at Crosswind GmbH, a consulting company in Location Intelligence.
You work for Crosswind in Winterthur. What area are you involved in, and how did you get this job?
Crosswind's motto is "Unlock the Where." We offer our customers added value by supporting them in internal and external company data with a spatial reference. For example, a car dealer wants to check whether their point-of-sale network is well-positioned. To do this, we use the car dealer's internal data on current locations and the socio-demographic characteristics of typical customers. Then, using the vast trove of spatial data available at Crosswind, we analyze where a site is most profitable for the dealer. For example, potential customers can be identified by where they live or where they commute. In addition, Crosswind can use its data to make detailed and future-oriented statements about the assertiveness of e-mobility and identify relevant trends for the automotive industry (e.g., vehicle-to-grid).
I chose Crosswind partly because I have always been fascinated by spatial data and analysis. At the same time, in my geography studies, I got the impression that there is a vast and partially untapped potential in many companies for using geographical methods. So, during my undergraduate studies, I took an elective in business administration to better understand the connections between geography and business. And then, on completing my doctorate, I decided to work for Crosswind, which operates precisely at this exciting interface.
Why did you choose the MAS Business Administration? Did your employer support you in this choice?
After starting at Crosswind, I quickly took on responsibility and got involved in management issues. I was interested and fascinated by this from the outset. However, apart from the theoretical business administration knowledge I gained at the University of Zurich, I lacked a broader business background. So, I came up with the idea of acquiring more in-depth knowledge through the MAS Business Administration – getting to know applications in practice and exchanging ideas with people in a similar position to me. This plan was supported by Crosswind from the beginning and, together, we decided that I would begin my continuing education in the summer of 2019.
How would you characterize yourself?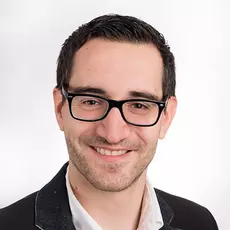 I am always on the lookout for new challenges and do not like standing still. Because of this, I try to question my habits and break out of my comfort zone. I want to discover new things and get a comprehensive and balanced picture of my surroundings, which is also reflected in my decision to pursue a career in the private sector.
I grew up in a family of teachers and politicians, so until I was a young adult, I was familiar with this environment and very much at home there. I have always been attracted to the private sector but lacked direct access to it. Towards the end of my studies, I decided not to pursue a career in teaching but to venture into the commercial world.
"I am always on the lookout for new challenges and don't like standing still. Because of this, I try to question my habits and break out of my comfort zone."
André Bruggmann, Alumnus, MAS Business Administration
In your Master's thesis, you deal with a current topic, namely the spatio-temporal and sector-dependent effects of the Corona pandemic on the Swiss labor market. What made you choose this topic?
For most people, the impact of the Corona pandemic on all areas of life probably came as a great shock and meant they had to adapt to a new situation in their personal and working lives very quickly. Both the Swiss Federal Council and the cantons were obliged to take various urgent measures to protect the population from the virus. This has had severe consequences for the economy if you consider, for example, the significant restrictions faced by the hospitality industry and airlines or think of the slump in exports in the spring of 2020. However, the impact varied greatly from region to region and sector to sector, and I was not aware of any study devoted to this issue that had examined the development of the labor market in detail.
In my Master's thesis, I wanted to close this gap and, with my background and know-how at the interface between geography and economics, show political and economic decision-makers how the emergency measures have had an impact regionally and across the various sectors. My thesis should also help anticipate the possible effects of such measures in similar future crisis situations.
Master's thesis by André Bruggmann
André Bruggmann wrote his Master's thesis for the MAS Business Administration (MAS BA) on the topic "What were the effects of the first year of the Corona crisis on the Swiss labor market? A spatial and industry-dependent analysis." His thesis was supervised by Dr. Frithjof Müller from ZHAW.
Click here for the Master's thesis (German only)
Crosswind GmbH
How drastic was the situation for Crosswind during the pandemic?
Of course, the Corona crisis also affected Crosswind too. From one moment to the next, we had to adapt to an entirely new situation. Customers were extremely cautious about placing new orders, especially during the first wave in spring 2020. As a result, we were forced to make significant adjustments to acquire new orders, as these had previously relied exclusively on face-to-face meetings.

The Corona crisis has led Crosswind to question its business strategy and align itself with the new normal. In this respect, we benefited greatly from the business plan that five fellow students and I developed for Crosswind as part of the MAS Business Administration course in spring 2020. The business plan identified opportunities for Crosswind's future direction in several areas. Crosswind ultimately came through this first year of the Corona pandemic well, and we are optimistic about the future, strengthened by these new findings.
What are your immediate plans?
I took a lot away from the MAS Business Administration program, not only the business plan I mentioned earlier for the benefit of Crosswind but also the theoretical knowledge I acquired and the practical cases we discussed in class. Exchanges with my fellow students were particularly useful to me. In the open atmosphere of the continuing education program, I gained insight into a wide variety of industries and was able to apply previously discussed approaches to my own workplace. That is why I have decided to tackle the MBA continuing education program in fall 2021, which I am already really excited about.