MSc in Business Administration – Major in Marketing
"Online marketing strategies and the development of digital business models are integral parts of our degree program which are applied in practical projects with companies."
Prof. Dr. Gunther Kucza, Head of Degree Program
Now with Innovative New Electives
Choose from a range of exciting topics such as E-Commerce, Digital Marketing for Start-Ups, Artificial Intelligence in Marketing, Design Thinking, and nine other elective modules. You decide the area in which would like to become an expert.
At first glance, marketing seems simple: The goal is to sell something of value to a target audience, and to do so more effectively than the competitors. However, implementing this concept requires sound specialist knowledge, entrepreneurial thinking, and leadership qualities.
Our Master's program in Business Administration with a major in Marketing will provide you with a tailor-made competence profile. It opens up a wide range of career development opportunities in demanding specialist and management roles in the areas of marketing and general management.
Five Reasons to Apply for the MSc BA in Marketing
AACSB accreditation: Since 2015, the ZHAW School of Management and Law has been proud to be accredited by AACSB. You can benefit from this much sought-after seal of quality on the international job market. In addition, the SML has featured in the prestigious Financial Times rankings since 2020 – including the "European Business School Rankings", which list the best European business schools.
A curriculum that reflects the latest developments and prepares you for the workplace: Our curriculum designed in consultation with the business community will increase your value in the job market. You will also be able to focus on your individual interests by choosing from the range of electives offered (e.g., digital marketing, product management, etc.).
Top lecturers with a high degree of practical experience: Benefit from relevant current research and consulting activities as well as from the broad professional expertise of the ZHAW School of Management and Law staff and lecturers.
International orientation: Choose from a network of over 180 selected partner universities and gain valuable experience abroad with an exchange semester and/or a summer school program.
Symbiosis of study and work: Earn a specialist and management qualification that is scientifically proven as well as practically oriented and offers you the flexibility to work part-time (up to 70%) while you study.
At a Glance
Title: Master of Science (MSc) in Business Administration with a Specialization in Marketing
Start of New Program: Mid-September
Registration deadline: 30 May 2022 - Enrollment
Workload: 90 ECTS credits (corresponding to approx. 2,700 hours of study)
Duration: 4 semesters (while enrolled in the program, students can hold a part-time job or do family work not exceeding a workload of 50%)
Location: Winterthur
Semester Fee: CHF 720.-
Admission Requirements: Admission Procedure
Language of instruction: German and English
Accreditation: AACSB, FIBAA
"When recruiting, we found that Master's students have a significantly higher level of problem-solving skills."
Flooris van der Walt, Head of Group Talent Management, OC Oerlikon Management AG
By the time you graduate, you will be familiar with the approaches of strategic marketing and will have learnt to develop customer benefits and values. You will be familiar with criteria and procedures of customer segmentation and will have methods at your disposal to measure customer behavior. You will be able to design and implement customer relationship management concepts along the entire customer lifecycle. This will enable you to analyze and solve complex tasks using an integrated brand management approach, and you will know how to integrate the new media into strategic communication concepts.
Our flexible mode of study also offers you the opportunity to choose from the following electives and thus determine your own special focus:
Digital Marketing and Online PR

Mobile Marketing and Online Advertising

Service Excellence and Agile Marketing

Business Development & Sales Management

Design Thinking

Consumer Behavior – Current Trends

E-Commerce

Digital Marketing for Product Launches or Start-Ups

Content Marketing

Marketing Technology

Automation and Artificial Intelligence in Marketing
Our electives also include an opportunity to take part in a study trip or a summer school program at one of our international partner universities.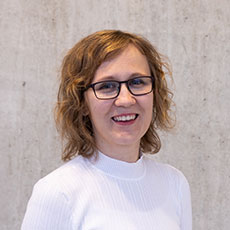 "If you have any questions about the Master of Science in Business Administration - Major Marketing, the university library, the sports and leisure facilities, or student life in Winterthur and Zurich, then you can contact me."
Nadja Wichert, Student, MSc in Business Administration – Major Marketing
Product management

Market research, marketing

Customer relations management

Key account management

Service quality management

Sales und after-sales management

Jobs in communication

Project management

Staff responsibilities

Consulting

Executive management
All areas of the private sector, in particular:

Consumer goods, industrial goods, and services (banks, insurance companies, commercial enterprises)

Site marketing

Social and cultural organizations

Public administration
Program Structure and Admission
This degree program will enable you work part-time (with approx. 50 percent FTE). Alternatively, you can complete the course of study as a six-semester program, which would enable you to have a part-time job with up to 70 percent FTE). Classes take place on Monday and Tuesday. In addition to deepening your marketing knowledge, you will develop your management skills and gain new knowledge in research projects. A semester abroad will enable you to build up an international network, deepen your knowledge of foreign languages, and experience the subject area from a different perspective.
"From the very beginning, projects with companies, company visits, and guest lectures have created a strong link to practical application."
Eldina Ramadani, Student, MSc in Business Administration – Major Marketing
Decisions on the admission of students are taken by the head of the program and are based on an admission procedure. Applicants must meet the following requirements:
A Bachelor's degree in business administration from a recognized university or university of applied sciences (worth at least 180 ECTS credits) or an equivalent university qualification in a related discipline.

Proof of sufficient knowledge of the foundations of marketing worth at least 8 ECTS credits; may be provided at a later stage

The ability to follow German and English lectures at university level and use teaching materials in both languages (guideline: C1 level, CEFRL)

A high level of motivation and achievement potential

A positive result of the aptitude assessment.
This might also interest you
Program-Specific Counselling
We will be happy to evaluate your suitability for admission and answer any questions you may have about our degree programs.
MSc Information Event
Attend one of our MSc information events. We are looking forward to meeting you.
Enrollment MSc Program
Register for our Master's degree program.
Program-Specific Counselling
We will be happy to evaluate your suitability for admission and answer any questions you may have about our degree programs.
Attend one of our MSc information events. We are looking forward to meeting you.
Register for our Master's degree program.