Center for International Industrial Solutions
The Center for International Industrial Solutions develops and applies new business models for the industry and the successful implementation of circular economy. We transfer our insights from interdisciplinary research to assist our clients in achieving their strategic goals and overcoming market challenges.
Our Focus Topics
Customer Centric Business Model Innovation

Circular and Bio-Economy

Life Cycle Assessment for Circularity Metrics

Pay Per Use Business Models

Industrial Companies (MEM) in Europe and Transition Economies (South East Asia, Pacific Alliance)
dep. Director of Institute, Deputy Head of ...


dep. Head of Centre, Center for International ...

Multidisciplinary applied research based on our backgrounds in Economics, Environmental Sciences and Life Sciences

Strategy development and business model innovation

Material Flow Analysis and Life-cycle assessment

Design of knowledge transfer programs
We provide education in the management aspects of the circular economy, from the design and implementation of circular business models to the transformation of linear supply chains.
We conduct purposeful research and transfer the insights to our education and services.
Burckhardt Compression AG

Walo Bertschinger AG

Bundesamt für Energie

Clean Tech Switzerland

WABAG

Green!Tea – Prospektive Ökobilanz der Agrar-Photovoltaik im Teesektor

Close the Ploop

Transfer von Schweizer Know-how und Technologie für Abwasserreinigung in Kolumbien
In the context of a changing society, disrupted global supply chains and new regulations, we help manufacturing companies implement new business models and organizational structures to strengthen their competitiveness and increase their resilience.
For us circular economy needs to be anchored in the company's strategy. Its ambition is translated into new business opportunities that are financially validated and based on the environmental footprint and customer needs analysis.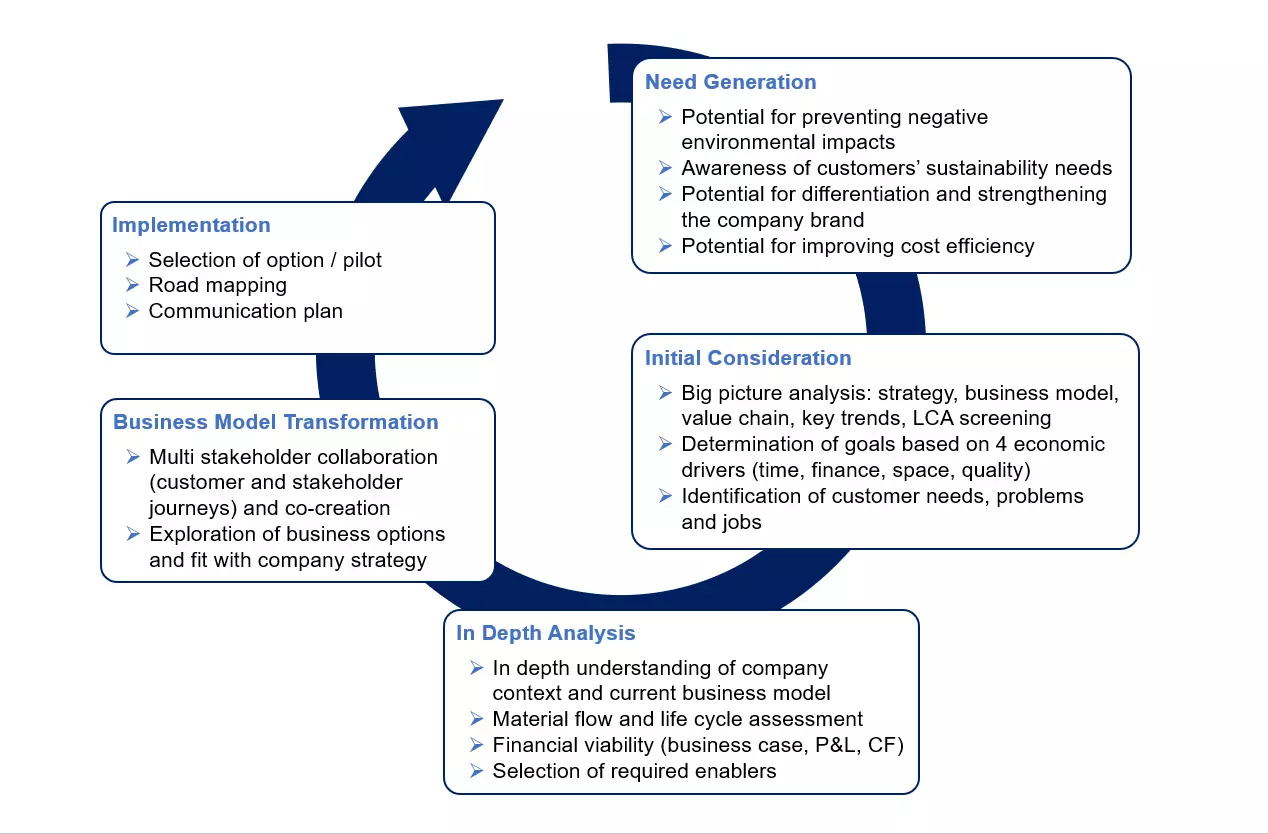 | Project | Client & Funding |
| --- | --- |
| Development of a product as a service business model for a lithium battery producer | Swiss Industrial Company & Innosuisse |
| Development of a 3d-printed transdermal delivery system | Swiss Industrial Company & Innosuisse |
| Development of a pay per use business model | Swiss Industrial Company |
| Development of a waste system | Swiss Industrial Company & Innosuisse |
| Market entry and business model development for EAC (East Africa Community) renewable energy systems | Swiss Industrial Company |
| Review, outlook, vision: Working World 4.0 in the Swiss MEM sector | Swissmem |
| Colombia Wastewater and Business Model Training Program | REPIC, WABAG & CNPML |
| Development of an international compensation model | German industrial company |
| Market entry for dam and landfill construction in Colombia part I | Swiss Industrial Company |
| Market entry for dam and landfill construction in Colombia part II | Swiss Industrial Company |
| "Market Pull" project renewable energy systems | Swiss Industrial Company |
| Market study about water and landfill construction in Romania and Bulgaria | Swiss Industrial Company |
| Swiss-US Energy Innovation Days 2015 in Zurich | BFE, Swiss Ingenieur- und Architektenverein, Switzerland Global Enterprise |
| Market development projects with primary focus on Colombia | Cleantech Switzerland |
| International energy benchmark for the Swiss Energy Transition 2050 | ZHAW School of Management and Law |
| Market analysis about Cleantech sector in Mexico | ZHAW School of Management and Law |