14 managers celebrate their graduation from the International Executive MBA
The graduates of the 2nd International Executive Masters in Business Administration (IEMBA) celebrated the completion of their Diploma with a special graduation ceremony at the Winterthur Kunstmuseum on Friday, 10 July 2015.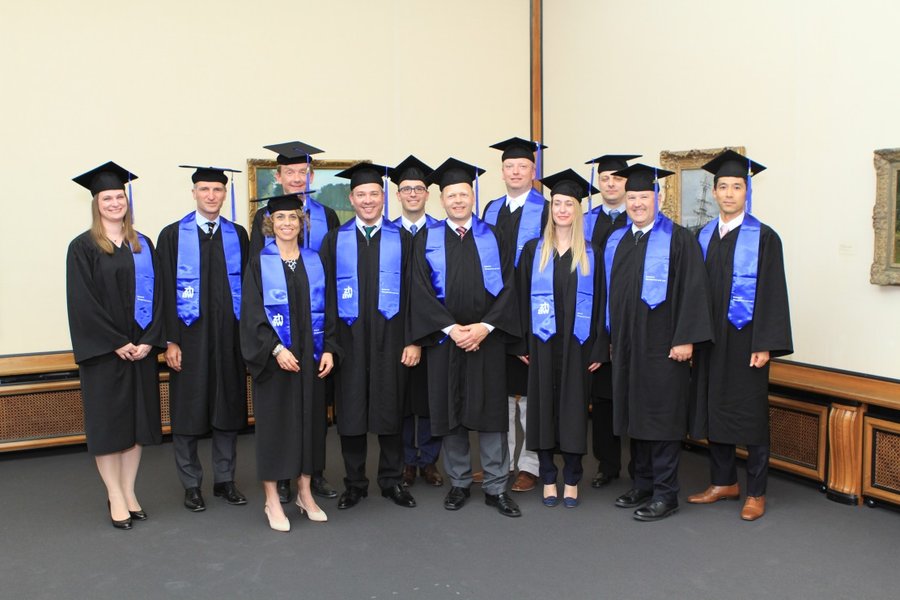 Dr. Daniel Seelhofer, Vice Dean and Director of International Business congratulated all the graduates: "With the skills they have gained from the course I am sure that their careers will go from strength to strength". Daniel Seelhofer also spoke to the students about the ZHAW School of Management and Law's own recent achievement in gaining AACSB accreditation. He said: "Being able to add the AACSB accreditation to the IEMBA is a major milestone and adds real value to the Diploma."
IEMBA graduate Martin Rigaud delivered a speech of thanks on behalf of the students. He highlighted the wide diversity of students on the IEMBA and the value this brings to the program. "Over the last two years, through hard work, we grew closer and through the course work, studying together and our study trips to China and Middle East, we became family", he added.
At the close of the ceremony Daniel Seelhofer took the opportunity to thank the Faculty and announce that Michael Farley, Head of International Development and Projects would be taking over responsibility as the IEMBA Program Director. The next IEMBA will commence in early February 2016. For more information go to: www.zhaw.ch/iemba.
Contact: Michael Farley, Department International Business