Zoom In: Sara Nilsson
Sara Nilsson works as a Research Assistant in the Department of International Business and pursues a soccer career in addition to her academic work as a competitive athlete.
October 2022
Sara Nilsson comes from Derome, south of Gothenburg on the Swedish west coast. Football has been her passion for over 20 years. The Swedish player has pursued her soccer career alongside her master's degree and her professional career. In 2020-2022, the 27-year-old played in Serie A, the highest division in Italian women's soccer. As a competitive athlete, she sees many parallels between business management and sporting excellence.
How did you get into playing soccer?
As long as I can remember, I liked to play football with all the kids at my street. I always liked to compete, to run and try to shoot as hard as the older kids.
Since my brother already played, my dad was coach for his team and my mum was involved in the club, I guess it was convenient to bring me to the pitch as well. Grateful for their decision, I fell in love with the sport at the one and only club of my village, "Derome BK".
As a girl, were you encouraged to follow the path as a soccer player?
I have been blessed with a football family. Both my mum and dad played football themselves and my grandmother was a goalkeeper in the first women's league in Sweden (1967). My grandfather got a price from UEFA for serving the local club voluntarily for 50 years. To follow my passion therefore came very easily, and I am extremely thankful for this privilege.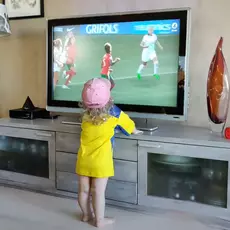 "Derome BK has a special place in my heart, representing my home and the passion and love for football. In Sweden we call people "eldsjälar", which would translate to a "soul on fire", when people are being engaged in an organization based on pure enthusiasm. In a small village with one club, the song: "Lär dig krypa, lär dig gå, lär dig heja på DBK" meaning: "Learn how to crawl, learn how to walk, learn how to cheer for DBK", is a clear soundtrack to my childhood."
Photo credit: private
I started playing in a team when I was 7-8 years old and in the first women´s team at 15 years old. Later, the female side of the club merged and became "Derome/Valinge", and I stayed there until I was 19 years old. I signed my first contract with Jitex BK in the Swedish second league in 2014. It was my first experience in a more elite environment. Moving forward, I went to Kungsbacka DFF (2016-2019), where we won the second league and got promoted to the first league. During these three years we had 6 different head coaches and continuous economic problems, resulting in that the club no longer exists today. However, from these years I got friends for life.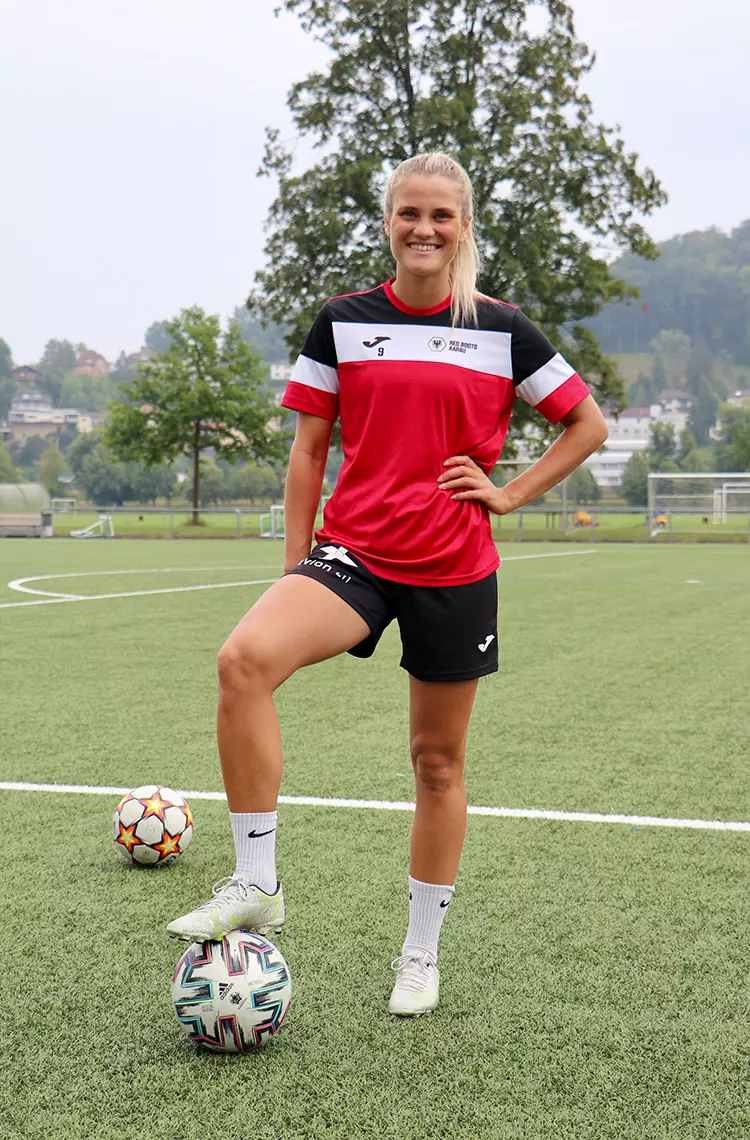 In January 2020 I searched for a new challenge outside of Sweden, and I got a contract with Florentia San Gimignango in Toscana, Italy (2020-2021). Last year, I played half a season for Hellas Verona (2021) which was a big challenge, both on a personal level and football wise. The environment was not right for me, and I quickly felt I needed a change to perform better. In January 2022, I was offered a contract with FC Aarau Frauen, and I felt more than ready for a new challenge here in Switzerland.
Is it more difficult to start a football career as a girl than as a boy?
In Sweden, as a girl, it is easy to get licensed and find a club nearby to play for. In both Italy and Switzerland, many of my teammates played with boys until they were 15 -16 because there was no female club in their area. This can of course be positive; however, it shows that it is still more promoted and supported for a boy to start playing football than for a girl.
100 years ago, a ban was introduced in England that forbid girls and women to play football (after a game that attracted 50,00 spectators). For me, this feels very distant. However, if we step outside our Western bubble, this is still the reality for girls and women in countries like Afghanistan, for example.
"There are mainly two reasons that makes football truly magical and that always keep me going. First thing is that I love the feeling of playing with a ball - simple as that! The other reason is that the moments are shared with a whole team. Sharing moments, small and big, creating memories and dreaming together is something special."
Sara Nilsson, Resarch Assistant and Football Player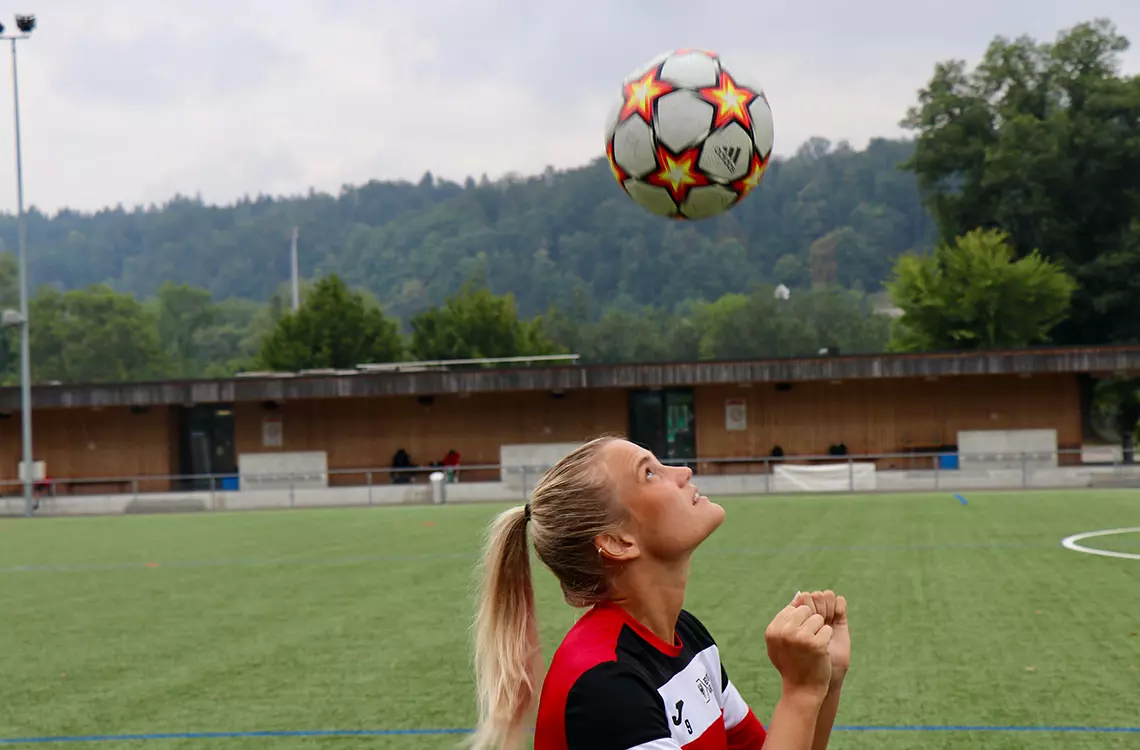 Team play is indispensable in soccer. What can you take from this into your job?
In football you have to know the way your team mates play in order to reach the best collective potential. Will this player go for the run, or does she want the pass on the feet? Within sports, you are training your ability to act under pressure, you build your confidence by challenging yourself, and you really understand the importance of team spirit. From my experience within business, I would say the same kind of abilities apply. When a project is not going well, good management is needed, employees need to collaborate.
A leader could be a tactical genius. But without an understanding of human aspects and team morale, you are not going anywhere with a team. In my experience, the most successful coaches are those who have a high degree of self-awareness. They are able to know their own core competencies and, of course, their own limitations. A good leader, in my eyes, is skillful at recognizing and rewarding the kind of behaviors that will lift the team as a whole and create the environment where a team morale can grow naturally.
A manager definitely needs leader figures inside the team as well, that's why you have a captain. Working as a link between the players and the staff, a captain needs to know it's team and the team needs to support her or him. Values like consistency of performance, communication skills and to put the team "on fire" are important in a role as a captain.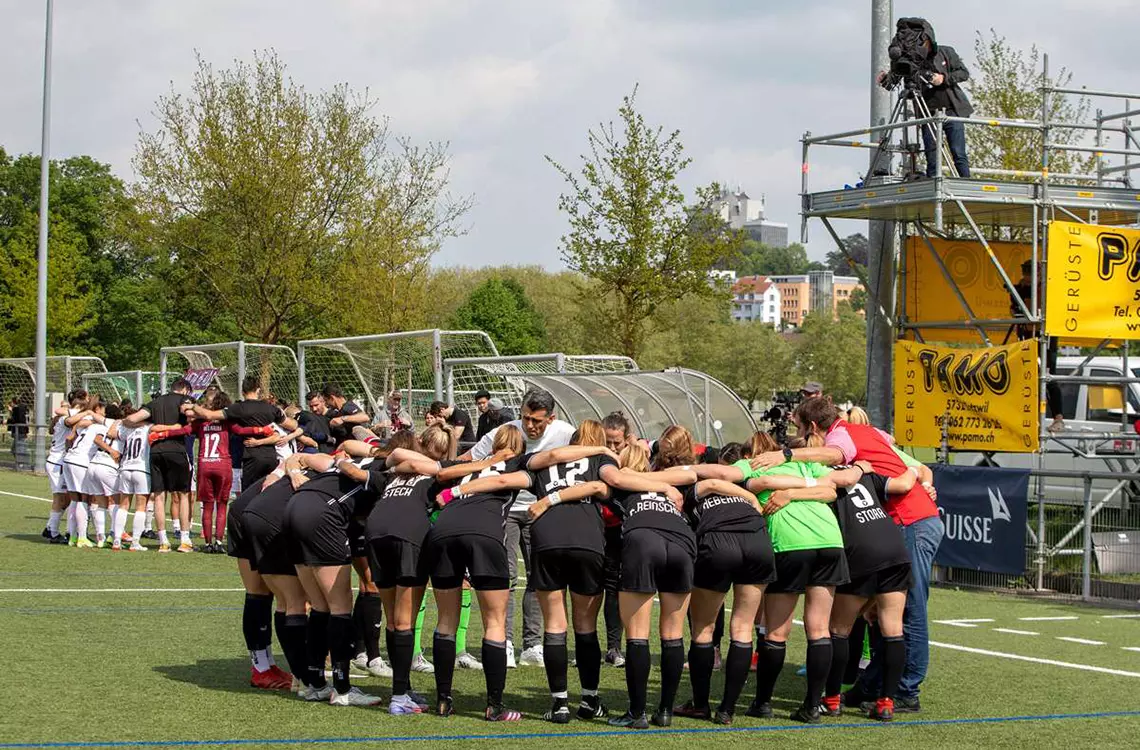 What does your daily routine look like?
I am working part-time at ZHAW (50 %), which gives me a good opportunity to combine soccer and work. During a normal week I have six team trainings, an individual gym session and a game at the weekend. I usually go to the office in Winterthur to see my work colleagues on the days I don't have morning training. In today's digitalized working world, the ZHAW also offers home office if required, which I really appreciate.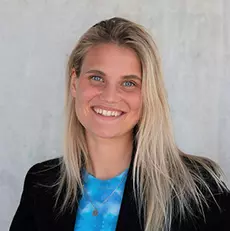 "I am proud to work for ZHAW, an organization that provides "Swiss excellence" education in a variety of areas. Personally, I identify particularly with the ZHAW's strategic goals in the area of sustainability and internationalization."
Sara Nilsson, Resarch Assistant and Football Player
Why did you choose the Department of International Business?
My interest in international business grew when I realized that I was interested in other cultures and especially loved learning Spanish at school. Therefore, I completed my Bachelor's degree in Business Administration with a focus on Spanish and lived in Barcelona for a while. Later, I completed my Master's degree in International Business and Trade at the School of Business, Economics and Law at the University of Gothenburg. The open-mindedness and the mix of competence areas at the Department of International Business create a dynamic workplace where creativity, individual responsibility, innovation and collaboration are promoted.
What do you enjoy most about your work?
It is definitely the people and the network you can build. For me, working at the ZHAW is a great opportunity to be with inspiring colleagues and to constantly educate and challenge myself. Many researchers, teachers and business people at the ZHAW are active in both business and academia, which creates a lively working environment.
Finally, a review and an outlook: Has the dream become more realistic for young girls to start a career as a soccer player?
When I was a girl, and I watched football on the TV, I got so fascinated, and I thought "I want to become a football pro". However, I soon realized that at the big games I watched on TV, only men played. I remember that at some point I was sad because I realized that for me it wasn't the same as for the boys at my age.
Today it is a more realistic dream for girls than it was for me, not to mention how it was for my mother or even my grandmother. The quality of the leagues is higher, the games are much more visible and big and traditionally male clubs are starting to realize that a successful women's team creates synergies and is not a burden. FC Barcelona, for example, is investing some of its capital in women's soccer. In just a few years, the club has become world-class as a result. This spring, FC Barcelona's women's team broke European attendance records when they played in front of more than 91,000 spectators at El Classico. Those who still go around with the old argument that "nobody watches women's soccer" are simply outdated, and most of them have never seen a live women's soccer match themselves.
Still, there is a big difference in "grassroots" investments. As mentioned, it is more accessible for boys to start playing football than for girls. In general, the quote I once heard is still accurate: "you make investments in girls only when they have proven that they are good enough, whilst for boys, you invest early to make them good". However, as within any other business, the rule of strategic, long-term investments leading to a higher quality of the end product, also applies to women´s soccer. Latest proof of this is the UK government´s investments following the Lioness success in the EURO 2022.
Every day, I see all the players around me, former and current team mates that are working hard to follow the passion of playing football. And I have done too. Still, one can never forget that I am extremely priviliged, and for this I can only be grateful for all the female athletes that have fought before me. In many aspects, I do feel that times are changing. Women play football. Women are leaders. The future is ours!