Sustainability awards for dissertations
Every year, the Swiss Green Economy Symposium, in collaboration with the ZHAW, gives an Award for outstanding final theses that contribute in various ways to achieving the Sustainable Development Goals. This year's award-winning dissertations revolved around the Winterthur Music Festival, more efficient route planning for waste collection, and higher chances of success for energy and environmental start-ups.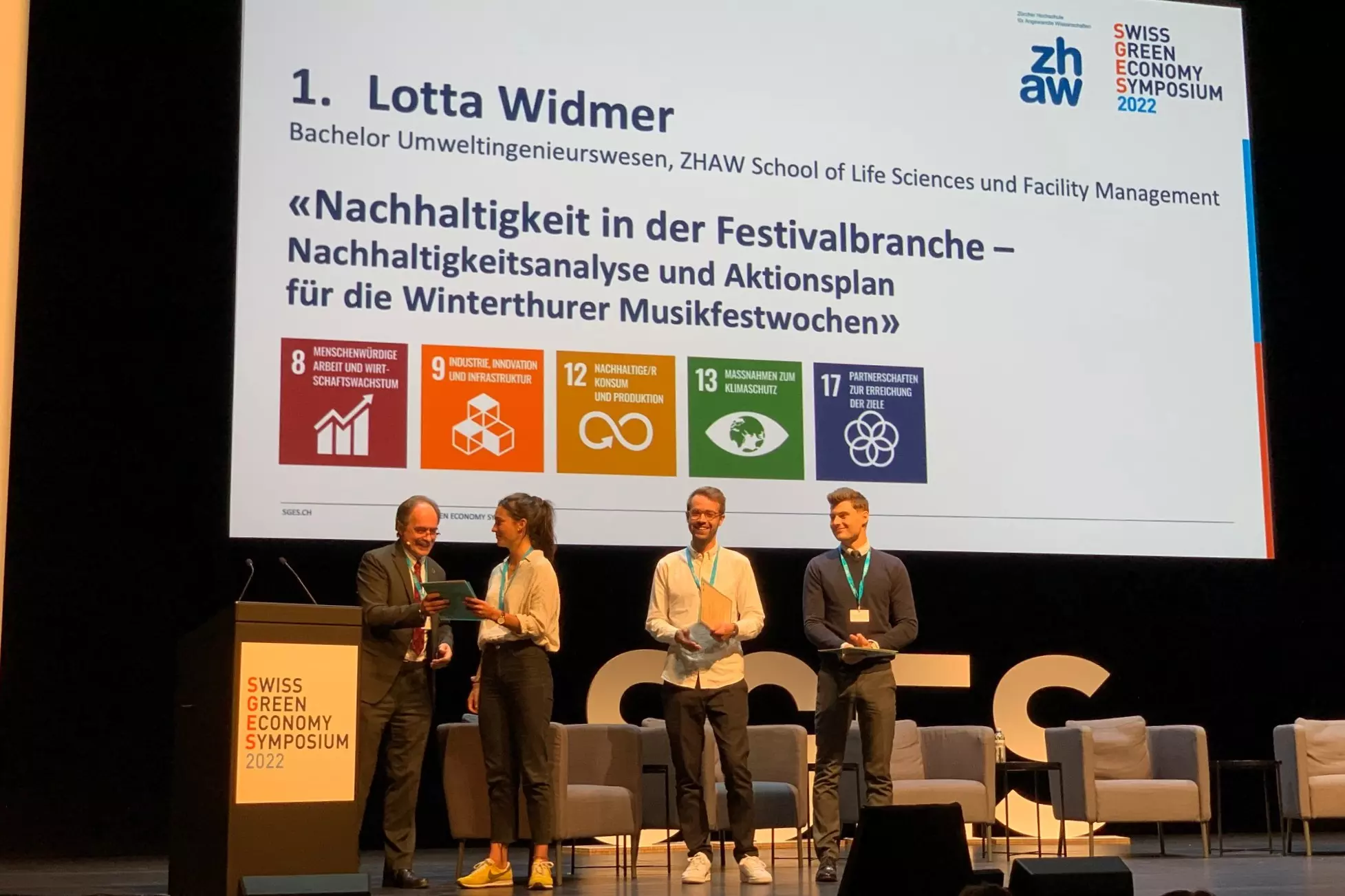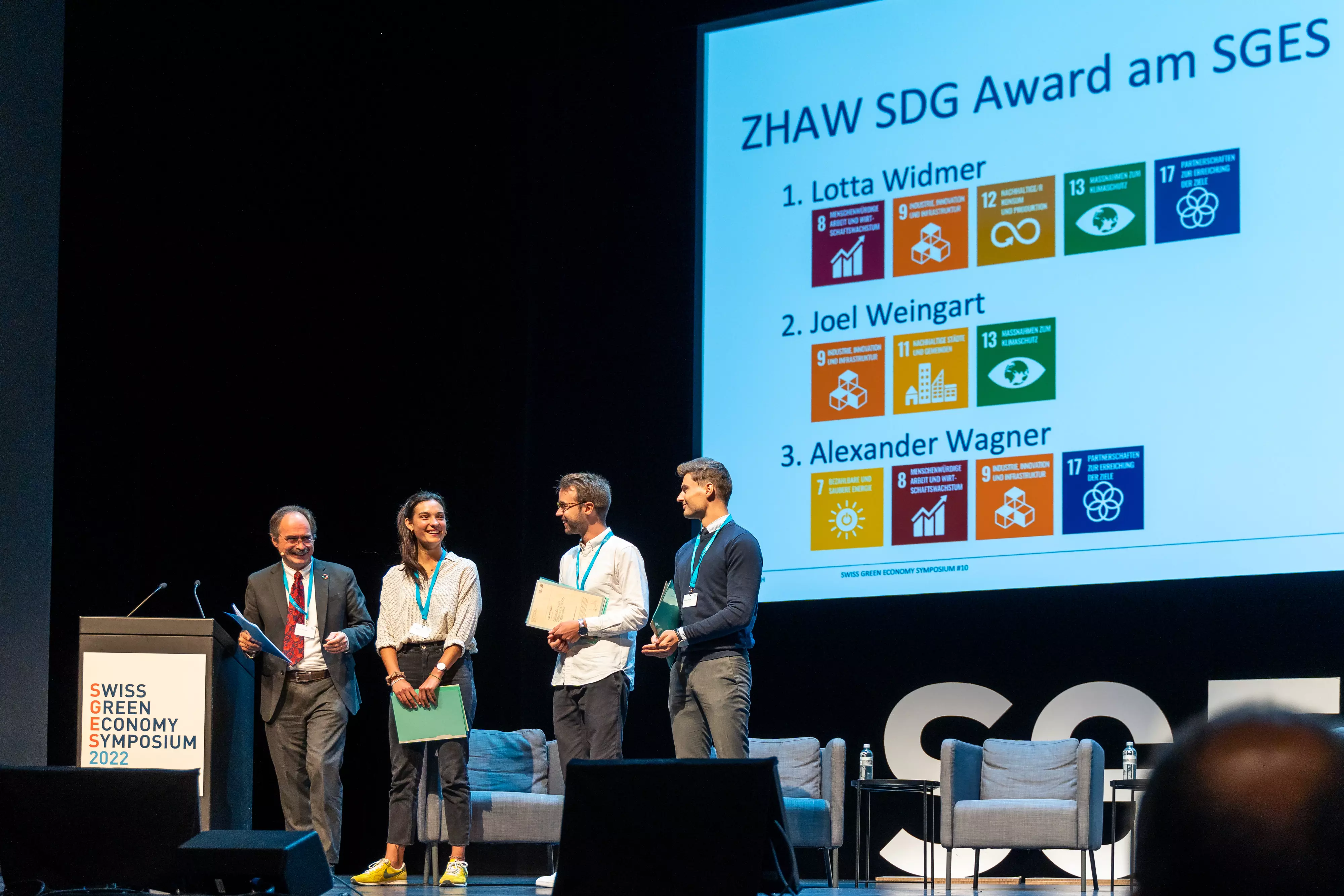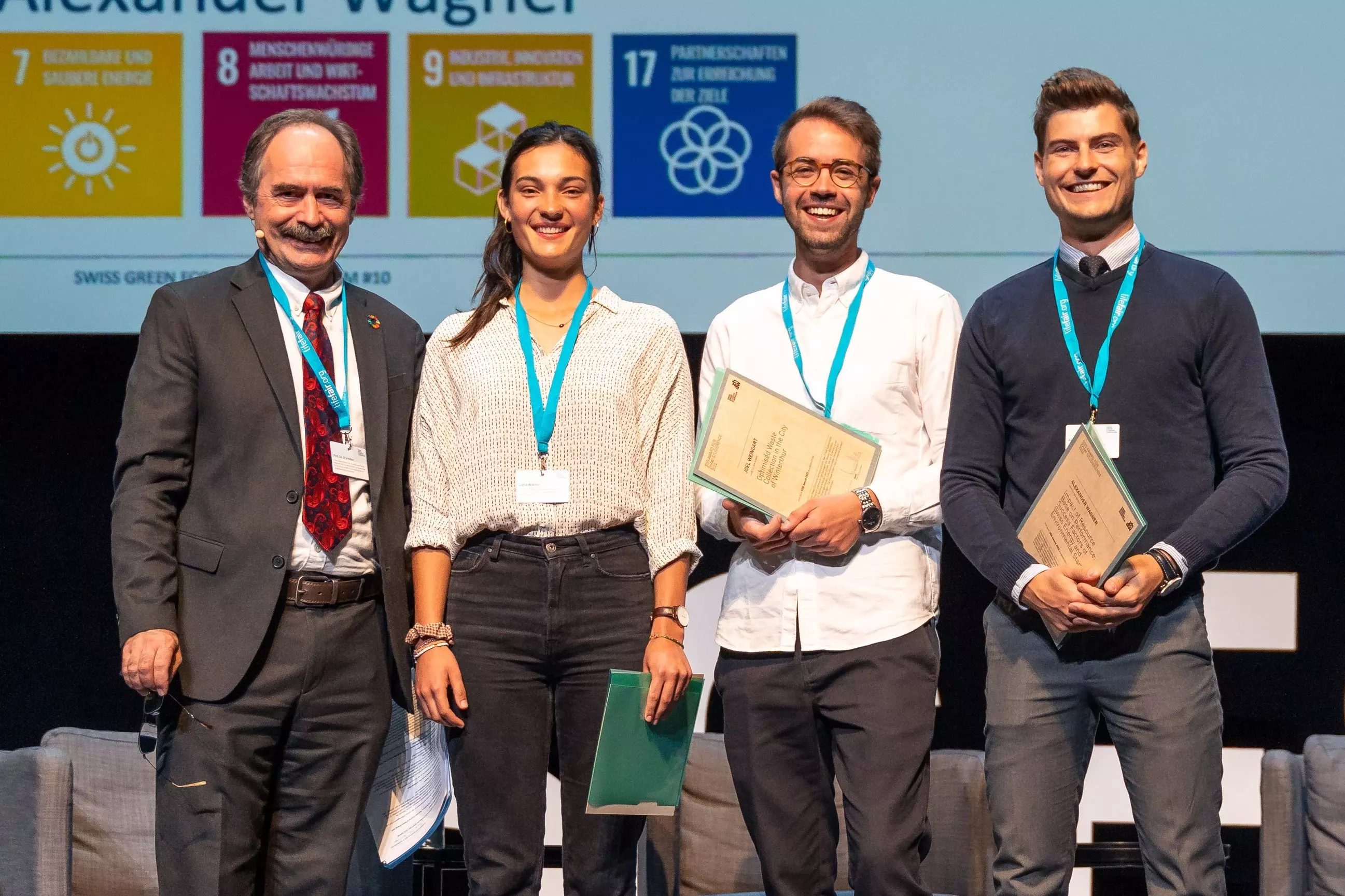 This year's Swiss Green Economy Symposium (SGES) took place under the motto "Courageous and responsible cooperation". Not only representatives from business, associations and politics were on the stage, but once again also ZHAW graduates. The SDG Award honours student dissertations at the ZHAW that makes a particular contribution to achieving the Sustainable Development Goals and the 2030 Agenda. This year's first place went to Lotta Widmer with her Bachelor's dissertation on environmental engineering.
On the way to an emission-free festival
How can music festivals become more sustainable? Lotta Widmer looked for best practice examples in Switzerland, conducted interviews with experts for creating guidelines and researched knowledge in the fields of environmental psychology and sustainability communication. In her Bachelor's dissertation, a holistic view of the three sustainability dimensions - environmental, social and economic - was central. Lotta Widmer used the knowledge she gathered to analyse the Winterthur Music Festival as a practical example and to create an action plan with over 70 measures. She has already implemented parts of it at this year's festival.
Even more efficient electric waste collection
The second place went to Joel Weingart from the School of Engineering. In his master's dissertation, he developed a tool to estimate the range of an electric waste collection truck used in Winterthur. The energy consumption of the truck is calculated accurately and enables effective planning of waste collection tours. In addition, based on collected data, he developed a methodology to optimise routes and reduce energy consumption, as well as time and distance travelled. This methodology was subsequently successfully implemented in a Winterthur neighbourhood.
Success factors for "green" business ideas
Many start-ups that could contribute to the SDGs remain small or fail. What factors increase the chances of success? In his Master's thesis in Business Administration, third-placed Alexander Wagner investigated the effects of different resources and capabilities on the performance of Swiss energy and environmental startups within a framework that includes financial resources, networks and partnerships, as well as team skills and knowledge. In addition to the relative importance of resources, the moderating effects of type, technology intensity and startup stage were also considered.
About the SDG Award
The Swiss Green Economy Symposium (SGES) is one of the largest annual events on green economy in Switzerland. Every September, more than 1000 participants from business, politics and science come together in Winterthur at the SGES. The ZHAW SDG Award, worth a total of CHF 4500, is also presented at this event. It is part of the ZHAW's Sustainable Impact Program. Student theses that address ecological, social or economic sustainability are eligible to apply.
Special prizes for other works
In addition to the three podium places, four special prizes were awarded for equally promising works. Lorena Plebani developed a mediation game for youths and young adults on the topic of landscape and sustainability in her Master's degree in Environment and Natural Resources. In his Bachelor's dissertation in Environmental Engineering, Mathieu Cretton investigated the use of artificial nesting aids and natural sites to promote the populations of rare wild bee species. In his Master's dissertation in Business Administration, Tobias Affolter developed and tested his own business idea in the field of Personal Vertical Farming (PVF), in which consumers become producers themselves through vertical farming. And Anja Diem, in her Bachelor's dissertation in Business Economics, investigated where the obstacles to ecological buildings lie and how we can overcome them.