BA in Language and Integration
The three-year BA in Language and Integration is aimed at anyone who wants to complete a course of study in which professional and social integration through language plays a central role. During this undergraduate programme, you learn how to support adults in developing their German skills as a foreign/second language. Graduates are fully equipped with all the skills they need to take on roles in the areas of language teaching, language coaching and language education management.
The BA in Language and Integration, which was launched in 2020, is the first degree programme in Switzerland that qualifies graduates to teach German to adults as a foreign/second language. From the fifth semester, you also have the opportunity to fine-tune your professional profile by choosing between the specialisations of language consulting/coaching and language education management. The degree programme stands out thanks to its varied semester structure, an innovative teaching concept and the unique composition of its course content.
The degree programme's content is made up of five specialist areas and two profiles. In the linguistics component, you are provided with basic knowledge about language structures and language use as well as about the relationship between language and society. The didactics component addresses questions concerning teaching and learning, such as how educational content is prepared, conveyed, absorbed and processed. In the contexts component, topics relating to migration and society (history, culture, law and many more) are covered, while the academic research component enables you to hone your writing skills and analytical thinking. And the major practice-based component prepares you thoroughly from the 1st through to the 6th semester to take on professional roles in future. These five areas are interconnected and coordinated with each another.
Students who choose the language consulting/coaching profile take an in-depth look at issues such as the assessment and evaluation of language skills, taking into account the role played by different educational and learning systems. Those who opt for the language education management profile acquire organisational and administrative expertise and skills that are important for the management of institutions and for project management in the context of language and integration.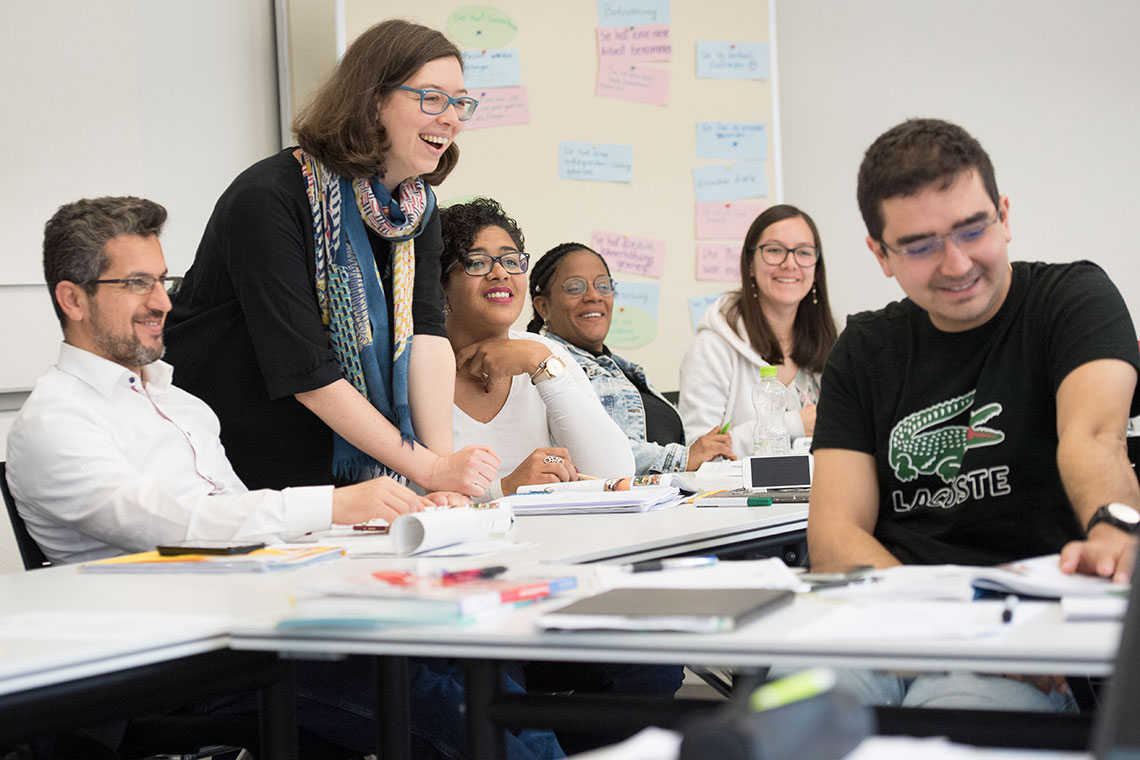 In the context of mobility and migration, language becomes key to participation in professional and social life. Knowledge of German enables migrants to engage in social exchanges and enter the labour market. It is for this reason that the federal government and cantons promote and require linguistic integration.
As a graduate of the BA programme in Language and Integration, you will have all the tools at your disposal to work in a diverse and varied field that allows you to support adults in learning German as a foreign/second language. You may assume a role as a language course instructor in Switzerland or abroad, as a language consultant in the field of migration or as a language education manager. Alternatively, you may also opt to focus on the development of educational materials. Your skills will enable you to work in governmental agencies, institutions, organisations and companies, where you will invariably assume roles that have close links to language and allow you to work with people.
In the BA in Language and Integration, your practical training already begins during the first semester. Find out more about practical training, our industry partners and our partner universities: