Organisational Communication and Management

In the professorship of Organisational Communication and Management, we research and develop structures, processes and strategies that are designed to reinforce the interplay between strategic management and communication management, to ensure that organisations are able to position themselves sustainably and to promote digital transformation within organisations. We provide our expertise to communication managers and organisational leaders in consultancy projects. For example, we use our IAM Digital Transformation Navigator to assist organisations in their specific problems related to digital transformation and communication. In addition, we offer schools an online assessment tool for developing their own communication processes. In the area of identity and reputation management, we disseminate knowledge and methods to analyse, optimise and implement positioning and communication strategies. We contribute to the professionalisation of this field by incorporating the results of our research in academic programmes and continuing education, as well as in our publications.
Trend study Switzerland 2022: Communication in the digital transformation
Every two years since 2018, we have been investigating the current situation and development needs of corporate communication in the digital transformation in our research project "Communication in the digital transformation". The 2022 trend study is based on an online survey of 133 corporate communications officers (CCOs) and 12 in-depth interviews with experts.
School communication in the digital transformation
We support school administrators in further developing their school communication against the backdrop of the digital transformation. Drawing from our research work, we offer our expertise in the areas of analysis, strategy development and process monitoring. With our models and online assessment of school communication tool, schools are able to independently evaluate their current communication activities and derive recommendations for action. In our webinars and workshops, we assist you in analysing and developing tailor-made communication concepts.
The IAM Digital Transformation Navigator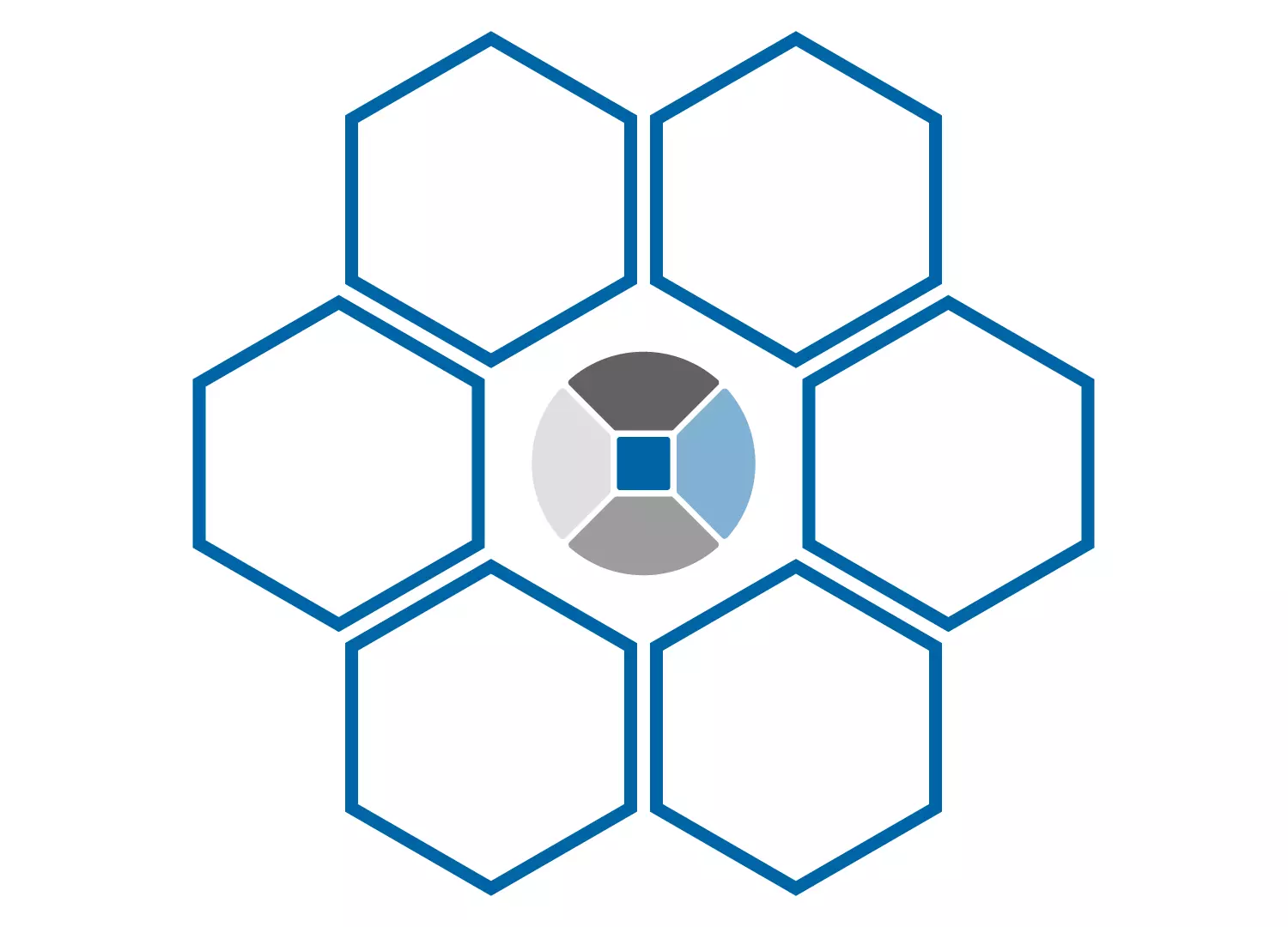 Communication is a key factor for organisations in successfully navigating the digital transformation process. Based on our research on this topic, we have developed the IAM Digital Transformation Navigator (DTN). As a framework, the DTN reveals how communication has to be positioned in ten different dimensions so that it not only helps to shape a company's digital transformation, but also plays a key role in driving it forward. With our advisory service, we are happy to support you in analysing your current situation and areas of potential as well as in developing your strategy. Depending on your starting position, focus may also be placed on the provision of support during the implementation of transformation projects and processes.
Identity-oriented communication management model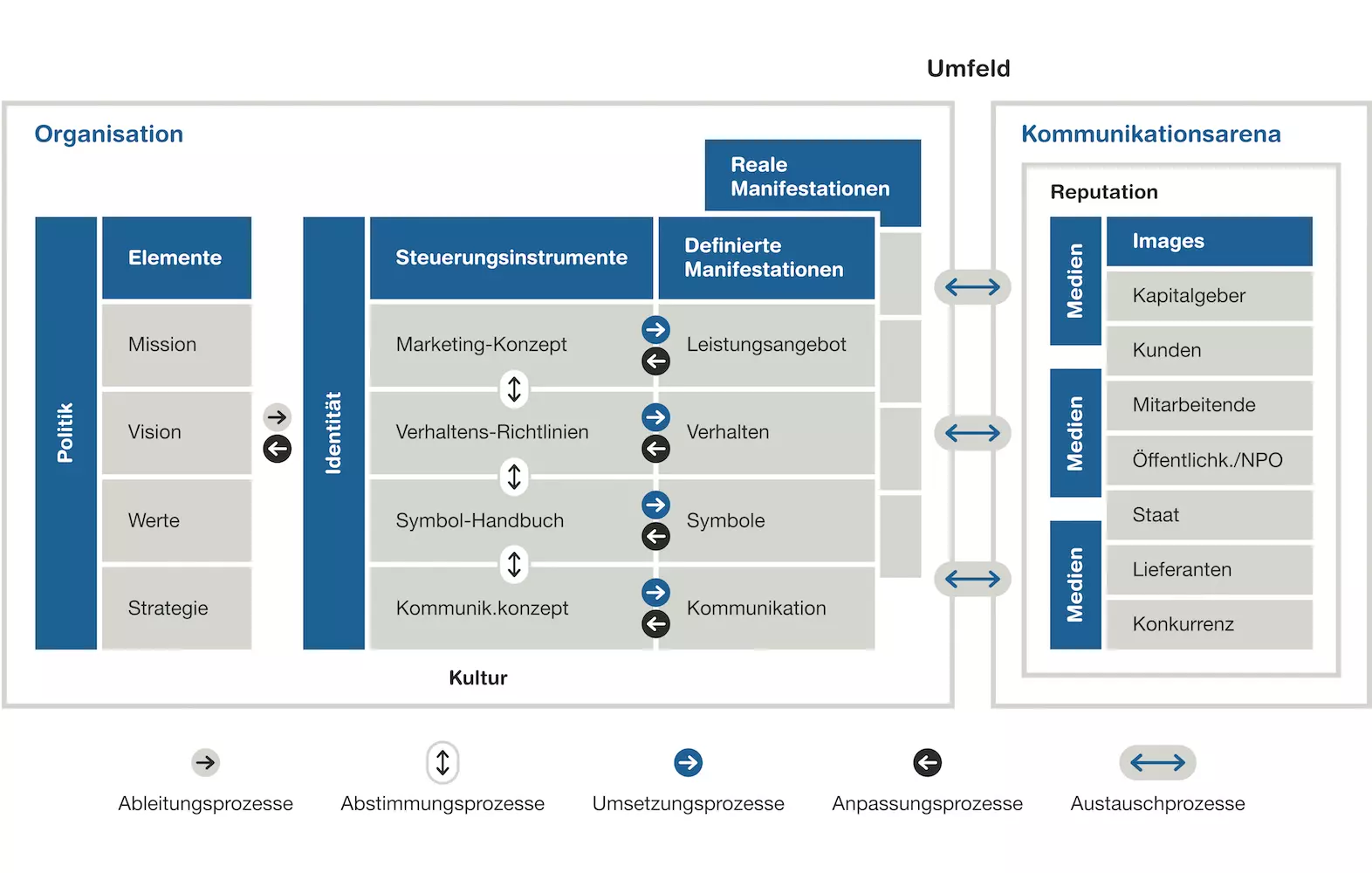 The identity-oriented communication management model of Markus Niederhäuser and Nicole Rosenberger shows how the reputation of organisations can be shaped through communication. It illustrates how corporate policy, identity and reputation are connected and interact with one another, while also highlighting the specific role played by corporate communication in this field of competing forces. As a tool for analysis and action, it shows how communication management is to be understood and conducted as part of identity management. The model is presented and applied to current case studies in their book on corporate policy, identity and communication ("Unternehmenspolitik, Identität und Kommunikation", available in German only).
The results from our research in the area of Organisational Communication and Management are integrated in the teaching activities at the Bachelor's level as well as at the consecutive and executive Master's level. In the BA in Communication, we teach the principles of identity-oriented communication, relationship and positioning management. This enables students to design and reflect on professional communication processes.
In the MA in Applied Linguistics with a specialisation in Organisational Communication, we teach methods of analysis, conceptualisation, implementation and evaluation of professional communication processes and how they interlink with strategic management. Students are able to align and review communication processes with respect to the digital transformation of organisations from a strategic and identity-oriented perspective.
At the executive Master's level (MAS), we teach specific approaches to reputation management and strategic communication consulting for communication managers in various public arenas. Particular attention is also paid to the role played by communication in the digital transformation of organisations. We offer the following programmes: MAS Communication Management and Leadership, CAS Community Communication, CAS Digital Transformation and Communication, CAS Communications Consulting, CAS Communication Management and CAS Leadership.