Specialisation in Conference Interpreting
Keeping up to date with current affairs and dealing with dynamic changes in language use – a rewarding, everyday challenge for professional interpreters
Programme and teaching staff
In the specialisation in Conference Interpreting, you learn the techniques and strategies of simultaneous and consecutive interpreting. But before you begin, you need to have an outstanding command of your native language and of two foreign languages. Graduates are entitled to practise as conference interpreters.
The research-based core modules form part of the MA for all specialisations. In the core modules, you learn to reflect critically and constructively on professional practice. The modules investigate principles and methods of applied linguistics. In plenary lectures and small groups of students from the different specialisations, you study central issues relating to applied linguistics in professional practice and you learn how to assess communication output competently.
We have an international team of lecturers teaching in the specialisation in Conference Interpreting and in the interpreting preparation course (Dolmetsch-Propädeutikum). They are all practising conference interpreters and/or recognised experts in related disciplines or subject-specific areas (e.g. voice and speech training, economics). Thanks to their extensive experience in a wide variety of fields, they are able to give our students a direct insight into the profession and offer an ideal preparation for a career as a conference interpreter.

Conference interpreters work as freelancers or are employed as in-house interpreters. Freelancers are recruited by specialist agencies, through the recommendation of colleagues or by clients direct. They work for trade unions, associations, political parties, etc. in a variety of venues, such as international congresses and conferences or internal events. Working hours and contracts can fluctuate widely due to the economic situation, seasonal demand and the short-term nature of the interpreting business. Institutions and international organisations may employ in-house conference interpreters with more regular working times and duty periods.
The MA specialisation in Conference Interpreting provides practical training in the relevant specialist, technical and professional competences. Graduates are therefore able to start directly on their career as conference interpreters.
In the MA programme, you study at least three languages: your native or primary language (A language) and at least two foreign languages, which are classified as either 'active' (B) or 'passive' (C) languages. You interpret out of your B and C languages into your A language and out of your A language into your B language. The minimum language combination is A + B + C or A + C + C + C. The results you achieve in the professional aptitude tests will determine which language is classified as your A language and whether your foreign languages are classified as B (active) or C (passive). One of the languages you offer must be German.
The table below gives you an overview of the languages and language combinations we currently cover in the specialisation in Professional Translation. If there is sufficient demand, additional languages may be added. The MA programme director reserves the right to cancel a language version if there are not enough students enrolled.
| A language | B or C languages | C language only |
| --- | --- | --- |
| German | French, Italian, English, Spanish, Russian, Dutch, Chinese | Portuguese |
| French | German, Italian, English, Spanish, Dutch | |
| Italian | German, French, English, Spanish | Dutch |
| English | German, French, Italian, Spanish, Russian | Portuguese |
| Spanish | German, French, Italian, English | Portuguese |
| Russian | German, English | French, Italian |
Personal qualities
Successful candidates have:
strong written and oral communication skills in diverse contexts, a quick understanding and good powers of concentration; they are creative in their approach to problem-solving, intellectually curious, able to deal with criticism and to cope with pressure;

a good general education, a thorough knowledge of economic, social, political and cultural conditions in the cultural areas of their chosen languages;

an outstanding command of their native language and at least two foreign languages.
Before you begin your studies, we recommend you to spend some time abroad to improve your language skills and enhance your cultural knowledge.
Formal conditions of admission
Candidates must fulfil the following formal conditions in order to be admitted to the programme:
We recommend candidates to prepare for the professional aptitude test in Conference Interpreting by attending the preparation course Dolmetsch-Propädeutikum. Please note the relevant dates and deadlines.
| | Programme start: Spring semester 2021 |
| --- | --- |
| Submission of applications | 1 August - 31 October 2020 |
| Language test | 22 June - 3 July 2020 |
| Language test (resit date) | 28 September - 9 October 2020 |
| Test of competence | 15 August 2020 |
| Test of competence (resit date) | 7 November 2020 |
| Professional aptitude test | January 2021 |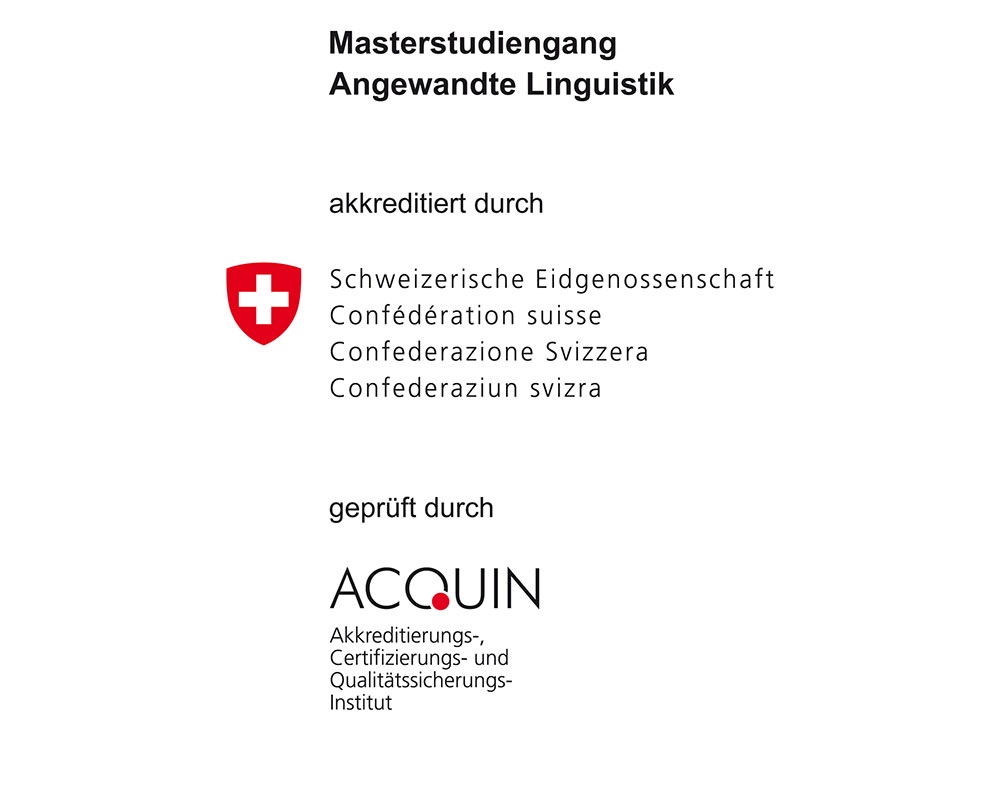 The MA in Applied Linguistics specialisation in Conference Interpreting received unconditional accreditation from the Federal Office for Professional Education and Technology (precursor of SERI) in 2012.