ZASIPS
The Zürcher Adoleszenten Screening Instrument Psychischer Störungen (ZASIPS) [Zurich adolescent screening for mental disorders] is a diagnostic instrument for detection of mental disorders in young people age 16 to 25.
Early detection of mental disorders
Background
Young persons who are seeking a job or unemployed more frequently have mental disorders than young people and young adults with education and training or a job. In Switzerland each year there are also 3,000 disability retirements in the age group from 18 to 29, and 70% of these disability pensioners have mental disorders. Adolescence is an important time in which the bases for good health in adulthood are created. For this reason, it is important to identify mental illness early on and to provide appropriate treatment. Through early detection of young people's mental health problems, fitness for work can be promoted and the number of early disability pensions can be reduced.
"Many mental disorders arise in adolescence. Early detection can contribute towards prevention of dysfunctional health behaviour".
Filomena Sabatella, ZASIPS project head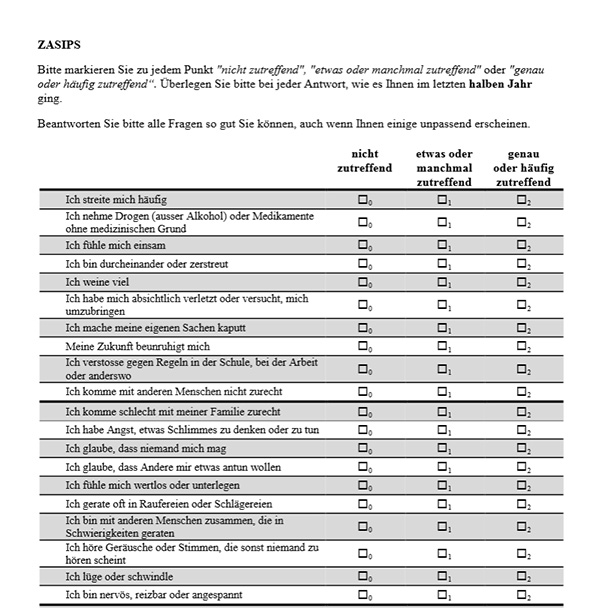 Diagnostic instrument
ZASIPS is a brief screening instrument for early detection of mental disorders in adolescents between the ages of 16 and 25. The questionnaire is filled in by adolescents and young adults; their responses are based on their own self-assessment. Each of the 46 items has a point value of 0 (never) to 2 (often).
Scales
Anxiety and depression

Physical complaints

Schizoid or obsessive thinking

Aggressive behaviour

Delinquent behaviour
For the screening, the points of the 46 items are summed. The highest possible number of points is 92. High numbers indicate a high probability that the adolescent has a mental disorder. This should not be equated with a diagnosis. Using the questionnaire, coaches and caregivers are able to identify mental health problems and point the young persons to appropriate options, such as psychotherapy.
Aims
A valid and economical screening instrument for rapid detection of possible mental health problems in unemployed adolescents and young adults

Promotion of early and accurate diagnosis and treatment of mental disorders

Reduction of early disability in adolescents through early detection of mental health problems
In a pilot project the screening was tested in a sample of 150 unemployed young people taking part in a 'Motivation Semester', a labour market programme. In a second step, for finalization, it was then validated with an additional 80 adolescents. For psychometric reasons, this sample comprised in equal parts of young people with and without mental health problems.