Prof. Dr. Ulla Kleinberger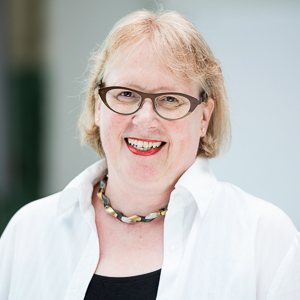 Prof. Dr. Ulla Kleinberger
ZHAW School of Applied Linguistics
Institute of Translation and Interpreting
Theaterstrasse 15c
8400 Winterthur
Personal profile
Management role
Head, Applied Discourse Studies research area
Position at the ZHAW
Professor of Applied Discourse Studies
www.zhaw.ch/en/linguistics/research/applied-discourse-studies/
Expertise and research interests
Text linguistics, conversation analysis, semantics and pragmatics, multilingualism, media linguistics, discourse analysis, methods of (applied) linguistics.
Professional communication, organizational communication, intra-company communication in monolingual and multilingual contexts, health communication, language for children, young people and the elderly.

Educational background
- Associate Professor, University of Zurich (since 2006)
- Habilitation, University of Zurich (2000)
- Dr. phil., University of Zurich (1992)
- Studies in German Linguistics and Literature, French Literature and Germanic Languages at the University of Zurich (1984-1990)
Professional milestones
Academic engagement:

Lecturer/professor at various domestic and foreign universities and colleges since 1993:
Swiss:
- University of Basel (2004-2007; 2011)
- University of Zurich (1990-1993; 1995-2006; 2007- ongoing)
- Università della Svizzera italiana in Lugano (1998-2004)
- Lucerne University of Applied Sciences and Arts (2001-2002)

Europe/USA:
- University of Kassel (2006-2008)
- Leopold-Franzens University of Innsbruck (2006)
- Helsingin Yliopisto/University of Helsinki (2005)
- Ruprecht-Karls University Heidelberg (1995)
- University of California at Berkeley (1993-1994)


Other professional activities:

- University of Zurich, Co-Project Manager UniVerS, SAP Implementation at the Faculty of Arts, 2002 - 2006
- Kantonsschule Zürich Oberland, high school German teacher, 1990 -1992/2000
- University of Zurich, German Department, Linguistics Department, Institute and Chair Secretariat, administrative assistant, 1986 -1990
- Grands Magasins Jelmoli SA, Zurich, saleswoman, 1985/1986
- La Boite AG, Zurich Airport, saleswoman, 1984/1985
- Brüel & Kjær (Schweiz) AG, electronic measuring instruments for acoustics and vibration, commercial clerk, 1984/1985
- Brüel & Kjær (France) AG, Electronic Measuring Instruments for Acoustics and Vibration, Stage/Commercial Clerk in Mennecy (Paris), 1983/1984
- Migros Cooperative Zurich, Cashier, 1982/1983

Membership of networks
Projects
Publications
Articles in scientific journal, peer-reviewed
Meier, Olivia; Kleinberger, Ulla; Gerber-Grote, Andreas,

2022.

Interprofessional collaboration – a health science term from the perspective of linguistics / Interprofessionalität – ein gesundheitswissenschaftlicher Begriff aus dem Blickwinkel der Linguistik.

International Journal of Health Professions.

9(1), pp. 139-150.

Available from: https://doi.org/10.2478/ijhp-2022-0009

Brucker-Kley, Elke; Kleinberger, Ulla; Keller, Thomas; Christen, Jonas; Keller-Senn, Anita; Koppitz, Andrea Luise,

2021.

Identifying research gaps : a review of virtual patient education and self-management.

Technology and Health Care.

pp. 1-13.

Available from: https://doi.org/10.3233/THC-202665

Günther, Ulla,

1996.

Sprache & Schrift : 18. Jahrestagung der Deutschen Gesellschaft für Sprachwissenschaft, Freiburg, 28. Februar–1. März 1996.

Zeitschrift für germanistische Linguistik.

24(2), pp. 227-231.

Available from: https://doi.org/10.21256/zhaw-4102
Books and monographs, peer-reviewed
Book parts, peer-reviewed
Conference contributions, peer-reviewed
Wagner, Franc; Kleinberger, Ulla,

2015.

Metapher und Norm [paper].

In:

Miecznikowski, Johanna; Casoni, Matteo; Christopher, Sabine; Kamber, Alain; Pandolfi, Elena Maria; Rocci, Andrea, eds.,

Norme linguistiche in contesto / Sprachnormen im Kontext / normes langagières en contexte / language norms in context : actes du colloque VALS-ASLA 2014 (Lugano, 12-14 février 2014).

Tagung der Vereinigung Angewandte Linguistik Schweiz (VALS-ASLA): «Sprachnormen im Kontext», Lugano, 12.-14. Februar 2014.

Neuchâtel:

Association Suisse de Linguistique Appliquée (ASLA), Vereinigung für Angewandte Linguistik in der Schweiz.

pp. 179-190.

Bulletin suisse de linguistique appliquée ; No spécial, 2015, II.

Available from: http://doc.rero.ch/record/11876/files/bulletin_vals_asla_2015_special_1.pdf

Hanselmann, Sandra; Probst, Sebastian; Matic, Igor; Petry, Heidi; Ehrensberger-Dow, Maureen; Kleinberger, Ulla; Imhof, Lorenz,

2013.

Overcoming language barriers in homecare nursing : added value of the interdisciplinary approach [poster].

In:

Swiss Inter- and Transdisciplinarity Day, Bern, 21 October 2013.
Other publications
Oral conference contributions and abstracts
Publications before appointment at the ZHAW