Dr. Albena Björck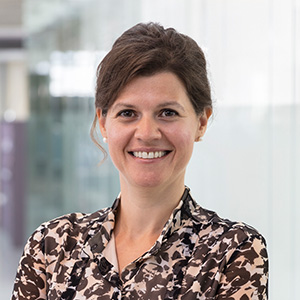 Dr. Albena Björck
ZHAW School of Management and Law
Department International Business
Theaterstrasse 17
8400 Winterthur
Position at the ZHAW
Senior Lecturer in International Strategy and Marketing, Litigation PR, Strategic Communication and Stakeholder Relations in academic, executive and custom corporate education programs.

Bachelor
Module Head "International Strategic Management", "Stakeholder Relations and Strategic Communication"
Supervision of bachelor thesis

Master
Module Head "Master Thesis", "International Business Projects 1 and 2", "International Marketing"
Lecturer Internationalization, International Business Development

Continuous and Executive Education
Module Head "Marketing Management" (MAS BA)
Lecturer Stakeholder Relations (MBA)
Lecturer International Marketing (IEMBA)

Academic and applied research and publications in Strategic (Branding, Change and Crisis) Communication, Stakeholder Relations, Litigation PR, International Strategy and Marketing.

Head of Corporate Education (2015-2018)
Responsibility for acquisition, curriculum development and project management of corporate universities and other customer executive programs. Coaching and advisory in international skills development, organisational learning and change.
Professional development teaching
Expertise and research interests
Strategic Communication, Strategic Management, Marketing Management, International Stakeholder Management and Relations, International Crisis Communication, International Business and Diplomacy, Organization Development and Quality Management, International Retail Management, Wealth & Asset Management, Swiss Financial Place, Pharmaceutical Industry.
Educational background
- University of St. Gallen (HSG): Dr. oec. HSG (Strategic Marketing Management and International Wholesale and Retail Management)
- University of St. Gallen (HSG): Management program MAPOW - AIESEC (studies of Marketing Management, International Retail Management, Logistics)
- University of National and World Economy, Sofia/Bulgaria: MSc International Relations

- ZHAW School of Management and Law, CAS Higher and Professional Education
Professional milestones
Since 2013
Corporate Advisory and Sounding Board Rebranding, Strategic and Crisis Communication, Change Management

Since 2013
Lecturer, Coach and Advisor I Strategic Crisis Communication, Internal and Change Communication, Strategic Issue Management at Swiss Journalist School MAZ, Lucerne and Lucerne University of Applied Sciences and Arts, Lucerne

2000-2013
Career in different departments and functions at Wegelin & Co. Private Bankers
- Head of Communications and Media Relations during the legal dispute and settlement with the US authorities
- Head of Corporate Communications and Media Spokeswoman (incl.
- Head of Marketing & Corporate Identiy & Quality Management

2008-2013
National and International Media Relations, President of the Swiss Private Bankers Association

2000
University of St. Gallen
Research Associate
Membership of networks
Articles in scientific journal, peer-reviewed
Conference contributions, peer-reviewed
Other publications
Oral conference contributions and abstracts
Björck, Albena; Carvajal-Ramirez, Michelle,

2020.

Does brand origin matter? : an analysis of low-involvement developing market brands internationalizing into a developed market.

In:

2020 Global Marketing Conference at Seoul Proceedings.

Global Marketing Conference 2020, Seoul (Virtual Conference), 5-8 November 2020.

pp. 174-177.

Available from: https://doi.org/10.15444/GMC2020.02.05.02

Nichols, Keisha; Farley, Michael; Björck, Albena,

2020.

Innovation through partnership.

In:

2020 AIEA Annual Conference, Washington DC, USA, 16-19 February 2020.
Publications before appointment at the ZHAW
Björck, Albena Dr. (2006). "Positionierung und zweiseitige Profilierung im Grosshandel – eine Untersuchung am Beispiel des Pharmagrosshandels" (Dissertation)