Dr. Ed Wieland Sebastian Opitz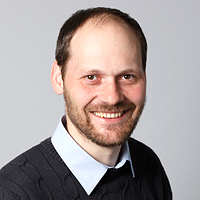 Dr. Ed Wieland Sebastian Opitz
ZHAW School of Life Sciences and Facility Management
Section for Coffee Competence Centre and Analytical Technologies
Einsiedlerstrasse 31a
8820 Wädenswil
Personal profile
Position at the ZHAW
Head of green coffee at the Coffee Excellence Center
Senior Research Associate in Analytical Chemistry

www.zhaw.ch/de/lsfm/institute-zentren/icbt/analytische-chemie/analytical-technologies/coffee-excellence-center/
Professional development teaching
Expertise and research interests
@Analytical Technologies:
Research in Analytical Chemistry of non-volatile compounds including maintenance of the LC-MS equipment.
Lecturer in Liquid Chromatography within the Master "Chemistry for the Life Science"
and for chromatography within the Bachelor program in Chemistry as well as supervision of bachelor students.
Analysis of non-volatile compounds: high performance liquid chromatography coupled to mass spectrometry (HPLC-SingleQuad MS, HPLC-MSn, UPLC-Triple Quad MS, UHPLC-ToF-MS, UHPLC-QToF-MS). Other liquid chromatography techniques (ion chromatography, size exclusion chromatography).
Analysis of volatile compounds: gas chromatography (liquid injection, headspace, SPME, cryofocussing), PTR-ToF-MS. Post column derivatisation: off-line and on-line analysis of antioxidant active compounds (flow injection analysis and post-column derivatisation)
Spectroscopy (near infrared, Raman spectroscopy), process analytical technologies.

@ Coffee Excellence Center:
Expertise in green coffee - from coffee farming to coffee trade. Ongoing projects in the field of coffee quality, coffee processing, coffee trade and sustainability of coffee cultivation.
Research in fields of cultivation and post-haarvest processing, especially fermentation and drying. The current research focus is on linking green coffee to the quality of roasted coffee, e.g. how does coffee variety, terroir and coffee processing such as fermentation and drying affect the quality of roasted coffee.
Teaching within the CAS (certificate of advanced studies) - The Science and Art of Coffee of coffee: from cultivation of coffee to export of green beans.
Educational background
SCA diploma green coffee professional and AST

PhD at the Department of Chemical Ecology, Universities of Würzburg and Bielefeld, Germany in 2011.
Title: Sequestration of plant secondary metabolites in the genus Athalia
Analytics of plant secondary metabolites (glucosinolates, iridoids and clerodendrines) with HPLC-DAD, UHPLC-TOF-MS, HPLC-QTOF-MS and GC-MS.
Purification, isolation and identification of a glucosinolate metabolite with preparative chromatography, ion chromatography and NMR.

Master studies in chemistry and biology at the University of Bayreuth, Germany (degrees in 2005 and 2006)
Professional milestones
Green coffee professional of the SCA and Authorized SCA trainer. Participant of the Green Coffee Creator Group to further develop all the SCA curricula (green coffee foundation, intermediate and professional).

Research scientist since 2011:
Project manager of various projects with application of analytical chemistry mainly related to coffee using liquid chromatography coupled to mass spectrometry. Project manager of Horizon 2020 Project: ProPAT; Project manager of KTI project: Modulating the Coffee Roasting Process to Optimize the Antioxidant Potential of Coffee.
Membership of networks
Projects
Publications
Articles in scientific journal, peer-reviewed
Books and monographs, peer-reviewed
Book parts, peer-reviewed
Yeretzian, Chahan; Opitz, Sebastian; Smrke, Samo; Wellinger, Marco,

2019.

Coffee volatile and aroma compounds : from the green bean to the cup

.

In:

Farah, Adriana, ed.,

Coffee : production, quality and chemistry.

London:

Royal Society of Chemistry.

pp. 726-770.

Available from: https://doi.org/10.1039/9781782622437-00726

Opitz, Sebastian; Smrke, Samo; Goodman, Bernard A.; Yeretzian, Chahan,

2014.

Methodology for the measurement of antioxidant capacity of coffee : a validated platform composed of three complementary antioxidant assays

.

In:

Preedy, Victor R., ed.,

Processing and impact on antioxidants in beverage.

London:

Academic Press.

pp. 253-264.

Available from: https://doi.org/10.1016/B978-0-12-404738-9.00026-X
Other publications
Beck, Barbara; Freimüller Leischtfeld, Susette; Opitz, Sebastian; Yeretzian, Chahan; Miescher Schwenninger, Susanne,

2019.

Exploring the impact of spontaneous wet fermentation on microbiota and coffee quality [poster].

In:

Cocotea2019 Book Of Abstracts - Posters.

Fifth International Congress on Cocoa Coffee and Tea 2019, Bremen, Germany, 26-28 June 2019.

pp. 30.

Available from: https://www.cocotea2019.com/app/download/12646324787/Cocotea2019+Book+Of+Abstracts+-+Posters.PDF?t=1563552975

Huber, Petra; Adlhart, Christian; Luginbühl, Vera; Morf, Fabienne; Opitz, Sebastian; Yeretzian, Chahan,

2014.

Coffee based polyphenols with potential in skin care : antioxidant activity and skin penetration assessed by in vivo Raman spectroscopy.

Household and Personal Care Today.

9(3), pp. 28-34.

Available from: http://www.teknoscienze.com/tks_article/coffee-based-polyphenols-with-potential-in-skin-careantioxidant-activity-and-skin-penetration-assessed-by-in-vivo-raman-spectroscopy/

Smrke, Samo; Opitz, Sebastian; Petrozzi, Sergio; Yeretzian, Chahan,

2012.

Characterization of coffee brews made from different roasting degrees using size exclusion chromatography and antioxidant assays [poster].

In:

Fall Meeting 2012 of the Swiss Chemical Society, Zurich, 13 September 2012.

Schweizerische Chemische Gesellschaft.

pp. 494.
Oral conference contributions and abstracts
Publications before appointment at the ZHAW
Kuhlmann F, Opitz SEW, Inselbacher E, Ganeteg U, Näsholm T, Ninkovic V (2013) Exploring the Nitrogen Ingestion of Aphids — a New Method Using Electrical Penetration Graph and 15N Labelling, PLoS ONE. in press.

Opitz SEW, Boeve JC, Nagy ZT, Sonet G, Koch F, Müller C (2012) Host Shifts from Lamiales to Brassicaceae in the Sawfly Genus Athalia. PLoS ONE. 7:e333649, doi:10.1371/journal.pone.0033649

Opitz SEW, Mix A, Winde I, Müller C (2011) Desulfation followed by sulfation - Metabolism of Benzylglucosinolate in Athalia rosae (Hymenoptera: Tenthredinidae),
ChemBioChem. 12: 1252-1257. doi:10.1002/cbic.201100053.

Jensen SR, Opitz SEW, Gotfredsen CH (2011) A new phenylethanoid triglycoside in Veronica beccabunca L., Biochem. Syst. Ecol. 39: 193-197. doi:10.1016/j.bse.2011.02.008.

Opitz SEW, Jensen SR, Müller C (2010) Sequestration of glucosinolates and iridoid glucosides in sawfly species of the genus Athalia and their role in defense against ants, J. Chem. Ecol. 36: 148-157.

Opitz SEW, Müller C (2009) Plant chemistry and insect sequestration, Chemoecology 19: 117-154.