Prof. Dr. Guido Keel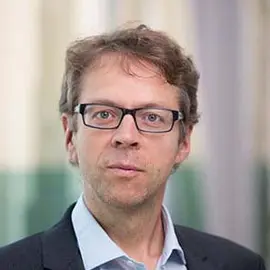 Prof. Dr. Guido Keel
ZHAW School of Applied Linguistics
Institute of Applied Media Studies
Theaterstrasse 15c
8400 Winterthur
Work at ZHAW
Management role
Director of Institute, Institute of Applied Media Studies
Head, Media Literacy research area
Position at the ZHAW
Director, IAM Institute of Applied Media Studies
www.zhaw.ch/en/linguistics/institutes-centres/iam-institute-of-applied-media-studies/
Professor of Media Literacy
www.zhaw.ch/en/linguistics/research/media-literacy/
Professional development teaching
MAS Communication Management and Leadership
Education and Continuing education
Expertise and research interests
Journalism, Media Use, Media Literacy, Media in Development
Professional milestones
Rieter: Corporate Communications
Marcel Bernet Public Relations: PR Consultant
UBS Marketing: Editor
Luzerner Medien: Online Editor
Sulzer: Corporate Communications
Seminar für Publizistikwissenschaft, University of Zurich: Research Assistant
Educational background
Studies at the University of Zürich, Masters Degree 1998 in Social Anthropology, Mass Communication and Economic and Social History; PhD in Mass Communication in 2011.
Membership of networks
Projects
Publications
Articles in scientific journal, peer-reviewed
Books and monographs, peer-reviewed
Keel, Guido; Weber, Wibke, eds.,

2021.

1. Auflage.

Baden-Baden:

Nomos.

ISBN 978-3-8487-8265-9.

Available from: https://doi.org/10.5771/9783748920656

Keel, Guido; Allemann, Dominik; Messerli, Irène,

2019.

IAM-Bernet Studie Journalisten im Web 2019 : Recherchieren, Publizieren, Diskutieren: Ausgewählte Einblicke in den Social-Media-Alltag von Schweizer Journalisten.

1. Auflage.

Kölliken:

buch&netz.

IAM Bernet Studie Journalisten im Web ; 3.

ISBN 978-3-03805-243-2.

Keel, Guido,

2011.

Journalisten in der Schweiz : eine Berufsfeldstudie im Zeitverlauf.

324. Auflage.

Konstanz:

UVK.

Forschungsfeld Kommunikation ; 31.

ISBN 978-3-86764-332-0.
Book parts, peer-reviewed
Conference contributions, peer-reviewed
Other publications
Oral conference contributions and abstracts
Other publications
Panel on "Can journalism be automated?" in: Artificial Intelligence in Industry and Finance. 6th European COST Conference on AI in Industry and Finance in Switzerland (9/9/21). Winterthur, ZHAW.