Dr. Anke Kaschlik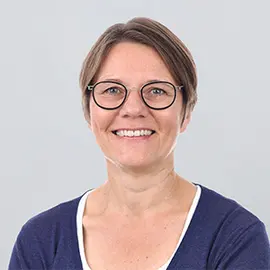 Dr. Anke Kaschlik
ZHAW School of Social Work
Institute of Diversity and Social Integration
Pfingstweidstrasse 96
8005 Zürich
Membership of networks
Projects
Publications
Articles in scientific journal, peer-reviewed
Book parts, peer-reviewed
Kaschlik, Anke; Schmidt, Jaqueline,

2023.

Ideen, Interessen und Zusammenarbeit in der Stadtentwicklung : auf dem Weg zu einer lokalen Kultur der Partizipation

.

In:

Oehler, Patrick; Janett, Sandra; Guhl, Jutta; Fabian, Carlo; Michon, Bruno, eds.,

Marginalisierung, Stadt und Soziale Arbeit.

Wiesbaden:

Springer.

pp. 83-107.

Quartiersforschung.

Available from: https://doi.org/10.1007/978-3-658-37386-3_5

Kaschlik, Anke,

2022.

Lokale Wissensbestände als Potenzial für nachhaltige (Klein)Stadtentwicklungen?

.

In:

Leal Filho, Walter, ed.,

Nachhaltigkeit in den Natur- und Sozialwissenschaften.

Berlin:

Peter Lang.

pp. 221-245.

Available from: https://doi.org/10.3726/b19330
Conference contributions, peer-reviewed
Brandenberg, Elias; Jossi, Martial; Kaschlik, Anke; Streckeisen, Peter,

2021.

A city without noise? : tackling the unintended effects of noise abatement, and developing strategies to enhance the quality of urban life [paper].

In:

Cities in a changing world.

Cities in a Changing World: Questions of Culture, Climate and Design, AMPS Conference, City Tech New York (virtual), 16-18 June 2021.

Liverpool:

AMPS.

pp. 20-27.

AMPS proceedings series ; 24.2.
Other publications
Oral conference contributions and abstracts
Publications before appointment at the ZHAW
Anke Kaschlik (2018): Vertrauen und Selbstwirksamkeitserwartungen in der Stadtentwicklung. Gestaltungsmöglichkeiten in kleinen/mittleren Städten in peripheren Regionen; in: RaumPlanung 195, 1/2018, S. 12-19

Anke Kaschlik (2017): Klein-/Mittelstädte in peripheren Regionen. Potenziale und Gestaltungsmöglichkeiten für die Stadtentwicklung; in: PlanerIn 2/2017, S. 36/37

Anke Kaschlik, Alexandra Engel, Ulrich Harteisen (Hg.)(2017): Potenziale in der Peripherie. Diversität und Veränderungsprozesse in ländlichen Regionen gestalten; Detmold: Verlag Dorothea Rohn

Anke Kaschlik (2017): Diversität und Veränderungsprozesse in ländlichen Regionen. Einführungen; in: Kaschlik, Anke et al. (Hg.): Potenziale in der Peripherie. Detmold: Verlag Dorothea Rohn, S. 7-18

Anke Kaschlik (2017): Stadtentwicklung: Potenziale und Gestaltungsoptionen in Mittelstädten; in: Kaschlik, Anke et al. (Hg.): Potenziale in der Peripherie. Detmold: Verlag Dorothea Rohn, S. 19-42

Anke Kaschlik (2017): Potenziale, Restriktionen und Handlungsoptionen ländlicher Regionen und ihrer kleinen und mittleren Städte. Ein Fazit; in: Kaschlik, Anke et al. (Hg.): Potenziale in der Peripherie. Detmold: Verlag Dorothea Rohn, S. 237-250

Anke Kaschlik, Gerhard Litges (2015): Am eigenen Schopf aus dem Sumpf ziehen! Chancen für die Entwicklung kleiner Städte; in: ti! Technologie-Informationen. Wissen und Innovationen aus niedersächsischen Hochschulen; Hannover, Heft 1+2/2015, S. 10

Anke Kaschlik (2013): Duderstadt: Lebensraum Altstadt. Finanzierung der eigenen Immobilie mit und ohne Denkmalschutz; Duderstadt: Prof. Hans Georg Näder Verlag
Alexandra Engel, Ulrich Harteisen, Anke Kaschlik (Hg.)(2012): Kleine Städte in peripheren Regionen: Prozesse. Teilhabe und Handlungsbefähigung. Integriertes Stadtentwicklungsmanagement; Detmold: Verlag Dorothea Rohn

Anke Kaschlik (2012): Eigenständige kleinstädtische Entwicklungen? Lokale Handlungsspielräume vor dem Hintergrund von Finanznot und Politikverdrossenheit; in: Engel, Alexandra et. al (Hg.): Kleine Städte in peripheren Regionen; Detmold: Verlag Dorothea Rohn, S. 11-28

Alexandra Engel, Anke Kaschlik (2012): Stärkere Geschlechtergerechtigkeit und regional abgestimmte Bildungsangebote als Schlüssel für die positive Entwicklung ländlicher Räume. Ergebnisse einer empirischen Studie in der Region Holzminden; in: Bohl, Ulrike et al. (Hg.): Transdisziplinäre Perspektiven der Geschlechterforschung; Berlin: LIT Verlag, S. 227-249

Alexandra Engel, Anke Kaschlik (2012): Gleichberechtigung und Bildung begünstigen regionale Entwicklung Schlüssel zur Zukunftsfähigkeit ländlicher Räume und ihrer Unternehmen; in: ti! Technologie-Informationen. Wissen und Innovationen aus niedersächsischen Hochschulen; Hannover, Heft 4/2012, S. 9

Alexandra Engel, Anke Kaschlik (2012): Wer bemächtigt sich peripherer Regionen? Innovationen, Pluralität und die Rolle Sozialer Arbeit in einem integrierten lokalen Entwicklungsmanagement; in: Debiel, Stefanie et al. (Hg.): Soziale Arbeit in ländlichen Räumen; Wiesbaden: Springer VS, S. 67-80

Birgit Franz, Anke Kaschlik (2012): Duderstadt: Lebensraum Altstadt - Wohntraum Fachwerk; Duderstadt: Prof. Hans Georg Näder Verlag

Alexandra Engel, Ulrich Harteisen, Anke Kaschlik (Hg.)(2011): Duderstadt. Eine Stadt in Bewegung; Duderstadt: Mecke Druck und Verlag

Anke Kaschlik (2011): Rahmenbedingungen der Kleinstadtentwicklung; in: Engel, Alexandra et al. (Hg.): Eine Stadt in Bewegung; Duderstadt: Mecke Druck und Verlag, S. 28-46

Anke Kaschlik (2011): Modernes Wohnen in der Altstadt; in: Engel, Alexandra et al. (Hg.): Eine Stadt in Bewegung; Duderstadt: Mecke Druck und Verlag, S. 52-65

Anke Kaschlik, Astrid Witte (2011): Einzelhandel und Kleinstadtentwicklung; in: Engel, Alexandra et al. (Hg.): Eine Stadt in Bewegung; Duderstadt: Mecke Druck und Verlag,S. 70-82

Anke Kaschlik, Astrid Witte (2011): Kunst und Kultur in Duderstadt; in: Engel, Alexandra et al. (Hg.): Eine Stadt in Bewegung; Duderstadt: Mecke Druck und Verlag, S. 110-119
Alexandra Engel, Anke Kaschlik, Swantje Penke, Heike Stratmann-Berthold (2010): Geschlechtergerechtigkeit, lokale Identität, Kooperation und Bildung als Schlüssel zur Fachkräfteentwicklung in ländlichen Räumen. Eine empirische Studie aus Bevölkerungs- und Unternehmenssicht in der Region Holzminden; Berlin: Mensch und Buch

Anke Kaschlik (2008): Segregation unter Stagnationsbedingungen. Selektive Veränderungen von sozialräumlicher Struktur, baulich-räumlichen Qualitäten und Wohnungsversorgung - dargestellt am Beispiel der Stadt Kassel seit den 1970er Jahren; Kassel urn:nbn:de:hebis:34-2009022326395 und Saarbrücken: SVH (2009)

Anke Kaschlik (2008): Wohnsituation und Bevölkerungsstrukturen ändern sich. ArcGIS als Instrument für integrierte sozialräumliche, stadträumliche und Wohnungsmarktanalysen; in: arcaktuell 1/2008, S. 18/19

Anke Kaschlik (2007): GIS als Werkzeug für sozial- und stadträumliche Analysen; in: Sabine Demel, Nicole Haustein (Hg.): Geographische Informationssysteme in Stadt- und Landschaftsplanung; Universität Kassel, Fachbereich Architektur, Stadtplanung, Landschaftsplanung