Dr. Evelyn Kirchsteiger-Meier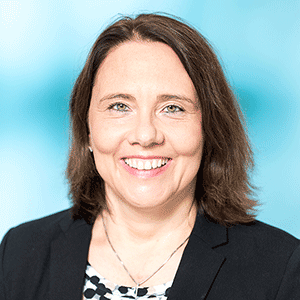 Dr. Evelyn Kirchsteiger-Meier
ZHAW School of Life Sciences and Facility Management
Centre for Quality Management and Food Law

8820 Wädenswil
Personal profile
Management role
Head, Head of Center for Quality Management and Food Law
Position at the ZHAW
Lecturer Food Law / Food Safety / Quality Management
Guest Lecturer International Food Laws and Regulations, Michigan State University (http://www.canr.msu.edu/iflr/meet-our-team/)

www.linkedin.com/in/kirchsteigermeier/

www.zhaw.ch/ilgi/qm-lebensmittelrecht/
Professional development teaching
Introduction to US Food Law / ONLINE
Expertise and research interests
- Food Law of Switzerland and the European Union; US food safety legislation
- Chairmanship of yearly conference in food law (www.zhaw.ch/lebensmittelrecht-tagung/)
- Study director of CAS in food law (www.zhaw.ch/cas-lebensmittelrecht/)
- Self supervision concepts according to food law requirements (inluding prerequisites, HACCP, traceability)
- QM systems and certifications in food business operations (e.g., food safety management systems according to ISO/FSSC 22000; integrated process management systems; continuous improvement; business excellence)

Educational background
2014-2017: PhD in Food Law, University of Bayreuth, Germany (Prof. M. Möstl). Theme: Comparative analysis on food hygiene law in the European Union, Switzerland and the USA. Published as volume 38 of the series of publications on food law of the Research Centre for German and European Food Law (FLMR) of the University of Bayreuth (http://www.lmr.uni-bayreuth.de/de/schriftenreihe/index.html; ISBN 978-3-8005-0020-8)

2012: Certifiate of Advanced Studies (CAS) in University Didactic, Zurich University of Teacher Education (PH Zürich)
2005: Advanced Studies in "Principles of Business Management", University of Zurich
1991 - 1997: Studies in Biology and Chemistry at the University of Basel, Switzerland (dipl. phil. II). Diploma thesis at the Friedrich Miescher Institute, Basel, entitled: "Mapping of the amino acids of the gene III product of cauliflower mosaic virus involved in the interaction with the major coat protein".



Professional milestones
From Aug. 2008: Zurich University of Applied Sciences, Wädenswil: Lecturer/Head of Center for Quality Management and Food Law.
2007 - 2008: Nestlé Switzerland, Vevey: Project Manager for entire Swiss Market for Certification of ISO 22000 and Nestlé Quality Management System (NQMS).
2000 - 2007: Nestlé Switzerland, Wangen Factory: Factory QA Manager.
1998 - 2000: Nestec, Vevey: Scientific assistant in Biotechnology Coordination.
Membership of networks
Projects
Publications
Articles in scientific journal, peer-reviewed
Books and monographs, peer-reviewed
Book parts, peer-reviewed
Other publications
Oral conference contributions and abstracts
Publications before appointment at the ZHAW
Hamprecht, Jens; Corsten, Daniel; Noll, Manfred; Meier, Evelyn, 2005. Controlling the sustainability of food supply chains. Supply chain management. 10(1), S. 7-10.

Leclerc, Denis; Stavolone, Livia; Meier, Evelyn; Guerra-Peraza, Guerra-Peraza; Herzog, Etienne; Hohn, Thomas, 2001. The product of ORF III in cauliflower mosaic virus interacts with the viral coat protein through its C-terminal prolin rich domain. Virus Genes. 22(2), S. 159-165. Verfügbar unter: doi.org/10.1023/A:1008121228637


Other publications
Bundesamt für Gesundheit (BAG); Kirchsteiger-Meier, E. (2011). BAG-Leitfaden: "Allergene korrekt deklariert. Leitfaden für eine gute Kennzeichnungspraxis von Allergenen in vorverpackten Lebensmitteln und ein angepasstes Allergenmanagement in der Lebensmittelproduktion". Publikation des BLV (damaliges BAG), März 2011. digitalcollection.zhaw.ch/handle/11475/11147