Master of Science in Life Sciences - Applied Computational Life Sciences
Programming, Algorithms, Data-Structures, Mathematical Modelling, Machine Learning, Pattern Recognition, Data Bases, Data Architecture Systems, Handling and Visualising Data, Neural Networks and Deep Learning are the relevant Keywords. Those who master these contents have key qualifications for the future. Become a data scientist and simulation expert!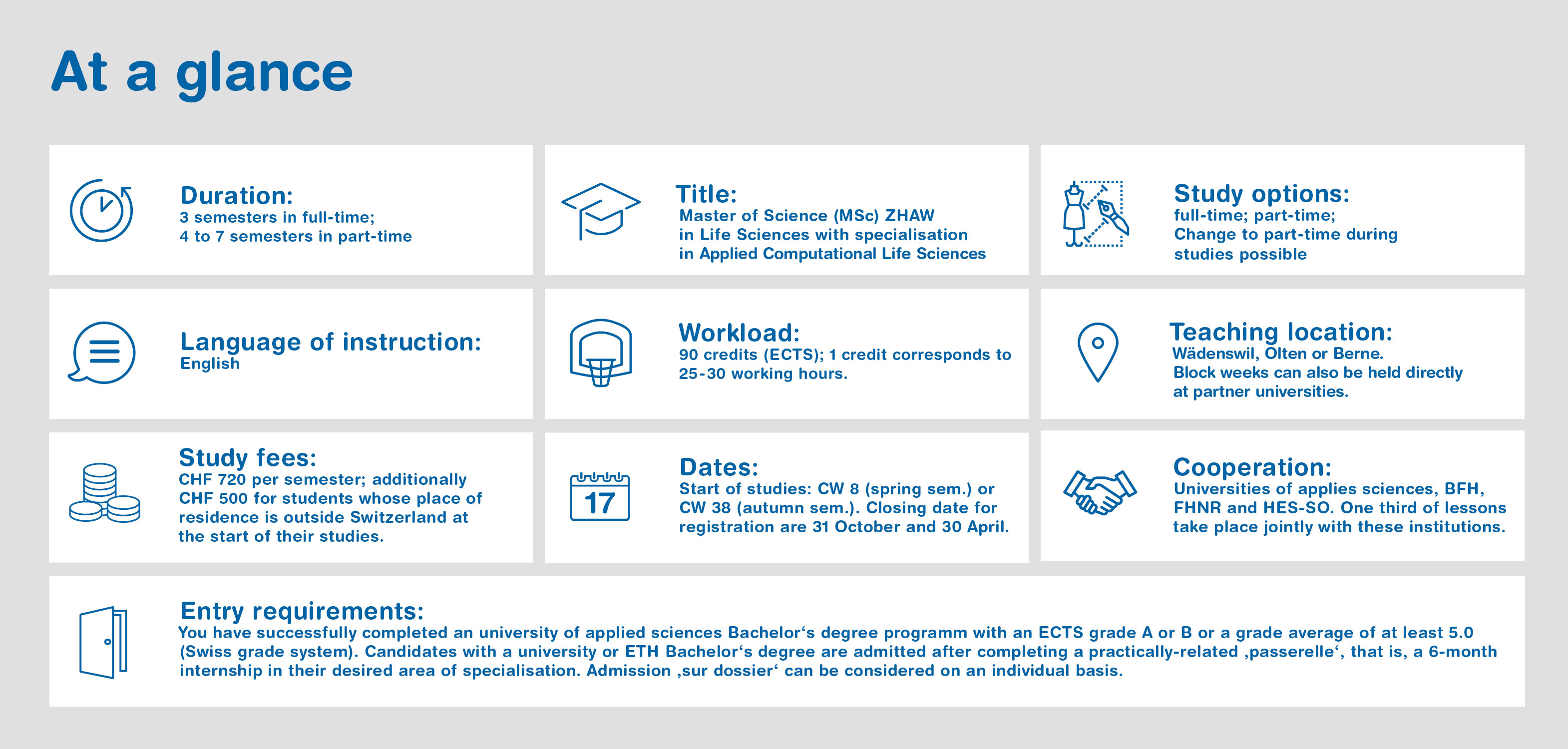 Why pursue a Master's degree in Applied Computational Life Sciences?
The digital revolution is giving rise to profound changes in both science and business. Expertise in dealing with digital tools and large volumes of data is becoming an essential skill for specialists. In this Master's programme, you will acquire these exact skills and combine them with your subject-specific experience and your knowledge from previous studies.
The job market is calling for specialists with specific skills in data management, modeling and simulation. On the one hand, you will have excellent job prospects in the various areas of the life sciences. On the other hand, you will be a sought-after specialist at universities, authorities and in national and international organisations.
"I studied Health Sciences and Technology at the ETH, specialising in neuroscience. Since the topic of data science has become increasingly important in recent years, I also completed a Master's degree in Applied Computational Life Sciences at the ZHAW. This enabled me to expand my expertise with digital skills such as programming, neural networks and machine learning. In my current job as team leader responsible for the clinical information system (HIS) at Hirslanden, I use this mix of skills on a daily basis."
Sofia Rey, Team Leader Clinical Information System, Hirslanden
Your background
You are fascinated by topics such as: Artificial Intelligence and Predictive Analytics, Biomedical Simulation, Citizen Science Technologies, Climat Modelling, Complex Systems, Computational Genomics, Data Iintegration and Semantic Web Technologies, Digital Health, Forecasting & Decision Making, Geoinformatics, Health Technologies, Lab Information and Management Systems LIMS, Personalized Medicine, Process Optimization in Food Technology, Smart Environmental Systems, Smart Farming.
You have a Bachelor's degree in: Agronomy, Bioanalytics and Cell Biology, Biology / Biotechnology, Chemistry, Energy and Environmental Technology, Information Technology, Engineering, Food Science and Management, Food Technology, Medical Technology, Pharmaceutical Technology, System Technology, Environment and Natural Resources, Environmental Technology, Forest Sciences or similar (admission with other degrees may be granted at the programme directors' discretion).
Career: What a Master's degree in Life Sciences in Applied Computational Life Sciences will allow you to do.
This specialisation in Applied Computational Life Sciences lays the foundation for a career in a rapidly developing field of research and business. The programme provides essential knowledge in a field where science meets business, and opens up career paths in international companies, agile start-ups and research institutions.
As a graduate of this programme, you will find a job that shapes the future.
Suitable students have the opportunity to be accepted onto our Data Science PhD programme run in collaboration with other Swiss universities.
Good reasons for a Master's study in Wädenswil
We offer a customisable Master's programme which you can complete in 3, 4, 5, 6 or 7 semesters.
The programme offers an attractive mix of modules from research, science, practice and business.
You will have the opportunity to grow both as a professional and as a person, and to evolve into a sought-after specialist with leadership skills.
We offer exciting research projects for your Master's thesis.
You will be able to join a research group, where you can practice skills such as teamwork, initiative and critical thinking.
You will benefit from small class sizes in the advanced modules, which offer interactive learning activities that will allow you to take charge.
Study programme and course content
Your studies include three areas of competence plus a Master's thesis, with a total of 90 credits (ETCS).
Based on your interests, before starting your studies you will work out your own personal learning objectives with your specialisation director and your supervisor. You will define the topic for your Master's thesis and design your own personal study path from the range of available modules.
Based on the topic of your Master's thesis, you will be assigned to a corresponding specialisation module that will fully prepare you for your Master's thesis. While working on your Master's thesis, you will be part of a research group that is working closely with our business partners or doing research at one of our institutes.
Online study planner

Your individual study plan.
Master's thesis specialised fields Before starting your studies, you choose the field in which you want to write your research paper.

Annual planning / timetables

Important dates in the academic year.
Processing and analysing data of various sizes and levels of complexity.
Conceptual and technical skills to combine your expertise in a life sciences discipline with the potential of computational methods.
Computational modelling and simulation of processes.
Statistical modelling with machine learning and neural networks.
Programming using modern scripting languages such as Python and R and you will understand the basic concepts of software and computer architectures.
Analysis and solving of complex problems that combine scientific, social and entrepreneurial thinking.
Planning, implementation, evaluation and presentation of major research and development projects.
During your studies, you will expand your personal skillset not only in terms of technical expertise and methodology, but also in terms of self-management. The practice-oriented research focus of your Master's thesis will foster your ability to innovate, change perspectives, and combine entrepreneurial with scientific thinking.
The work in your research group will not only help you develop your creativity, initiative and critical thinking abilities, but also your leadership and teamwork skills. We promote inductive, inquiry-based learning in small classes with interactive learning activities such as group work and presentations.
Thesis
Interesting research questions are created with partners from industry and retail. Our graduates have already developed interesting, relevant and viable answers and solutions in their work.
Do you have any questions?
This might also interest you
Registration Master's programme
Ready for a new chapter in your life? Apply now.
Organise your studies
Fees, important dates, timetables and the Study App at a glance.
MSLS Community Centre
The Moodle learning platform for modules taught jointly with other universities of applied sciences!
Registration Master's programme
Ready for a new chapter in your life? Apply now.
Fees, important dates, timetables and the Study App at a glance.
The Moodle learning platform for modules taught jointly with other universities of applied sciences!