Kim Caroline Roos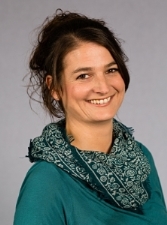 Kim Caroline Roos
ZHAW School of Health Sciences
Institute of Occupational Therapy
Katharina-Sulzer-Platz 9
8400 Winterthur
Personal profile
Position at the ZHAW
Lecturer

www.gesundheit.zhaw.ch/de/gesundheit/forschung/forschung-ergotherapie.html
Expertise and research interests
Mental health
Refugees
Group Therapy
Evidence-based practice
Goal-Phrasing
Educational background
2019
Mediator for Business
2013-2014
CAS Didactic on University Level
2003-2006
MSc European Master of Science in Occupational Therapy(Karolinska Institut, Stockholm, Schweden; School of Occupational and Physio Therapy, Naestved, Dänemark; Hoogeschool van Amsterdam, Niederlande; Univerity of Brighton, School for Health Professions, Eastbourne, Grossbritanien)
Thesis: "When everything is meaningless - clients' perceptions of occupations in acute mental health care during crisis intervention."
1999-today
different courses and congresses with the Content of occupational therories and mental health care
1995-1999
Study of bacceleaus of Science in Occupational Therapy in Heerlen, the Netherlands.

Professional milestones
2020 Nomination as European expert for Occupational Therapy in Mental Health & Human Displacement

2013-today
Lecuter at the Institut for Occupational Therapy at the zhaw, Winterthur, Switzerland

2009-20013
Research assistant at the Institut of Occupational Therapy at the zhaw, Winterthur, Switzerland

2004-2008
Occupational therapist with Special tasks at the psychiatric University Hospital in Zürich:
- build up a Research structure in the department for Occupational Therapy
- develop of an evidence-based Guideline for Occupational Therapy Treatment
- manage of courses for the Team
develop of a evidence-based Guideline for early prevention of schizophrenia

2000-2002
Occupational Therapist at a private workplace with children, Aachen, Germany

1999-2000
Occupational Therapist at the rehablilitation-centre for spinal cord injuries, Hoensbroek, the Netherlands
Membership of networks
Projects
Publications
Articles in scientific journal, peer-reviewed
Conference contributions, peer-reviewed
Sowe, Rahel; Aeppli, Petra; Mayer, Alexandra; Schlegel, Frida; Roos, Kim,

2021.

Bildungskontexte und (Aus-)Bildungswege von jungen Geflüchteten im Spannungsfeld von Ein- und Ausgrenzung [poster].

In:

Bildung im Kontext von Flucht*Migration: Subjektbezogene und machtkritische Perspektiven, Pädagogische Hochschule Freiburg, Deutschland, 13.-15. Mai 2021.

Verein emf – Ergotherapie für Menschen mit Fluchterfahrung.

Available from: https://doi.org/10.21256/zhaw-23974

Krieger, Beate; Küng, Cécile; Matter, Brunhilde; Weise, Andrea; Roos, Kim Caroline; Meidert, Ursula; Stamm, Eva; Leonhard, Ramona; Ulrich, Markus,

2016.

Planspiel "Telemedizin" : Didaktik ermöglicht gelebte Erfahrungen mit integrierter Versorgung. [poster].

In:

Jahrestagung der Gesellschaft für Medizinische Ausbildung (GMA), Bern, 14.–17. September 2016.
Other publications
Oral conference contributions and abstracts