Dr. Beate Krieger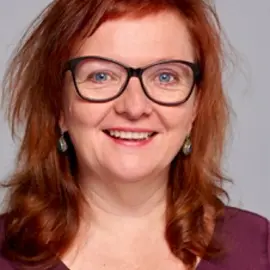 Dr. Beate Krieger
ZHAW School of Health Sciences
Institute of Occupational Therapy
Katharina-Sulzer-Platz 9
8400 Winterthur
Membership of networks
Projects
Publications
Articles in scientific journal, peer-reviewed
Books and monographs, peer-reviewed
Book parts, peer-reviewed
Krieger, Beate,

2018.

Fehlbildungen der Arme und Hände

.

In:

Koesling, Conny; Bollinger-Herzka, Thomas, eds.,

Ergotherapie in der Orthopädie, Traumatologie und Rheumatologie.

Stuttgart:

Thieme.

pp. 341-352.

Ergotherapie Lehrbuch.
Conference contributions, peer-reviewed
Other publications
Oral conference contributions and abstracts
Publications before appointment at the ZHAW
Krieger, B. (2000). Angeborenen Radiusdysplasien : therapeutische Betrachtungen, Ueberlegungen und Möglichkeiten. infocontact (Handtherapeuten CH), 2.
Krieger, B., & Meuli, M.(1999). Principles of Occupational Therapy in Burned Children. Instruction Video Kinderspital ZH.
Krieger, B. (1995). Können handtherapeutische Massnahmen zur Funktionsverbesserung von Tetraplegikern beitragen. In V. Paeslack (Ed.), Rehabilitation als biographisher Prozess : Lebensschicksal Querschnittlähmungen (pp. 45- 51). Heidelberg: Springer.
Jörn, U., & Krieger, B. (1993). Dystrophie und Schmerz: Bewältigungsmöglichkeiten in der Gruppe. ergotherapie(3).