Fabienne Sierro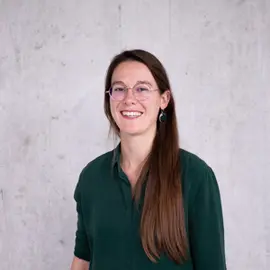 Fabienne Sierro
ZHAW School of Management and Law
Institute of Innovation and Entrepreneurship
Theaterstrasse 17
8400 Winterthur
Work at ZHAW
Position at the ZHAW
Research Associate

www.zhaw.ch/en/sml/institutes-centres/iie/
Education and Continuing education
Expertise and research interests
Renewable Energy Technologies - Energy Citizenship - Energy Transitions - Participation - Collaboration constellations - Transdisciplinarity - Social Network Analysis - Qualitative and quantitative research methods - Facilitation and moderation of workshops - Stakeholder engagement processes
Professional milestones
2020 Stiftung Risikodialog, Co-Worker
2018-2020 ETH Zurich, Trandisciplinarity Lab, Research Assistant
2018 ETH Zurich, ForDev, Brazil & France, Facilitator
Educational background
2021 - present Doctoral Student, ETH Zürich
2019 M.A. in Environmental Science, University of Geneva
2015 B.A. in International Relations, University of Geneva
Membership of networks
Projects
Publications
Other publications
Sierro, Fabienne; Blumer, Yann; Jobin, Marilou; Moser, Corinne,

2023.

UNLOCK-PV : die Rolle innovativer Investitionsmodelle in PV zur Beschleunigung der Energiewende.

Bern:

Bundesamt für Energie.

Available from: https://www.aramis.admin.ch/Default?DocumentID=70581

Sierro, Fabienne,

2022.

It's not about the money : exploring individual's motivations to participate in citizen-financed photovoltaics (CiFi PV) [poster].

In:

3rd International Conference on Energy Research & Social Science (ERSS), Manchester, United Kingdom, 20-23 June 2022.

Sierro, Fabienne; Zundritsch, Patricia; Blumer, Yann; Lilliestam, Johan; Ejderyan, Olivier,

2021.

Erfolgreiche partizipative Projektentwicklung findet auf unterschiedlichen Ebenen der Zusammenarbeit statt : Erkenntnisse aus zwei Wasserkraftprojekten.

Wasser, Energie, Luft.

113(2), pp. 105-109.

Available from: https://doi.org/10.5169/seals-966187
Oral conference contributions and abstracts
Ejderyan, Olivier; Oeri, Fintan; Sierro, Fabienne; Kachhi, Aya,

2022.

Green energy or healthy rivers? : tensions in the governance of Swiss hydropower.

In:

4th International Conference I.S.Rivers, Lyon, France, 4-8 July 2022.

Sierro, Fabienne,

2022.

Impact-oriented motivations underlying participation in citizen-financed photovoltaics : uncovering the multitude of motives underlying photovoltaic citizen participation initiatives (PV-CPI) adoption.

In:

7th NEST Conference, Lyon, France, 5-6 May 2022.
Publications before appointment at the ZHAW
Master Thesis ETH Zurich/University of Geneva: "From Opposition to Collaboration - A Social Network Analysis of the stakeholder engagement process for the Lago Bianco pumped storage hydropower project"