Cedric Schirmer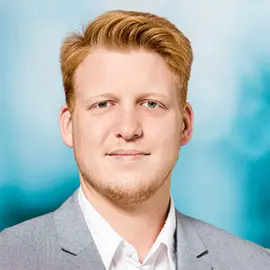 Cedric Schirmer
ZHAW School of Life Sciences and Facility Management
Section for Biochemical Engineering
Grüentalstrasse 14
8820 Wädenswil
Work at ZHAW
Position
Research Associate / Deputy Head Section for Cell Cultivation Technique
Education and Continuing education
Focus
Process engineering characterisation and development of bioreactors
Bioprocess and fermentation engineering
Scale-up of microbial and cell culture processes
Single-use technology for biopharmaceutical manufacturing
Computational Fluid Dynamics (CFD)
Cell culture technology, animal cells, human mesenchymal stem cells
Educational background
- Certificate of Advanced Studies Strategic Marketing (ZHAW School of Management and Law)
- M.Sc. Bioprocess Engineering (Hamburg University of Technology)
- B.Sc. Biotechnology (Beuth University of Applied Sciences Berlin)
Membership of networks
Projects
Publications
Articles in scientific journal, peer-reviewed
Book parts, peer-reviewed
Schirmer, Cedric; Müller, Jan; Steffen, Nina; Werner, Sören; Eibl-Schindler, Regine; Eibl, Dieter,

2020.

How to produce mAbs in a cube-shaped stirred single-use bioreactor at 200 L scale

.

In:

Pörtner, Ralf, ed.,

Animal cell biotechnology : methods and protocols.

New York:

Springer.

pp. 169-186.

Methods in Molecular Biology ; 2095.

Available from: https://doi.org/10.1007/978-1-0716-0191-4_10

Schirmer, Cedric; Rothe, Sebastian; Jenness, Ernest; Eibl, Dieter,

2019.

Systems for coupling and sampling

.

In:

Eibl, Regine; Eibl, Dieter, eds.,

Single-use technology in biopharmaceutical manufacture.

Hoboken:

Wiley.

pp. 53-68.

Available from: https://doi.org/10.1002/9781119477891.ch5

Schirmer, Cedric; Nussbaumer, Thomas; Schöb, Reto; Pörtner, Ralf; Eibl-Schindler, Regine; Eibl, Dieter,

2018.

Development, engineering and biological characterization of stirred tank bioreactors

.

In:

Yeh, Ming-Kung; Chen, Yuan-Chuan, eds.,

Biopharmaceuticals.

London:

IntechOpen.

pp. 87-107.

Available from: https://doi.org/10.5772/intechopen.79444
Conference contributions, peer-reviewed
Schirmer, Cedric; Ott, Vivian; Müller, Jan; Göhmann, Rüdiger; Biewald, Andreas; Eibl-Schindler, Regine; Eibl, Dieter,

2022.

Qualification of a single-use disk stack separator for modern mAb upstream processing at pilot scale [poster].

In:

27th ESACT Meeting, Lisbon, Portugal, 26-29 June 2022.

ESACT, European Association for Animal Cell Technology.
Other publications
Oral conference contributions and abstracts
Publications before appointment at the ZHAW
Goepfert, Christiane; Blume, Grit; Faschian, Rebecca; Meyer, Stefanie; Schirmer, Cedric; Müller-Wichards, Wiebke; Müller, Jörg; Fischer, Janine; Feyerabend, Frank; Pörtner, Ralf, 2013. A modular flow-chamber bioreactor concept as a tool for continuous 2D- and 3D-cell culture. BMC Proceedings.7(Suppl 6),P87.
Pörtner, Ralf; Goepfert, Christiane; Schirmer, Cedric; Hsu, Hao-Hsiang; Blume, Grit; Voigt, Miriam; Rapoport, Daniel Hans, 2016. Reaktionstechnische Charakterisierung von Bioreaktoren für die regenerative Medizin. In: Beckmann, D; Kaufhold, S, Hrsg., 18. Heiligenstädter Kolloquium: Technische Systeme für die Lebenswissenschaften. Heilbad-Heiligenstadt: Institut für Bioprozess- und Analysenmesstechnik e.V. S. 575-582. ISBN: 978-3-00-054165-0.
Other publications
Schirmer, Cedric; Eibl, Dieter, 2018. Shear stress investigations of the magnetically levitated single-use centrifugal pump PuraLev® 600SU using the protein shear stress model for lysozyme, Zurich, Levitronix GmbH.