Roswitha Hoerder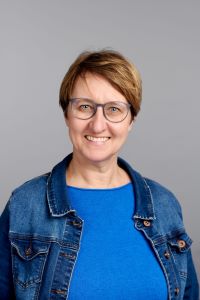 Roswitha Hoerder
ZHAW School of Health Sciences
Institute of Occupational Therapy
Katharina-Sulzer-Platz 9
8400 Winterthur
Personal profile
Position at the ZHAW
Lecturer Bsc Occupational Therapy
main area: pediatrics

www.zhaw.ch/de/gesundheit/institute-zentren/ier/http://
Expertise and research interests
Occupational Therapy in early development, children & youth, collaboration with teachers in inclusive education, school-based occupational therapy, community practice, new areas of practice, role emergent placements
Educational background
education
2017-2019 European Master of Science in Occupational Therapy (Karolinska Institut, Stockholm, Schweden; School of Occupational and Physio Therapy, Naestved, Dänemark; Hoogeschool van Amsterdam, Niederlande; Zürcher Hochschule für Angewandte Wissenschaften, Winterthur, Schweiz; University of Brighton, School for Health Professions, Eastbourne, Grossbritanien)
2006 Certification in Occupational Therapy National Board Exam, USA
1989-1993 Diploma of Occupational Therapy, IB School of Occupational Therapy, Tübingen, Germany

certifications
2010 Sensory Integration I, Austrian Association of Sensory Integration, Dornbirn, Austria
2017 Occupational Therapy Intervention and Process Model (OTIPM), Prof. A.G. Fisher, Schön-Klinik Vogtareuth, Germany
2023-2024 CAS Higher and Professional Education, zhaw School of Management & Law, Winterthur, Switzerland

continuous education
2015 School-AMPS, Vienna, Austria
2014 Responsive Classroom Level Level II, South Berwick, Maine, USA
2012 Responsive Classroom Level I, South Berwick, Maine, USA
2011 Occupational Therapy in School-based Practice Core Course, American Occupational Therapy Association, USA
Membership of networks
Publications
Oral conference contributions and abstracts
Kaelin, Vera; Kramer-Roy, Debbie; Ulbrich-Ford, Sophie; Lynch, Helen; Piskur, Barbara; Meuser, Sarah; Schulze, Christina; Echsel, Angelika; Zillhardt, Cornelie; Hoerder, Roswitha; Morgenthaler, Thomas; et al.,

2022.

The r-evolution of school based occupational therapy (SBOT) through international collaboration and innovation.

In:

18th World Federation of Occupational Therapists (WFOT) Congress, Occupational R-Evolution, Paris, France, 28-31 August 2022.
Publications before appointment at the ZHAW
Hoerder R. & Wirth P. Response to Intervention (RtI) ... Et Reha 57. Jg., 2018, Nr. 3: 16 21, Hrsg. DVE. Verfügbar unter: doi.org/10.2443/skv-s-2018-51020180301

Blum A. & Wirth P. Kindern partnerschaftlich Partizipation ermöglichen
Hoerder, R. Zusammenfassung des WFOT Positionspapier zur Ergotherapie in schulbasierter Praxis für Kinder und Jugendliche, Et Reha 55. Jg., 2016, Nr. 10: 28-31, Hrsg. DVE. Verfügbar unter: doi.org/10.2443/skv-s-2016-51020161004

DVE Arbeitsgruppe Schulbasierte Ergotherapie, Schulbasierte Ergotherapie - Partizipation im Schulalltag ermöglichen. V erfügbar unter: dve.info/ergotherapie/fachbereiche/schulbasierte-ergotherapie