Michelle Haas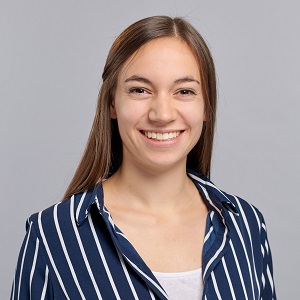 Michelle Haas
ZHAW School of Health Sciences
Institute of Physiotherapy
Katharina-Sulzer-Platz 9
8400 Winterthur
Personal profile
Position at the ZHAW
www.zhaw.ch/de/gesundheit/forschung/physiotherapie/bewegungsanalyse/
Projects
Publications
Articles in scientific journal, peer-reviewed
Haas, Michelle C; Sommer, Bettina B; Karrer, Samuel; Jörger, Matthias; Graf, Eveline S; Huber, Martin; Baumgartner, Daniel; Bansi, Jens; Kool, Jan; Bauer, Christoph M,

2022.

Surface electromyographic activity of trunk muscles during trunk control exercises for people after stroke; effect of a mobile and stable seat for rehabilitation.

PLOS ONE.

17(7), pp. e0272382.

Available from: https://doi.org/10.1371/journal.pone.0272382

Ernst, Markus J.; Klaus, Sandro; Lüdtke, Kerstin; Gallina, Alessio; Falla, Deborah; Aegerter, Andrea M.; Barbero, Marco; Brunner, Beatrice; Cornwall, Jon; Da Cruz Pereira, Yara; Deforth, Manja E.; Distler, Oliver; Dratva, Julia; Dressel, Holger; Egli, Tobias; Elfering, Achim; Ernst, Markus J.; Etzer-Hofer, Irene; Falla, Deborah; Gisler, Michelle; Haas, Michelle; Johnston, Venerina; Klaus, Sandro; Kobelt, Gina M.; Lüdtke, Kerstin; Luomajoki, Hannu; Melloh, Markus; Nicoletti, Corinne; Niggli, Seraina; Nüssle, Achim; Richard, Salome; Sax, Nadine; Schülke, Katja; Sjøgaard, Gisela; Staub, Lukas; Volken, Thomas; Zweig, Thomas,

2022.

Inter-rater reliability, discriminatory and predictive validity of neck movement control tests in office workers with headache and/or neck pain.

Musculoskeletal Science and Practice.

62(102685).

Available from: https://doi.org/10.1016/j.msksp.2022.102685
Conference contributions, peer-reviewed
Graf, Eveline; Touait, Ayoub; Haas, Michelle; Spiess, Martina; Klamroth-Marganska, Verena; Bazeille, Stephane; Ould Abdeslam, Djaffar,

2022.

Detecting cooperative hand movements based on electromyographic data : a proof of concept study [poster].

In:

RehabWeek, Rotterdam, The Netherlands, 25-29 July 2022.

Haas, Michelle; Rausch, Anne-Kathrin; Graf, Eveline,

2022.

Biomechanical analysis of selected risk factors for an anterior cruciate ligament (ACL) rupture during training with the ExerCube [poster].

In:

Scandinavian Sports Medicine Congress, Copenhagen, 3-5 February 2022.
Other publications
Publizierte Forschungsdaten

Bauer, Christoph; Sommer, Bettina; Pauli, Carole; Haas, Michelle; Graf, Eveline, 2021. Normative gait data. Harvard Dataverse. Available at: doi.org/10.7910/DVN/M0NKN9