Dr. Corinne Nicoletti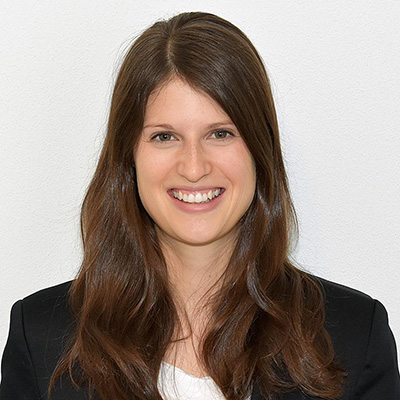 Dr. Corinne Nicoletti
ZHAW School of Health Sciences
Institute of Public Health
Katharina-Sulzer-Platz 9
8400 Winterthur
Personal profile
Position at the ZHAW
Research fellow, corporate health group

www.zhaw.ch/de/gesundheit/institute-zentren/igw/fachstelle-betriebliches-gesundheitsmanagement-bgm/
Projects
Publications
Articles in scientific journal, peer-reviewed
Other publications
Oral conference contributions and abstracts
Galliker, Sibylle; Elfering, Achim; Etzer-Hofer, Irene; Brunner, Beatrice; Nicoletti, Corinne; Dratva, Julia; Feer, Sonja; Holtforth, Martin grosse; Melloh, Markus,

2019.

Quality of leadership and presenteeism in health professions education and research : a test of a recovery-based process model with cognitive irritation and impaired sleep as mediators.

In:

19th EAWOP Congress, 29 May - 1 June 2019, Turin, Italy : Abstract Book.

19th European Association of Work and Organizational Psychology Congress, Turin, 29 May - 1 June 2019.

pp. 1765-1766.
Publications before appointment at the ZHAW
Nicoletti, Corinne; Läubli, T., 2018. Leg and back muscle activity, heart rate, performance and comfort during sitting, standing, and using a sit-stand-support with different seat angles : International Journal of Industrial Ergonomics. 67, S. 73-80. Verfügbar unter: doi.org/10.1016/j.ergon.2018.04.011

Nicoletti, Corinne; Läubli, T., 2017. Trapezius muscle activity and body movement at the beginning and the end of a workday and during the lunch period in female office employees : Industrial Health. 55, S. 162-172. Verfügbar unter: doi.org/10.2486/indhealth.2016-0189

Nicoletti, Corinne; Muller, C.; Hayashi, C.; Nakaseko, M.; Tobita, I.; Laubli, T., 2015. Circadian rhythm of heart rate and physical activity in nurses during day and night shifts : European Journal of Applied Physiology. 115, S. 1313-1320. Verfügbar unter: doi.org/10.1007/s00421-015-3110-3

Muller, C.; Nicoletti, Corinne; Omlin, S.; Brink, M.; Laubli, T., 2015. Relationship between sleep stages and nocturnal trapezius muscle activity : Journal of Electromyography and Kinesiology. 25, S. 457-462. Verfügbar unter: doi.org/10.1016/j.jelekin.2015.01.010

Nicoletti, Corinne; Spengler, C.M.; Laubli, T., 2014. Physical workload, trapezius muscle activity, and neck pain in nurses' night and day shifts: A physiological evaluation : Applied Ergonomics. 45, S. 741-746. Verfügbar unter: doi.org/10.1016/j.apergo.2013.09.016

Nicoletti, Corinne; Muller, C.; Tobita, I.; Nakaseko, M.; Laubli, T., 2014. Trapezius muscle load, heart rate and time pressure during day and night shift in Swiss and Japanese nurses : Industrial Health. 52, S. 225-234. Verfügbar unter: doi.org/10.2486/indhealth.2013-0188

Nicoletti, Corinne; Laubli, T., 2013. Normalisierung der EMG-Aktivität des m. Trapezius mithilfe submaximaler Referenzkontraktionen: Schwierigkeiten und Lösungsansätze : Zentralblatt für Arbeitsmedizin, Arbeitsschutz und Ergonomie. 63, S. 250 –253. Verfügbar unter: doi.org/10.1007/BF03350861