Dr. Esther Fischer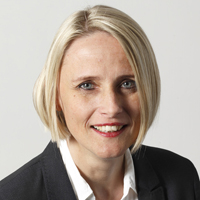 Dr. Esther Fischer
ZHAW School of Life Sciences and Facility Management
Institute of Natural Resource Sciences
Grüentalstrasse 14
8820 Wädenswil
Personal profile
Management role
Head, Research group crop protection
Position at the ZHAW
Lecturer
Lecturer for Phytopathology, Weed-Control, Environmental Analysis

www.zhaw.ch/iunr/phytomedizin
Expertise and research interests
General phytopathology. Diagnosis of plant diseases. Bacterial toxins and their use as biocontrol agents. Cryo-storage of nematodes and other small multi-cellular organism.

Past research experiences:
Coral-Algae symbiosis, coral-bleaching.
Educational background
General Biology at the University of Zurich (1996/1997).
Marine Biology at James Cook University, Townsville (Australia) (1998-2000).
PhD at Southern Cross University, Lismore Australia about the use of dimethylsulphonio-propionate (DMSP), dimethyl-sulphide (DMS)and urea as short-term indicators of physiologigal stress response of the staghorn-coral Acropora intermedia to elevated nutrients and temperatures.
Membership of networks
Projects
Publications
Articles in scientific journal, peer-reviewed
Jones, Graham B.; Fischer, Esther; Deschaseaux, Elisabeth S.M.; Harrison, Peter L.,

2014.

The effect of coral bleaching on the cellular concentration of dimethylsulphoniopropionate in reef corals.

Journal of Experimental Marine Biology and Ecology.

460(11), pp. 19-31.

Available from: https://doi.org/10.1016/j.jembe.2014.06.003

Péchy-Tarr, M.; Bruck, D. J.; Maurhofer, M.; Fischer, Esther; Vogne, C.; Henkels, M. D.; Donahue, K. M.; Grunder, Jürg; Loper, J. E.; Keel, C.,

2008.

Molecular analysis of a novel gene cluster encoding an insect toxin in plant-associated strains of Pseudomonas fluorescens.

Environmental Microbiology.

10(9), pp. 2368-2386.

Available from: https://doi.org/10.1111/j.1462-2920.2008.01662.x

Graham, Jones; Curran, Mark; Broadbent, Andrew; King, Stacey; Fischer, Esther; Jones, Rosemary,

2007.

Factors affecting the cycling of dimethylsulfide and dimethylsulfoniopropionate in coral reef waters of the Great Barrier Reef.

Environmental Chemistry.

4(5), pp. 310-322.

Available from: https://doi.org/10.1071/EN06065
Conference contributions, peer-reviewed
Fischer, Esther; Jones, Graham,

2012.

Atmospheric dimethylsulphide production from corals in the Great Barrier Reef and links to solar radiation, climate and coral bleaching [paper].

In:

Special Issue of the 5th International Symposium on Biological and Environmental Chemistry of DMS(P) and Related Compounds, Goa, India, 19-22 October 2010.

5th International Symposium on Biological and Environmental Chemistry of DMS(P) and Related Compounds, Goa, India, 19-22 October 2010.

Springer.

pp. 31-46.

Available from: https://doi.org/10.1007/s10533-012-9719-y
Other publications