Dr. René Locher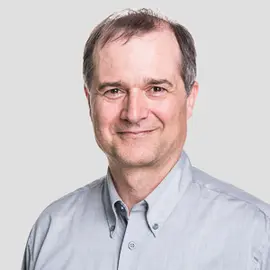 Dr. René Locher
ZHAW School of Engineering
Forschungsschwerpunkt Data Analysis and Statistics
Technikumstrasse 81
8400 Winterthur
Work at ZHAW
Position at the ZHAW
Research Associate and Project Manager

www.zhaw.ch/de/engineering/institute-zentren/idp/schwerpunkte/data-analysis-and-statistics/
Professional development teaching
Education and Continuing education
Expertise and research interests
Regression and General Additive Models (GAM, MLE, Robust Regression); Visualisation of Data; Clustering and Classification; Data Products; profound knowledge of R.
I am focussed on statistical data analysis in industrial, technical and environmental data including the design of measuring concepts and statistical consulting.

Professional milestones
1991-1999, ATAL/AWEL (Amt für Abfall, Wasser, Energie & Luft):
Designing and implementing the concept for monitoring VOC in ambient air.

Co-director of an intercantonal association who developed a concept for a data warehouse for ambient air concentrations and supervised the implementation.

Head of the board "ambient air" of Cercl Air (Cercl Air = Swiss Society of experts in air pollution controle).

1999-2000, Seminar für Statistik, ETH Zürich: Assistant lecturer of Advanced Applied Statistics. Owner of single-member company "Locher Statistics".

Educational background
1984: Diploma in Chemistry, ETH Zürich
1991: PhD in Physical Chemistry, ETH Zürich
1999: Advanced Studies in Applied Statistics, ETH Zürich
Membership of networks
Initiator of Linux User Group at ZHAW
Projects
Publications
Articles in scientific journal, peer-reviewed
Meier, Mario Federico; Mildenberger, Thoralf; Locher, René; Rausch, Juanita; Zünd, Thomas; Neururer, Christoph; Ruckstuhl, Andreas; Grobéty, Bernard,

2018.

A model based two-stage classifier for airborne particles analyzed with computer controlled scanning electron microscopy.

Journal of Aerosol Science.

123, pp. 1-16.

Available from: https://doi.org/10.1016/j.jaerosci.2018.05.012

Lanz, Valentin A.; Hueglin, Christoph; Buchmann, Brigitte; Hill, M.; Locher, René; Stähelin, Johannes; Reimann, Stefan,

2008.

Receptor modeling of C2-C7 hydrocarbon sources at an urban background site in Zurich, Switzerland : changes between 1993-1994 and 2005-2006.

Atmospheric Chemistry and Physics.

2008(8), pp. 2313-2332.

Available from: https://doi.org/10.21256/zhaw-2759

Staehelin, Johannes; Locher, René; Mönkeberg, Sigrid; Stahel, Werner,

2001.

Contribution of road traffic emissions to ambient air concentrations of hydrocarbons : the interpretation of monitoring measurements in Switzerland by prinicipal component analysis and road tunnel measurements.

International Journal of Vehicle Design.

27(1-4), pp. 161.

Available from: https://doi.org/10.1504/IJVD.2001.001961
Other publications