Dr. Andreas Lardos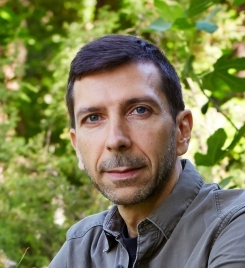 Dr. Andreas Lardos
ZHAW School of Life Sciences and Facility Management
Section Natural Product Chemistry and Phytopharmacy
Einsiedlerstrasse 29
8820 Wädenswil
Personal profile
Position at the ZHAW
Head of Research Group and Lecturer

www.zhaw.ch/icbt/phytopharmazie/
Expertise and research interests
Phytopharmacy, quality of medicinal plants, extracts and herbal medicines
Research and development with plant-based natural products
Ethnopharmacy, traditional medicinal plants, drug discovery
Historical medical texts, traditional knowledge systems




Educational background
PhD Pharmacy, UCL School of Pharmacy, University of London
Dipl. Botany/plant biology, University of Zurich
FVDH cert. study course in herbal medicine, Heilpflanzenschule Freiburg
Professional milestones
Past president of the Swiss Ethnobiology Network
External lecturer in ethnopharmacy, ETH Zurich
Guest lecturer in ethnobotany & ethnomedicine, University of Zurich
Pro Thesauro Sanitatis, Boniswil
Alpinia Institute of Phytopharmaceutical Sciences, Walenstadt
Flachsmann AG / Frutarom Switzerland Ltd, Wädenswil
Membership of networks
Projects
Publications
Articles in scientific journal, peer-reviewed
Publications before appointment at the ZHAW
Heinrich, M., Lardos, A., Leonti, M., Weckerle, C., Willcox, M. (2018) Best practice in research: Consensus Statement on Ethnopharmacological Field Studies – ConsEFS. Journal of Ethnopharmacology 211, 329-339. DOI: 10.1016/j.jep.2017.08.015

Lardos, A. (2015) Historical Approaches in Ethnopharmacology. In: Heinrich, M., Jäger, A. (eds.) Ethnopharmacology – A Reader. Wiley & Sons, Chichester.

Lardos, A., Heinrich, M. (2013) Continuity and change in medicinal plant knowledge: The example of monasteries on Cyprus and historical iatrosophia texts. Journal of Ethnopharmacology 150, 202-214. DOI: 10.1016/j.jep.2013.08.026

Lardos, A., Prieto-Garcia, J., Heinrich, M. (2011) Resins and gums in historical iatrosophia texts from Cyprus – a botanical and medico-pharmacological approach. Frontiers in Pharmacology, 2:32. DOI: 10.3389/fphar.2011.00032

Yöney, A., Prieto-Garcia, J., Lardos, A., Heinrich, M. (2010) Ethnopharmacy of Turkish-speaking Cypriots in greater London. Phytotherapy Research, 24: 731–740. DOI: 10.1002/ptr.3012

Lardos, A. (2006) The botanical materia medica of the Iatrosophikon – a collection of prescriptions from a monastery in Cyprus. Journal of Ethnopharmacology 104, 387-406. DOI: 10.1016/j.jep.2005.12.035

Lardos, A., Schmidlin, C.B., Fischer, M., Ferlas-Chlodny, E., Loniewski, I., Samochowiec, L., Musial, H.D. (2004) Wirksamkeit und Verträglichkeit eines wässrig-ausgezogenen Weidenrindenextraktes bei Patienten mit Knie- und Hüftarthrose. Zeitschrift für Phytotherapie 25(6):272-279.