Dr. Katarzyna Kopanska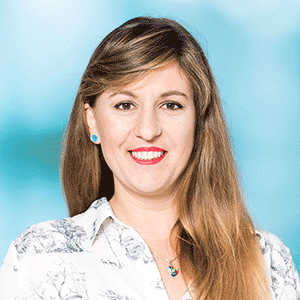 Dr. Katarzyna Kopanska
ZHAW School of Life Sciences and Facility Management
Competence Centre Tissue Engineering for Drug Development TEDD
Einsiedlerstrasse 31
8820 Wädenswil
Personal profile
Position at the ZHAW
Project manager
Scientific Associate

icbt.zhaw.ch/tedd
Expertise and research interests
* three dimensional (3D) tissues models
* tissue engineering techniques
* cell-based assays
* organic and non-organic biocompatible scaffolds
* cell -matrix interactions
* microscopy and image analysis
* cancer models
* bone models
* vascular models
* project managment, professional networking and presentation skills

Educational background
CV

From November 2014
ZHAW Zurich University of Applied Sciences
Institute of Chemistry and Biotechnology
Position: Scientific Associate
Wädenswil, Switzerland

February 2013 – October 2014
Position: Postdoctoral Researcher
Institut Curie
Paris, France

July 2012 – December 2012
Position: Researcher
Scripps Institution of Oceanography
La Jolla, CA, USA

May 2007 – June 2012
Position: Researcher, PhD Student
MRC Human Nutrition Research
Cambridge, UK

September 2006 – April 2007
Position: Pharmacovigilance Assistant
Bristol-Myers Squibb
Warsaw, Poland

Katarzyna joined Zurich University of Applied Sciences in 2014. She works at the Institute of Chemistry and Biotechnology in the group of "Cell biology and Tissue Engineering" with Prof. Ursula Graf-Hausner. She is a scientific associate and project manager of Competence Center TEDD (Tissue Engineering for Drug Development and Substance Testing).
In 2013-2014 she did a postdoc at the Institute Curie in Paris, France. She worked on the collaborative project between physicists at the "Biomimetism of cellular movement" (Dr Timo Betz) and biologists at the "Cell migration and invasion" (Dr Danijela Matic Vignjevic). She was investigating how the physical and mechanical processes affect cancer invasion during metastasis. She worked with the 3D tissue models of the tumor and gain extensive microscopy expertise.
In 2012 she worked at the Scripps Institution of Oceanography in the Marine Biology Research Division in La Jolla, CA, USA. In collaboration with Dr Mark Hildebrand's lab she investigated the properties and potential applications of nanostructured silica produced by the marine algae diatoms.
In 2012 she was awarded PhD at the University of Cambridge (Hughes Hall College). She worked at Medical Research Council Human Nutrition Research Centre in BioMineral Research Group (Prof. Jonathan Powell) between 2007-2012. She investigated the role of a trace element silicon (Si) in the extracellular matrix of the connective tissue cells in mammals. Before her PhD studies she was involved in several projects on biological role of nutritional elements such as calcium, phosphorus, manganese and iron at the MRC Human Nutrition Research. She was also involved in development of novel iron-based therapeutics.
For her MSc she studied biotechnology with the special focus on food biotech and quality at Warsaw University of Life Sciences in Poland. After her graduation she worked for Bristol-Myers Squibb in Warsaw in Pharmacovigilance Department, where she was involved in drug safety monitoring.

Professional milestones
Projects:
* Skin Layer Detection system validation (CTI: collaboration with Pantec Biosolutions, NTB Buchs)
* Development of a human in vitro blood vessel to assess effects of vascular intervention devices (collaboration with Biotronics and ZHAW Biomechanics)
* 3D printed titanium porous scaffold as material for bone implants (collaboration with ZHAW ZPP)
* Testing of monoclonal antybodies in osteosarcoma spheroid model (collaboration with Roche and Balgrist)
* Assesment of various platforms for cancer microtissues formation
* Development of 3D in vitro cancer invasion assay (collaboration with InSphero)
Membership of networks
Projects
Publications
Articles in scientific journal, peer-reviewed
Other publications
Oral conference contributions and abstracts
Zumofen, Livia; Kopanska, Katarzyna; Kirchheim, Andreas; de Haller, Emmanuel; Graf-Hausner, Ursula,

2017.

Additive manufactured porous titanium structures for customized implants.

In:

Rapid.Tech + FabCon 3.D 2017, Erfurt, Deutschland, 22. Juni 2017.

Zumofen, Livia; Kopanska, Katarzyna; Kirchheim, Andreas; de Haller, Emmanuel; Graf-Hausner, Ursula,

2016.

Evaluation of structure parameters for development of patient-matched 3D porous titanium bone implants.

In:

3D Cell Culture 2016, Freiburg, Germany, 19-21 April 2016.