Section of Industrial Chemistry
When selecting the appropriate system or developing new products and processes, we can fully support you with our many years of chemical and industrial experience and a modern infrastructure and networks.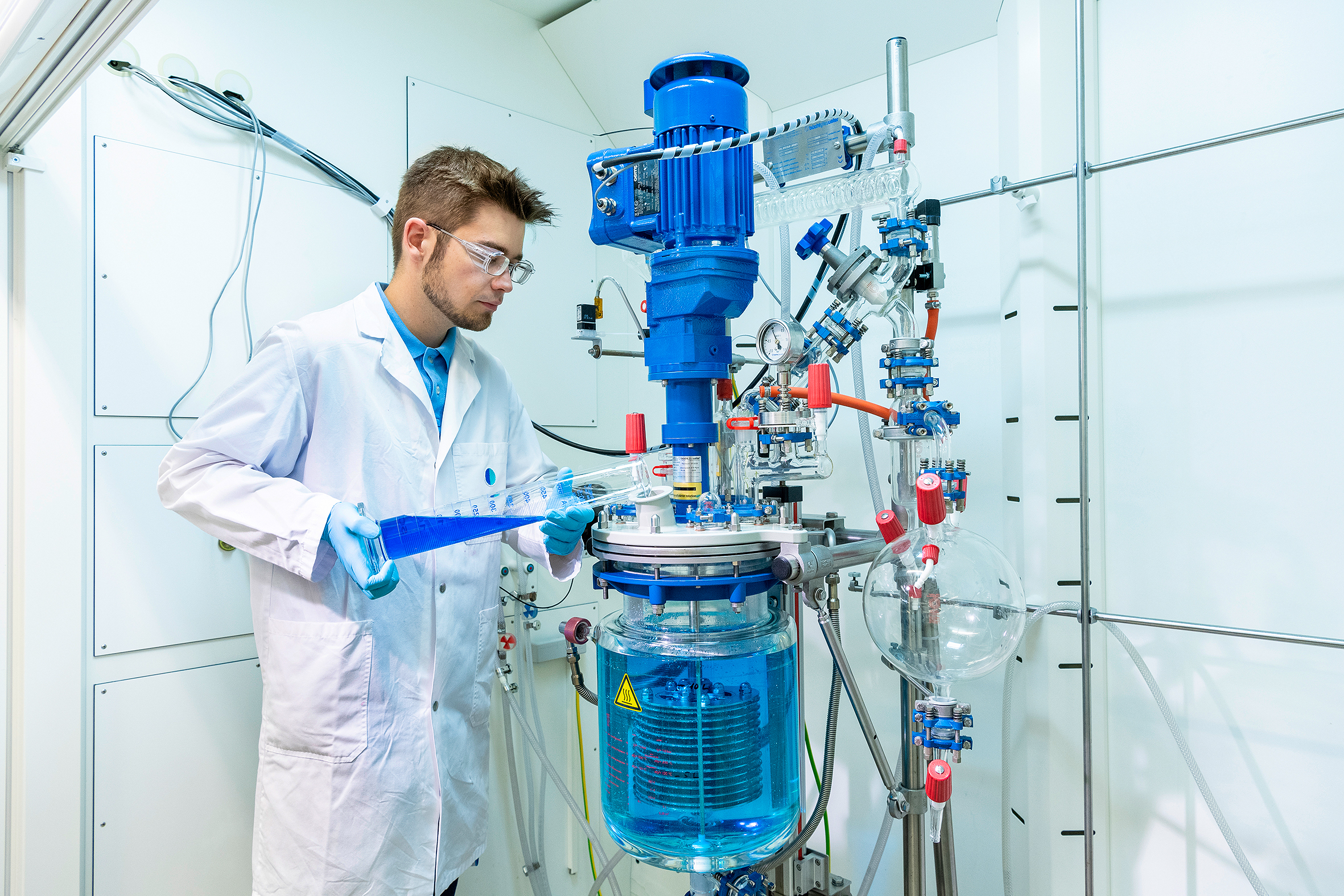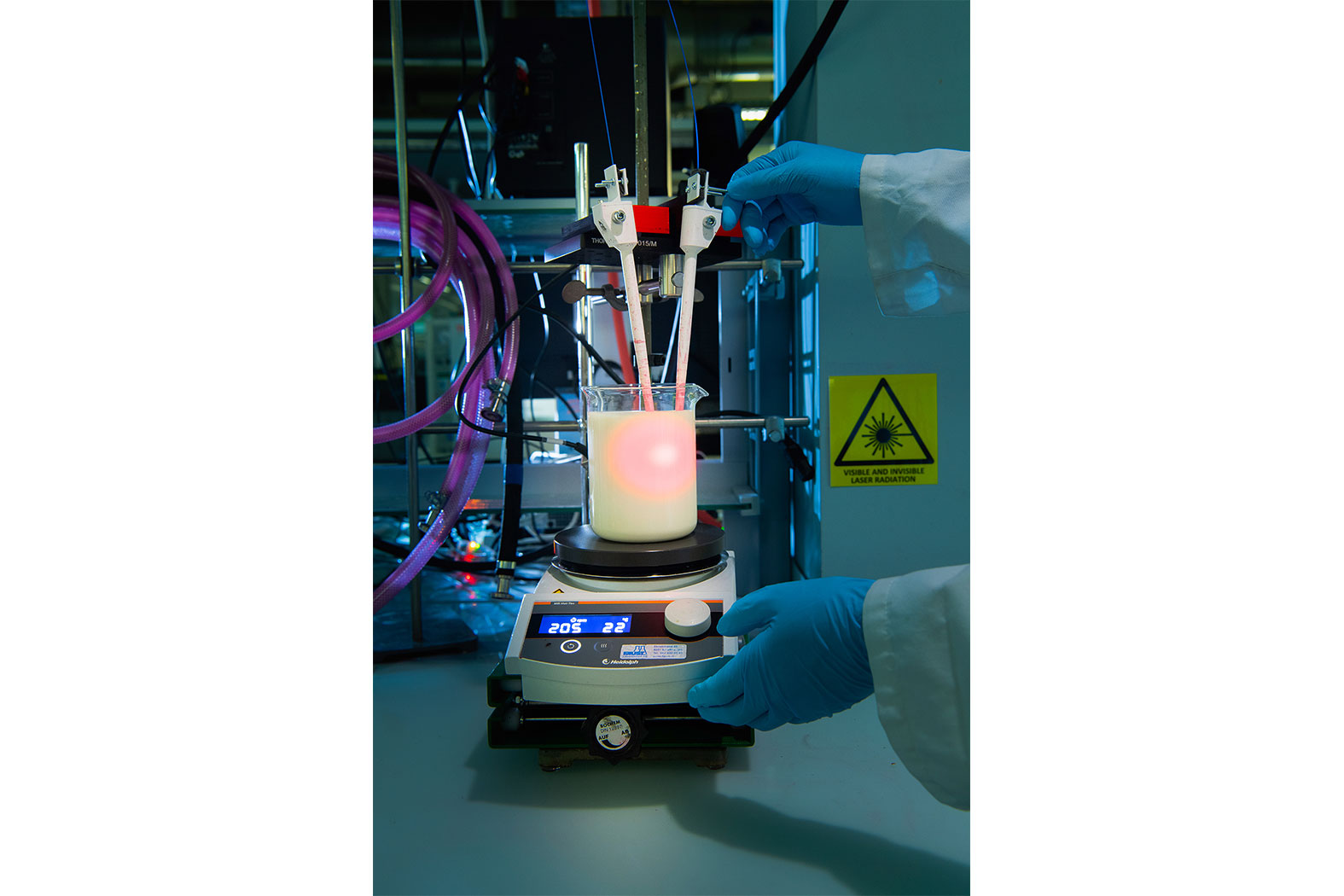 Process Analytical Technologies
By using inline process analytical technologies, individual process steps can be monitored, deviations quickly detected and process understanding gained. We can support you with a wide range of analytical and evaluation methods (chemometrics), both in the selection of a suitable measuring system and in its implementation on a production scale.
With the help of extensive equipment, ranging from automated microreactor systems and laboratory reactors (100 mL to 15 L) to autoclaves, agitated ball mills and dryers, we are able to develop a wide variety of processes. Due to the experience of our team in the fields of industrial chemical development, production and process safety, we can support you from the idea to the realisation of your optimisation or scale-up projects.
We always look at our projects from the various perspectives of green chemistry and thus pursue a holistic approach to the development and optimisation of processes. This ranges from the use of renewable raw materials and biocatalysis to the inline monitoring of production processes. The complete life cycle of the products is taken into account (circular economy).
Inline-Process analytical technologies (IR, NIR, Raman, UV/Vis, Fluorescence)

Inline particle measurement (FBRM - focused beam reflectance measurement, PDWS - photon density wave spectroscopy)

Particle size measurement (ZetaSizer, nanoSight, MasterSizer)

Scale-Up (automated reactor systems 100 mL-15 L, autoklave, intercalator, microreactors)

Heterogeneous reaction technology (SpinChem rotating bed reactors)

Thermal und mechanical unit operations (rotary evaporator 20L, paddle dryer 1L, agitated ball mill PML2)

Thermal analyses (DSC, TGA, reaction calorimetry)

Rheology (Rotary Rheometer)
Biocatalysis for the production of lubricants
Scale-Up of novel pigments (True Color Pigments for various applications)
Online NIR spectroscopy for quality control in surfactant production
IR spectroscopy for characterization of PU foams
Fluorescence spectroscopy for cleaning validation
Renewable raw materials in construction chemistry
Industrial natural dyeing (

Local Colours

)
Arkema / France

Carbogen Amcis / Hunzenschwil

CHT Bezema Schweiz / Montlingen

F. Hoffmann La Roche Ltd / Basel

FoamPartner / Wolfhausen

Implenia Bau AG / Wallisellen

Isofloc AG / Bütschwil

KLK Oleo Kolb / Hedingen

Lonza AG / Visp

Nitrochemie AG / Wimmis

Sulzer Chemtech / Winterthur
Agroscope / Wädenswil

Fachhochschule St. Gallen FHS

Hochschule der Künste Bern HKB

innoFSPEC - Uni Potsdam (D)
We offer the following possibilities for cooperation:
Bachelor theses
Master Theses
bilateral projects
funded projects (e.g. Innosuisse, BFE)
or simply ask us personally.
Programme Director, Chemistry; Head, Centre of ...
Lecturer of Industrial and Inorganic Chemistry


Reasearch Associate Industrial Chemistry

Timo Laimbacher, BSc Student (FS21)
Chiara Waser, BSc Studentin (FS21)
Oliver Pauli, MSc Student (bis FS22)
Carys Schutzbach, MSc Studentin (bis HS22)
Lukas Müller, MSc Student (bis FS23)