TEDD in the "Focus of the month" at Cosmetic Cluster
TEDD was highlighted as founding partner in the "Focus of the month" at Cosmetic Cluster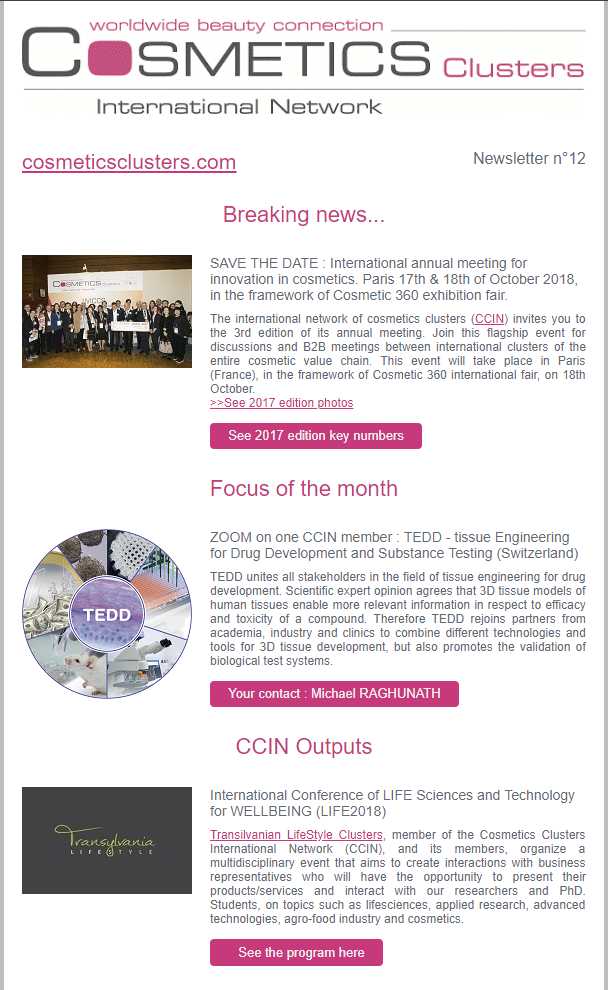 TEDD - tissue Engineering for Drug Development and Substance Testing (Switzerland)
TEDD unites all stakeholders in the field of tissue engineering for drug development. Scientific expert opinion agrees that 3D tissue models of human tissues enable more relevant information in respect to efficacy and toxicity of a compound. Therefore TEDD rejoins partners from academia, industry and clinics to combine different technologies and tools for 3D tissue development, but also promotes the validation of biological test systems.
TEDD is a founding partner of CCIN
About
The CCIN – Cosmetics Clusters International Network is the worldwide clusters network dedicated to international cooperation in cosmetics.
The CCIN was founded upon the request of 18 cosmetics clusters worldwide, wishing to share good practices in cosmetics, and work on common projects.
The CCIN was launched in the 2016 edition of the Cosmetic 360 fair in Paris, the international exhibition dedicated to innovations and solutions for the perfumery and cosmetics industry, organized by the French cluster Cosmetic Valley.
Capitalizing on each CCIN member's knowledge was clearly identified as a common objective. In order to do so, the CCIN has already started working on two topics:
Cosmetopoeia Commission: contributing to Cosmetopoeia through R&D for the benefit of your research projects.

Market trend & intelligence: get informed on the market trend worldwide, at the benefit of your commercial goals
Source: http://cosmeticsclusters.com