Publishing and Open Access
An Open Access publication allows you to reach the broadest possible readership: fellow researchers, practitioners or potential partners. You can also take advantage of the funding opportunities offered by research promotion agencies and programmes.
The Open Access green road, also known as self-archiving or green Open Access, refers to the practice of publishing scientific documents, either post-prints or pre-prints, in institutional or disciplinary repositories. A large number of scientific publishers allow this practice, but authors are required to clarify the situation in advance with their first publisher according to their respective publishing agreements.
The Open Access gold road, also known as gold Open Access, refers to the practice of publishing scientific documents in OA journals (or in an OA book publication). OA journals appear in the same way as conventional (closed access) electronic journals published by scientific publishers and undergo a peer review process.
The difference lies in how the journals are funded: conventional publishers finance their journals through subscriptions and pay-per-view, while gold Open Access charges the authors and/or the institutions they are affiliated to. This means that gold OA publications are freely available to anyone.
Caveat: Hybrid Open Access
Hybrid Open Access refers to the strategy adopted by conventional publishers of providing unrestricted access to some of the content in their subscription-based journals. In practice, this means that authors can 'buy back' their own articles by paying a high publication fee so that everyone can access them. Access to research results is thus paid for twice (through subscriptions and extra publication fees). For this reason, hybrid Open Access is regarded as a very controversial practice.
So-called Read&Publish agreements with publishers are an exception to this. With these, universities continue to have access to a publisher's range of journals and at the same time have the possibility of publishing Open Access at no cost.
Open Access policies and funding
The ZHAW Executive Board adopted an OA policy on 22 October 2015. The ZHAW commits to publishing its scientific findings according to the principles of Open Access in order to make them freely available to a broad public, provided that no legal restrictions apply.
All ZHAW members are asked to deposit a version of their publications in the institutional repository ZHAW digitalcollection. Primary OA publications are endorsed by the ZHAW and supported by the University Library as point of contact for Open Access.
The GOAL (Unlocking the Green Open Access potentiaL in scholarly and professional journals in Switzerland) project aims to promote the so-called green road to Open Access to scholarly and application-oriented journals. These journals are particularly relevant to universities of applied sciences and universities of teacher education. However, they were not covered by existing Open Access funding measures so far.
The aim of the GOAL project is to negotiate and implement secondary publication policies with the editorial teams of application-oriented journals. In this way, publications in the most important journals could be made accessible in (institutional) repositories, such as ZHAW digitalcollection.
The GOAL project will run from January 2022 to December 2024 and is co-funded by swissuniversities. The university library of ZHAW Zurich University of Applied Sciences leads the project. Our partner institutions are Lucerne University of Applied Sciences and Arts (HSLU), University of Applied Sciences and Arts Northwestern Switzerland (FHNW), Zurich University of the Arts (ZHdK) and University of Teacher Education Fribourg (HEP | PH FR).
Further information can be found on the GOAL website.
Additional Open Access mandates and funding
How and where to publish in a green Open Access journal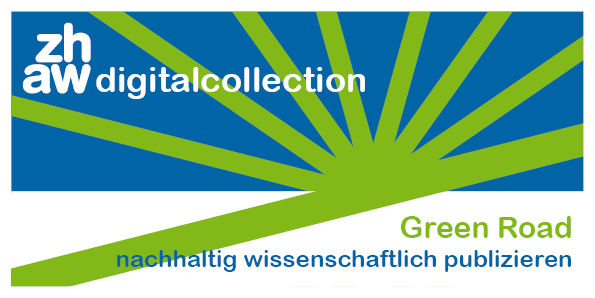 A degree of open access (the "green road") can be provided for publications by employees of an academic institution through their institutional repository. This secondary form of publication is permitted by a large number of academic publishers under certain conditions. Any document upload is subject to legal clarification with the publisher.
The University's institutional repository ZHAW digitalcollection is available for secondary publications. The relevant Wiki (in German) offers comprehensive support for the whole publication process.
The databases SHERPA/RoMEO and Journal Database (JDB) provide information on publishing conditions for secondary publications. Discipline-specific information is available on the information platform open-access.net.
​​​​​​​How am I supported as an editor?
Diamond Open Access refers to publications that can be read free of charge by all interested parties worldwide and for which the authors do not incur any costs. The ZHAW University Library provides advisory and financial support to editors who wish to transfer their journal or book series into a Diamond Open Access model.
For more detailed information, please contact the Open Access Team.
BASE is the key search engine for thousands of repositories worldwide. You can access full texts of the majority of indexed documents for free.
The Directory of Open Access Books (DOAB), published by the OEPAN Foundation, is a freely accessible online catalogue of OA book publications with an academically recognised level of quality.
The Directory of Open Access Journals (DOAJ) is a directory of e-journals that are freely available on the internet in accordance with the principles of Open Access. It includes peer-reviewed academic journals that are available online for free to readers immediately upon publication. For some of the journals it is also possible to search for individual articles.
Google Scholar is the largest search engine for academic resources. Here, you will find articles that are available as full text on a subscription basis as well as numerous OA resources.
Open Access Helper is a browser extension for Safari, Chrome and Firefox with which you can automatically search for freely available articles on websites. These are indicated by a coloured padlock symbol at the edge of the browser. The browser extension is easy to use and configure. By integrating third-party services, it offers additional features such as the option to search for similar articles or to send publishers e-mail requests for non-accessible full texts.
The OSF Preprint Server is held by the Center for Open Science (COS), a nonprofit organization. The plattform aggregates search results from a variety of other preprint providers such like arXiv, PsyArXiv, SocArXiv and more.