Christina Schuler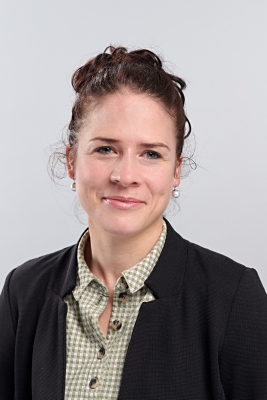 Christina Schuler
ZHAW School of Health Sciences
Institute of Nursing


Personal profile
Position at the ZHAW
Research Associate

zhaw.ch/gesundheit
Expertise and research interests
Pediatric and neonatal Nursing, Global Health (Maternal and Child Health), qualitative Research
Educational background
2022-to to date
PhD Biomedical Sciences, Global Health Track, University of Geneva (UNIGE),
Geneva

2019-2021
Master of Science in Nursing (MScN), Zurich University of Applied Sciences (ZHAW), Winterthur

2014-20217
Master of Advanced Studies (MAS) International Health, Swiss Tropical and Public Health Institute, Switzerland, University College, London, Queen Margaret University, Edinburgh, University of Heidelberg, Charité, Berlin

2003-2007
Undergraduate Studies in Nursing, Berufsschule für Gesundheits- und Krankenpflege Zug

2022
2022
Community-Based Participatory Method in Public Health, Lugano Summer School in Public Health, SSPH+

2022
Externship Workshop, Advanced Family Systems Care, ZHAW

2021
Swiss BioDesign, "Inventing next generation medical devices" Summer School, ZHAW School of Engineering, Winterthur

2021
Implementation Science in Health Care & Social Services, EISEN - European Implementation Science Education Network, Western Norway University of Applied Sciences

2017
GCP (Good clinical practice) course, Swiss TPH, Basel

2015
Course in Neonatal Nursing Care, Berne/Zurich

2012-2013
Course in Intermediate Care in paediatrics, University Hospital Bern

2011
Certificate in Advanced Studies(CAS) in International Cooperation and Global Health (General Tropical Course), Swiss Tropical and Public Health Institute, Switzerland

2011
Course for pediatric oncology nursing, University Hospital, Bern


Professional milestones
2021-to date
Research Associate, Institute for Nursing, ZHAW, Winterthur

2021
Study Coordinator, Institute for Epidemiology, Biostatistics & Prevention, Department for Public & Global Health, University Zurich

2019-to date
Nursing Pool, Pediatric & Neonatal Units, Regional Hospital Lucerne

2019-to date
Maternal and Child Health Programme Advisor, Ghana Health and Education Initiative (GHEI), Ghana

2019
Neonatal Intensive Care Unit, University Hospital Bern

2018-2019
Health Programme Coordinator, Ghana Health and Education Initative, Ghana

2017
Study nurse & Co-Team leader local study location, SAPALDIA, Swiss
cohort study on lung disease and air pollution in adults, Swiss TPH, Basel

2016
Neonatal and Paediatric Intensive Care Unit, Regional Hospital, Lucerne

2014-2015
Neonatal Intensive Care Unit, University Hospital Bern

2010-2014
Pediatric Oncology and Haematology, University Hospital Bern

2010
Radio oncology for adults, University Hospital Bern

2009-2010
Nursing volunteering in two local Hospitals, Winneba, Ghana

2007-2009
Pediatric surgery, University Hospital Bern
Membership of networks
Projects
Publications
Other publications
Schuler, Christina; Agbozo, Faith; Ntow, George; Waldboth, Veronika,

2021.

Neonatal care delivery for low birth weight infants in the context of continuum of care in Ghana [poster].

In:

3rd Annual Meeting of the Swiss Society for Early Childhood Research, Zurich, 23-24 November 2021.

ZHAW Zürcher Hochschule für Angewandte Wissenschaften.

Available from: https://doi.org/10.21256/zhaw-23665

Waldboth, Veronika; Schuler, Christina; Mc Crosky, Stephen; Mezger, Mirjam; Domeisen Benedetti, Franzisca; Schubert, Maria; Fringer, André,

2021.

The evaluation of an interprofessional education program for Advanced Practice Nurses in Switzerland [poster].

In:

11th ICN NP/APN Network Conference, online, 29 August - 1 September 2021.
Oral conference contributions and abstracts
Publications before appointment at the ZHAW
Agbozo, F., Schuler, C., & Jahn, A. (2022). Adherence to appointments for gestational diabetes testing and experiences with two-hour postprandial glucose test: a mixed-methods study in Ghana. BMC pregnancy and childbirth, 22(1), 287. doi.org/10.1186/s12884-022-04559-5

Schuler, C., Ntow, G. E., & Agbozo, F. (2019). Mothers' Experiences with Neonatal Care for Low Birth Weight Infants at Home; A Qualitative Study in the Hohoe Municipality, Ghana. J Pediatr Nurs, 45, e44-e52. doi.org/10.1016/j.pedn.2018.12.017

10th European Congress on Tropical Medicine and International Health, Antwerpen, Belgium, 16-20. October 2017. Poster presentation, Schuler C., Ntow G. Agbozo F., A retrospective qualitative study to explore the neonatal care practises of mothers with low birth weight infants in the Hohoe Municipality, Ghana.