Christina Schuler PhD Student, MScN, MAS International Health, RN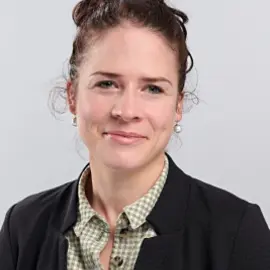 Christina Schuler PhD Student, MScN, MAS International Health, RN
ZHAW School of Health Sciences
Institute of Nursing


Work at ZHAW
Position
Research associate
Education and Continuing education
Focus
Pediatric and Neonatal Nursing Maternal, Newborn and Child Health Global Health Qualitative Research
Experience
Maternal and Child Health Programme Advisor
Ghana Health and Education Initiative (GHEI), Ghana
03 / 2019 - today
Pediatric/Neonatal Nurse
Regional Hospital Lucerne (LUKS)
10 / 2019 - today
Research Associate
Institute of Nursing, School of Health Sciences, Zurich Univeristy of Applied Sciences
07 / 2021 - today
Study Coordinator
Institute for Epidemiology, Biostatistics & Prevention, Department for Public & Global Health, University Zurich
03 / 2021 - 12 / 2021
Neonatal Nurse
Neonatal Intermediate Care Ward, Childrens' Hospital, University Hospital Berne
04 / 2019 - 08 / 2019
Health Programme Coordinator
Ghana Health and Education Initative (GHEI), Ghana
01 / 2018 - 02 / 2019
Study nurse & Co-Team leader, local study location
SAPALDIA, Swiss cohort study on lung disease and air pollution in adults, Swiss TPH, Basel
03 / 2017 - 12 / 2017
Pediatric/Neonatal Nurse
Regional Hospital Lucerne (LUKS)
03 / 2016 - 09 / 2016
Neonatal Nurse
Neonatal Intensive Care Unit, Childrens' Hospital, University Hospital Berne
07 / 2014 - 12 / 2015
Pediatric Nurse
Pediatric Oncology and Hematology War, Childrens' Hospital, University Hospital Berne
05 / 2010 - 03 / 2014
Pflegefachfrau
Radiooncology, Adults, University Hospital Berne
04 / 2010 - 05 / 2010
Nursing Staff
Klimovic Memorial Hospital / Government Hospital, Winneba, Ghana
08 / 2009 - 02 / 2010
Pediatric Nurse
Pediatric surgery, Childrens' Hospital, University Hospital Berne
09 / 2007 - 07 / 2009
Education
PhD / Biomedical Sciences, Global Health
Univeristy of Geneva
09 / 2022 - 12 / 2023
Master in Science / Nursing Science
Zurich University of Applied Sciences Schuler
09 / 2019 - 07 / 2021
Master in Advanced Studies / International Health
Master of Advanced Studies (MAS) International Health, Swiss Tropical and Public Health Institute, Switzerland, University College, London, Queen Margaret University, Edinburgh, University of Heidelberg, Charité, Berlin
03 / 2014 - 07 / 2017
Diploma in Nursing / General Nursing
Nursing School, Zug
09 / 2003 - 08 / 2007
Membership of networks
Awards
Helmut-Wolf Award for junior scientists in global child health
German Society for Tropical Paediatrics and International Child Health
05 / 2022
Projects
Publications
Articles in scientific journal, peer-reviewed
Schuler, Christina; Agbozo, Faith; Ntow, George Edward; Waldboth, Veronika,

2023.

Health-system drivers influencing the continuum of care linkages for low-birth-weight infants at the different care levels in Ghana.

BMC Pediatrics.

23(1), pp. 501.

Available from: https://doi.org/10.1186/s12887-023-04330-5

Schuler, Christina; Waldboth, Veronika; Ntow, George Edward; Agbozo, Faith,

2023.

Experiences of families and health professionals along the care continuum for low-birth weight neonates : a constructivist grounded theory study.

Journal of Advanced Nursing.

79(5), pp. 1840-1855.

Available from: https://doi.org/10.1111/jan.15566
Conference contributions, peer-reviewed
Other publications
Oral conference contributions and abstracts
Schuler, C.; Agbozo, F.; Preusse-Bleuler, B.; Waldboth, V.; Ntow, G.E.; Bansah, E.; Pfister, R.E.,

2023.

A mixed-method participatory action research study to develop an evidence-based family-systems care programme for sick and small infants in Ghana.

In:

Swiss Society of Tropical Medicine and Parasitology (SSTMP) Annual Meeting, Allschwil, Switzerland, 7-8 September 2023.

Schuler, Christina; Agbozo, Faith; Ntow, George; Waldboth, Veronika,

2021.

Neonatal care delivery for low birth weight infants in the context of continuum of care in Ghana : recommendations for nursing practice.

In:

Ghana College of Nurses and Midwifes (GCNM) 6th Annual General Meeting and 3rd Scientific Conference, Accra, Ghana, 4-7 October 2021.
Publications before appointment at the ZHAW
Schuler, C., Ntow, G. E., & Agbozo, F. (2019). Mothers' Experiences with Neonatal Care for Low Birth Weight Infants at Home; A Qualitative Study in the Hohoe Municipality, Ghana. J Pediatr Nurs, 45, e44-e52. https://doi.org/10.1016/j.pedn.2018.12.017
10th European Congress on Tropical Medicine and International Health, Antwerpen, Belgium, 16-20. October 2017. Poster presentation, Schuler C., Ntow G. Agbozo F., A retrospective qualitative study to explore the neonatal care practises of mothers with low birth weight infants in the Hohoe Municipality, Ghana.
Other publications
18th Conference of the International Society of Travel Medicine, Basel, Switzerland, 21.-25. May 2023. Poster presentation, Giovanoli J., Sturmer N., Abongomera G., Ghebreghiorghis T., Siebenhüner K., Schuler C., Xaaji, I., Abongomera C., Fehr J., Paris D., Nicca D., Involvement and Recruitment of Migrant Communities in Research: An Explorative Embedded Investigation.