Dr. Martin Ostertag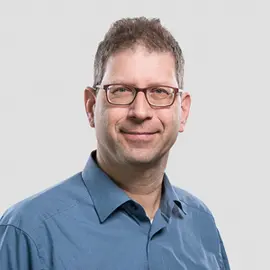 Dr. Martin Ostertag
ZHAW School of Engineering
Institute of Embedded Systems
Technikumstrasse 20/22
8400 Winterthur
Work at ZHAW
Management role
dep. Director of Institute, Institute of Embedded Systems
Head of Research/Focus Area, Communication Network Engineering
Position at the ZHAW
Senior Lecturer Communication Networks

www.zhaw.ch/ines/
Education and Continuing education
Expertise and research interests
Industrial Communication Networks
Time Sensitive Networking
Precise Time Synchronization
Professional milestones
1996-1998 ABB Coroporate Research, Dättwil AG (CH).
1999-2003 Team Leader "SCADA Communication" at ABB Network Partner, Baden (CH), Defintion and Introduction of IEC 61850, Member electrosuisse TK 57 / IEC TC57 WG03.
2003-2010 Head of R&D "Substation Automation Systems" at ABB Power Systems, Baden (CH).
2010-2012 Head of R&D Ruf Telematik, Schlieren (CH) (Passenger Information Systems).
2012-2019 Program and Section Manager R&D Controls, Schindler Elevator AG, Ebikon (CH).
Educational background
Dipl. Ing. degree in Electrical Engineering (Process Measurement and Control), 1991, University Karlsruhe (TH), today KTI
PhD on "Structured Optimization of Airbag Release Algorithms", University Karlsruhe (TH), today KTI
Membership of networks
Projects
Publications
Articles in scientific journal, peer-reviewed
Oral conference contributions and abstracts
Ostertag, Martin; Brunner, Kilian,

2023.

In:

TSN/A Conference, Ludwigsburg, Germany, 27-28 September 2023.

Redmond, Catherine; Ostertag, Martin,

2021.

Experiments on IEEE 802.3cg 10BASE-T1L & preemption in process/industrial automation.

In:

TSN/A Conference, online, 29-30 September 2021.
Publications before appointment at the ZHAW
Ostertag, M., Common Denominator – Common components have helped ABB adopt the IEC 61850 substation communication standard in record time, ABB Review Special Report IEC 61850, August 2010.
library.e.abb.com/public/a56430e1e7c06fdfc12577a00043ab8b/3BSE063756_en_ABB_Review_Special_Report_IEC_61850.pdf

Ostertag, M.; Hilpert, G.; Kern, T., The standard route to Ethernet based substation automation, Industrial Ethernet Book, Issue 15, June 2003.
www.iebmedia.com/index.php

Brand, K.P.; Ostertag, M.; Wimmer, W., IEC 61850 - Safety related, distributed functions in substations and the standard IEC 61850, Power Tech Conference Proceedings, 2003 IEEE Bologna (Volume:2 ), June 2003.
library.e.abb.com/public/3548a6502db57803c1256e600033230d/IEC%2061850%20-%20Safety%20related,%20distributed%20functions.pdf

Ostertag, M.; Imboden, Ch., High data rate, medium voltage powerline communications for hybrid DA/DSM, Transmission and Distribution Conference, 1999 IEEE (Volume:1), pp.240-245, New Orleans LA, Apr 11-16, 1999.

Ostertag, M., Improved Localisation for Traffic Flow Control, Periodica Polytechnica Ser. Electrical Engineering, Vol. 41, No. 5, pp. 185-200, 1997.

Ostertag, M., Strukturierte Optimierung von Airbag-Auslösesystemen, Fortschr.-Ber. VDI Reihe 12 Nr. 280. Düsseldorf: VDI Verlag 1996.

Ostertag, M.; Nock, E.; Kiencke, U., Optimization of Airbag Release Algorithms using Evolutionary Strategies, Proceedings on the 4th IEEE Conference on Control Applications 1995, pp. 275-280, Albany NY, Sep 28-29, 1995.

Nowinski, G.; Gering, H.; Ostertag, M., Lernfähige konnektionistische Strukturen in der Automatisierungstechnik, Teil 7.2. Neuronale Netze zur Airbagauslösung, at Automatisierungstechnik 42, Nr. 7/94, S. A25 – A28, 1994.

Other publications
Brunner, K., Ostertag, M., Industrielle Anwendung von Powerline Carrier Technologie (G.hn), Embedded Computing Conference 2021, Winterthur, (in German), www.swisst.net/fileadmin/swissTmeetings/ECC2021/ECC_2021_Praesentationen/ECC21_Stream2_ZHAW_Brunner_Ostertag.pdf