Dr. Patrick Hauf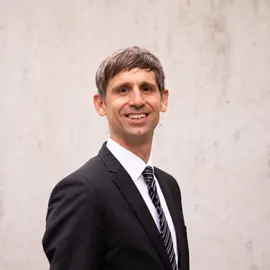 Dr. Patrick Hauf
ZHAW School of Management and Law
Fachstelle für Asset Management
Gertrudstrasse 8
8400 Winterthur
Work at ZHAW
Management role
Programme Director, CAS AI Management & Strategy for Financial Services
Position at the ZHAW
Senior Lecturer

www.zhaw.ch/en/sml/institutes-centres/iwa/
Education and Continuing education
Expertise and research interests
Risk Management, Asset Pricing, Portfolio Management, Financial Engineering, Statistical Analysis, Regulatory Reporting
Professional milestones
07/2019 - 03/2021: Head of interest risk module and Product Advisor at BearingPoint RegTech Switzerland (FiRE), Regulatory Reporting Specialist
05/2011 - 06/2019: Firmwide Lead Cluster Risk Governance/Stresstesting at BearingPoint. Before: completed multiple projects in the area of risk and asset management in the financial services industry in Switzerland, Liechtenstein, UK & German as
Analyst/Consultant/Senior Consultant.

Educational background
2018 Dr. rer. pol. (Universität Konstanz)
2014 Designated Financial Risk Manager (FRM) by GARP
2011 Master of Mathematical Finance/ Diplom Finanzökonom math. (Universität Konstanz)
Projects
Publications
Other publications
Oral conference contributions and abstracts
Ahmad, Samahat; Hauf, Patrick; Seiberlich, Ruben,

2022.

Analyzing spillover effects of the GameStop squeeze on short interest.

In:

Annual Event of Finance Research Letters 2022 CEMLA Conference, Mexico City, Mexico, 21-22 April 2022.

Hauf, Patrick,

2022.

Wieviel KI-Potential steckt im Schweizer Finanzplatz?.

In:

Finance Circle, Winterthur, Schweiz, 14. November 2022.
Publications before appointment at the ZHAW
"Zinsrisiken im Anlagebuch (IRRBB) effektiv modellieren und umsetzen", joint with Stefan Trummer, published March 2021 in BankPraktiker, www.fch-gruppe.de/Beitrag/17066/zinsrisiken-im-anlagebuch-irrbb-effektiv-modellieren-und-umsetzen

Dissertation with 3 essays at Universität Konstanz:
"Uncovering the role of tone: Evidence from CEO dismissals", joint with Nadja Younes (e.g., presented at PFMC in Paris, 2016)
"Does corporate governance matter for companies in the spotlight?", joint with Frederic Menninger (e.g., presented at PFMC in Paris, 2017)
"True sentiment and the stock market: Playing Hide and Seek", Working Paper

Other publications
"New Computing Architectures Meet 'Interest Rate Risk in the Banking Book'", joint with Stefan Trummer, published June 2021 in Risk Intelligence by Global Association of Risk Professionals (GARP), www.garp.org/risk-intelligence/technology/data/a1Z1W000005lJCGUA2