2. Digital Health Lab Webinar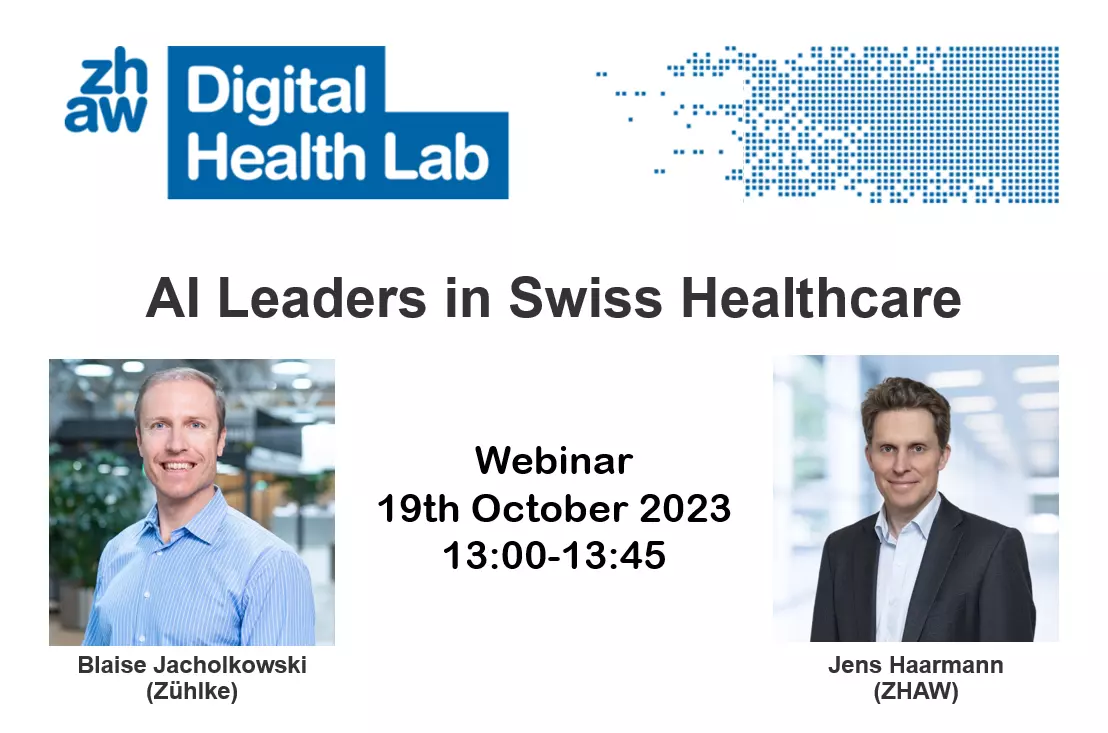 The webinar on the 19th of October will be about:
AI Leaders in Swiss Healthcare by Blaise Jacholkowski (Zühlke) and Jens Haarmann (ZHAW)
Zoom-Link: https://zhaw.zoom.us/j/68926693933 | Meeting-ID: 689 2669 3933
Abstract:
The overview to a new webinar series will provide you with insights on the following questions:
In which fields of healthcare is AI currently applied?

Who are the leading startups from Switzerland focusing on AI in healthcare?

What best practices and pitfalls to look out for when developing medical-grade AI tools?

What is the outlook and perspectives on Generative AI in healthcare?
Short biographies:
Blaise Jacholkowski, graduated from EPFL in biomedical engineering and holding an MBA, worked most of his career in life sciences, from consulting to professional services to engineering, with a focus in the past 5 years on digital health, and notably Software as a Medical Device. In his current position as a Senior Business Solution Manager at Zühlke, he has been involved in several projects related to the applications of AI in healthcare and in designing 'smart' connected medical devices.
Jens Haarmann, is a Product Mgt Lecturer at ZHAW, holding a PhD and Msc in Business Administration and Economics from the University of Zurich. Since working in local and international healthcare industry roles at J&J, Phonak and Sofinnova Partners, he is interested in the process of creating and fostering customer-centric innovation in healthcare markets. At ZHAW he frequently conducts product-market fit evaluations for early-stage digital health and medical device solutions and co-initiated Switzerland's first Biodesign summer school. Key interests: Product-market fit experiments, Co-creation, DTx and Health AI.