3. Digital Health Lab Webinar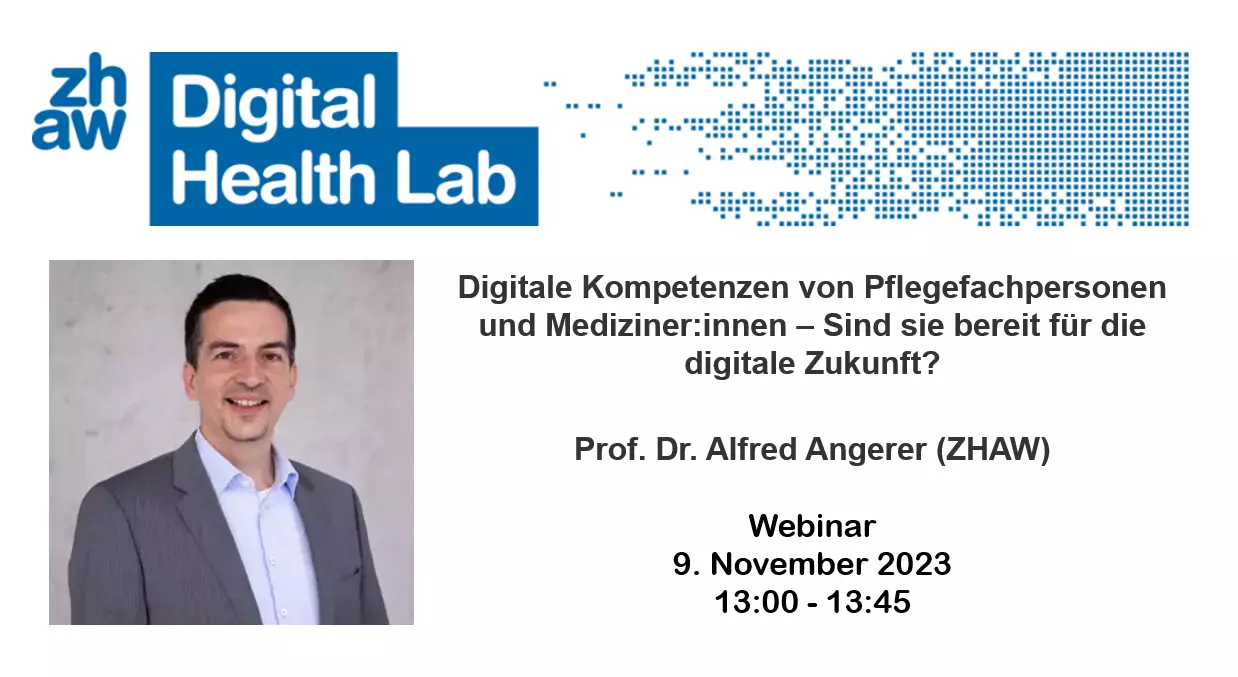 Nächster Online-Event am 09.11.2023, 13:00 - 13:45
Zoom-Link: https://zhaw.zoom.us/j/68559799769?pwd=UDBDZmhvQm5SVzF0cncvcWNHZDNyZz09
Abstract:
Digital Health verändert zunehmend die tägliche Arbeit von Pflegefachpersonen und Mediziner:innen. Um für das digital transformierte Gesundheitswesen der Zukunft fit zu sein, müssen heute schon die Weichen bei der Aus- und Weiterbildung der Gesundheitsfachpersonen gelegt werden. Eine Studie der Zürcher Hochschule für Angewandte Wissenschaften untersucht, wie sich die benötigten digitalen Kompetenzen verändern werden und wie vorhandene Kompetenzlücken geschlossen werden können.
Die Studie arbeitet den aktuellen Stand des Wissens durch eine umfangreiche Literaturanalyse auf. Dank Expert:innen-Interviews und einer Onlineumfrage im deutschsprachigen Raum konnten die heutigen digitalen Kenntnisse von Gesundheitsfachpersonen quantifiziert werden, um so mögliche Kompetenzlücken zu identifizieren.
Im Vortrag wird Prof. Dr. Angerer die Ergebnisse dieser Analyse präsentieren und praktische Handlungsempfehlungen für die Förderung der digitalen Kompetenz von Pflegefachpersonen und Mediziner:innen geben.
Biography:
Prof. Dr. oec. Alfred Angerer hat Wirtschaftsingenieurwesens an der Universität Karlsruhe studiert und ein Doktorat in Betriebswirtschaftslehre an der Universität St. Gallen absolviert. Praxiserfahrungen hat er als Supply Chain Manager bei der Firma Nestlé AG und als Unternehmensberater im Bereich Operations bei McKinsey & Company gesammelt. Seit 2009 ist er Dozent an der ZHAW-School of Management and Law. Dort leitet er die Fachstelle Management im Gesundheitswesen des Winterthurer Institut für Gesundheitsökonomie und ist Co-Direktor des ZHAW Digital Health Labs.
Alfred Angerer ist im Advisory Board mehrerer Digital Health Startups sowie Mitglied der Kommission Thurgau Gesundheit. Seine Forschungsschwerpunkt liegen im Bereich Digital Health und Prozessoptimierung nach Lean Management. Herr Angerer ist Ersteller zahlreicher internationaler Publikationen, Bücher, Vorträge sowie des Podcasts «Marktplatz Gesundheitswesen» (https://open.spotify.com/show/0HdrpmvCLHJ8nIAf6JiCSC) zum Thema Führen von Gesundheitsorganisationen im digitalen Zeitalter.