Prof. Dr. Marcello Righi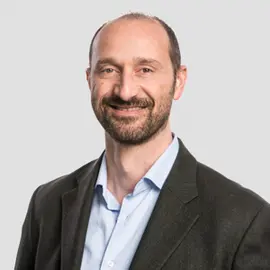 Prof. Dr. Marcello Righi
ZHAW School of Engineering
Forschungsschwerpunkt Leichtbautechnik
Technikumstrasse 9
8400 Winterthur
Education and Continuing education
Expertise and research interests
- Aeroelasticity, structural dynamics of aircraft structures, assessment of dynamic loads and response. Development of aerodynamic Reduced-Order-Models (ROM) by means of CFD calculations. Coupled (structure / aerodynamics) simulations.

- Unsteady aerodynamics: assessment of indicial functions by means of CFD simulations.

- Compressible aerodynamics: shock - boundary layer interaction, Riemann solvers, Gas-kinetic solver, high-enthalpy flow, hypersonic flow.

- Rotordynamik (Wind turbine, rotorcraft)

- Aeroelasticity (CFD/CSD coupled computation, identification of dynamic instabilities)

- Computational Fluid Dynamics (modeling of turbulence, gas-kinetic schemes, compressible flow)

- Flow control devices (application of mini-trailing edge devices, closed-loop controlled)

- Expert for the EU joint Undertaking CleanSky.

MSc and PhD thesis were dedicated to the modelling of turbulence under the guidance of Prof. Carlo Cercignani. In the first case, the aim was the investigation of the, then, young Large Eddy Simulation technique, leading to significant results in the validation of the so-called dynamic subgrid models. Objective of the PhD thesis was the realization of a complete finite-volume solver, able to include different turbulence models, at the time not yet available on commercial solvers.

Publications: wherever possible, on ArXiv.
arxiv.org/abs/1302.2132
arxiv.org/abs/1208.1365

Professional milestones
2006 - 2009 Product manager, Pilatus Aircraft, Stans, Switzerland
The position reported to the vice president for Military Aviation and consisted in managing all engineering activities being done in all Trainer Aircraft programmes. I have been managing a yearly portfolio of several million CHF including development of airframe, mechanical, electric and avionic systems. Most activities were outsourced.

2005 - 2006 International cooperation in M-346 programme, AleniaAermacchi, Venegono, Italy
The position concerned the identification of potential partners and work packages to be assigned within the M-346 (advanced trainer) programme. The job involved extensive planning, assessment and packaging of engineering activities.

2003 - 2005 Project manager, Flight Physics, Airbus Deutschland, Bremen, Germany

The position had been created in the framework of the strengthening of Project and Quality Management in Airbus Engineering. I have been in charge of several improvement projects (within the German "Flight Physics") aiming at internal and outsourced activities. Flight Physics would include Aerodynamics, Loads, Performance and Weights.

2001 - 2003 Project Manager, Pilatus Aircraft, Stans, Switzerland
This position included all management activities within the development programme of the PC-21 trainer aircraft. This included airframe design and development as well as the development of all aircraft systems, most of which were outsourced.

2000 - 2001 Senior Consultant, Booz Allen and Hamilton, Milan, Italy
This activity represents a parenthesis in my Engineering career and was limited to a few months. It gave me nevertheless the chance to acquire valuable knowledge in the management of business. I had the chance to work for a few technology institutions, among which the Italian Space Agency.

1994 - 2000 Aerodynamicist, Aeroelasticist, AgustaWestland, Cascina Costa, Italy, including a period with Bell Helicopter on a joint project, Ft Worth, USA
I have worked for over three years as a dynamicist, focusing mainly on rotor dynamics. I took part in the development of virtually all modern rotors developed by AgustaWestland and developed some investigation tools (FEM) which are still in use. I carried out the preliminary dynamic analysis of the empennage of the BA609 tilt-rotor - as part of the joint-venture with Bell Helicopter. I have worked with traditional light metal alloy as well as with composite structures. I subsequently moved to Aerodynamics - right after obtaining my PhD - and worked on the aerodynamic development of rotor blades.

Educational background
- CVE Structures (Certification Verification Engineer) at Pilatus Aircraft Ltd.
- PhD, Aerodynamics, Politecnico di Milano, Milan, Italy, 1998
- Rotorcraft Technology, The Penn State University, 1997
- MSc, Aerospace Engineering, Politecnico di Milano, Milan, Italy, 1992

Membership of networks
Projects
Publications
Articles in scientific journal, peer-reviewed
Conference contributions, peer-reviewed
Liu, Xinying; Anderegg, David; Yildirim, Anil; Righi, Marcello; Manfriani, Leonardo,

2023.

Numerical optimisation of single- and multi-element aerofoils using gradient-based methods [paper].

In:

Aerospace Europe Conference - Joint 10th EUCASS and 9th CEAS Conference, Lausanne, Switzerland, 9-13 July 2023.

European Conference for AeroSpace Sciences.

Available from: https://doi.org/10.13009/EUCASS2023-387

Righi, Marcello; Anderegg, David; Manfriani, Leonardo; Ammann, Michael; Oram, Christian; Yildirim, Anil; Martins, Joaquim R.; Coretti, Oier,

2022.

Optimisation of symmetrical aerofoils for a vertical axis wind turbine [paper].

In:

AIAA AVIATION 2022 Forum.

AIAA AVIATION Forum, Chicago, USA, 27 June - 1 July 2022.

American Institute of Aeronautics and Astronautics.

Available from: https://doi.org/10.2514/6.2022-3384

Manfriani, Leonardo; Ammann, Michael; Righi, Marcello,

2012.

Experimental aerodynamic analysis of a slow running vertical axis wind turbine [paper].

In:

Proceedings of the RAeS Applied Aerodynamics Conference 2012.

RAeS Applied Aerodynamics Conference, Bristol, United Kingdom, 17-19 July 2012.
Other publications
Publications before appointment at the ZHAW
D'Alascio, Righi, M., et al., "First Results of the EROS European Unsteady Euler Code on Overlapping Grids", ECCOMAS 98, Special Technology Session on CFD in Rotorcraft Design, Athens, Greece, 7-11 September 1998

Renzoni, P., Righi, M., et al., "EROS: A European Euler Code for Helicopter Rotor Flow Simulations", 21st ICAS Congress, Melbourne, 13-18 September 1998, Paper ICAS-98-2.6.2

Kokkalis, A., Righi, M., and Pagano, A., "ROSAA, A First Step in Meeting the Rotorcraft Industry's Need for Advanced Aeromechanics in Rotorcraft Simulation Systems", ECCOMAS 98, Special Technology Session on CFD in Rotorcraft Design, Athens, Greece, 7-11 September 1998

Righi, M., and Nannoni, F., "The Real Need for Navier-Stokes Computation in Helicopter Industry and Requirements for an Efficient Analysis", 24th EUROPEAN ROTORCRAFT FORUM, Marseille, France - 15th-17th September 1998

Caramaschi, V., and Righi, M., "A New Finite Element Approach to Rotor Aeroelastic Analysis", CHINA HELICOPTER FORUM, Nanching, 13-15 September 1996

Righi, M., Numerical Simulation of Compressible Turbulent Flows, Doctoral Thesis, Politecnico di Milano, 1998