The ZHAW on the European stage
Impact No. 32 – March 2016
Education, as well as research and development, have to develop within the context of international exchange, and be oriented towards international standards. The ZHAW wants to actively participate in the further development of the European Higher Education and Research Area. The exchange is enriching in various ways, because students and employees are in contact with renowned research partners, gain access to new technologies, discover new fields and come to know and appreciate things foreign. Furthermore, Europe is Switzerland's most important partner in business, research and innovation.
EU framework programmes for research
The ZHAW has been contributing to EU projects since it participated in the Sixth Framework Programme for Research (FP6). The ZHAW has worked in these projects together with SMEs and partners from industry and universities from over 20 European countries. In addition, the ZHAW has taken part in EU research projects along with Swiss SMEs. These projects cover a wide range of specialist fields and subject areas, such as biotechnology, energy, transport, mobility, safety, information and communication technology, and many more. The ZHAW has been involved in approximately fifty projects, seven of which were in the Horizon 2020 Programme. A comparison of the number of project proposals submitted shows that EU projects are becoming increasingly important for the ZHAW. During the seven-year period of the Seventh Framework Programme for Research (FP7), 116 project plans were submitted. Since Horizon 2020 started in 2014, the ZHAW has already submitted over 70 projects.
Together with the FH Campus Wien and the Munich University of Applied Sciences (MUAS), the ZHAW forms the International Network of Universities of Applied Science (INUAS). The three universities are known for their high standards and their international orientation. The exchange and pooling of the respective universities' capabilities and strengths advances the internationalisation of all the institutions and, as a result, strengthens their position in the international academic landscape. Their focus lies on "the future of the urban environment".
Thirty universities from the Lake Constance ("Bodensee") region – situated in four different countries – joined forces and formed the International University of Lake Constance (IBH) network. The IBH supports projects in the areas of teaching, research and development, knowledge and technology transfer, as well as structurisation.
European Centre for living technology
The ZHAW is a member of the European Centre for Living Technology (ECLT), which is organised as an interuniversity consortium and currently consists of seventeen universities and other research institutions. Together, they do research to find solutions to significant questions concerning future challenges, using a new generation of technologies.
International Partnerships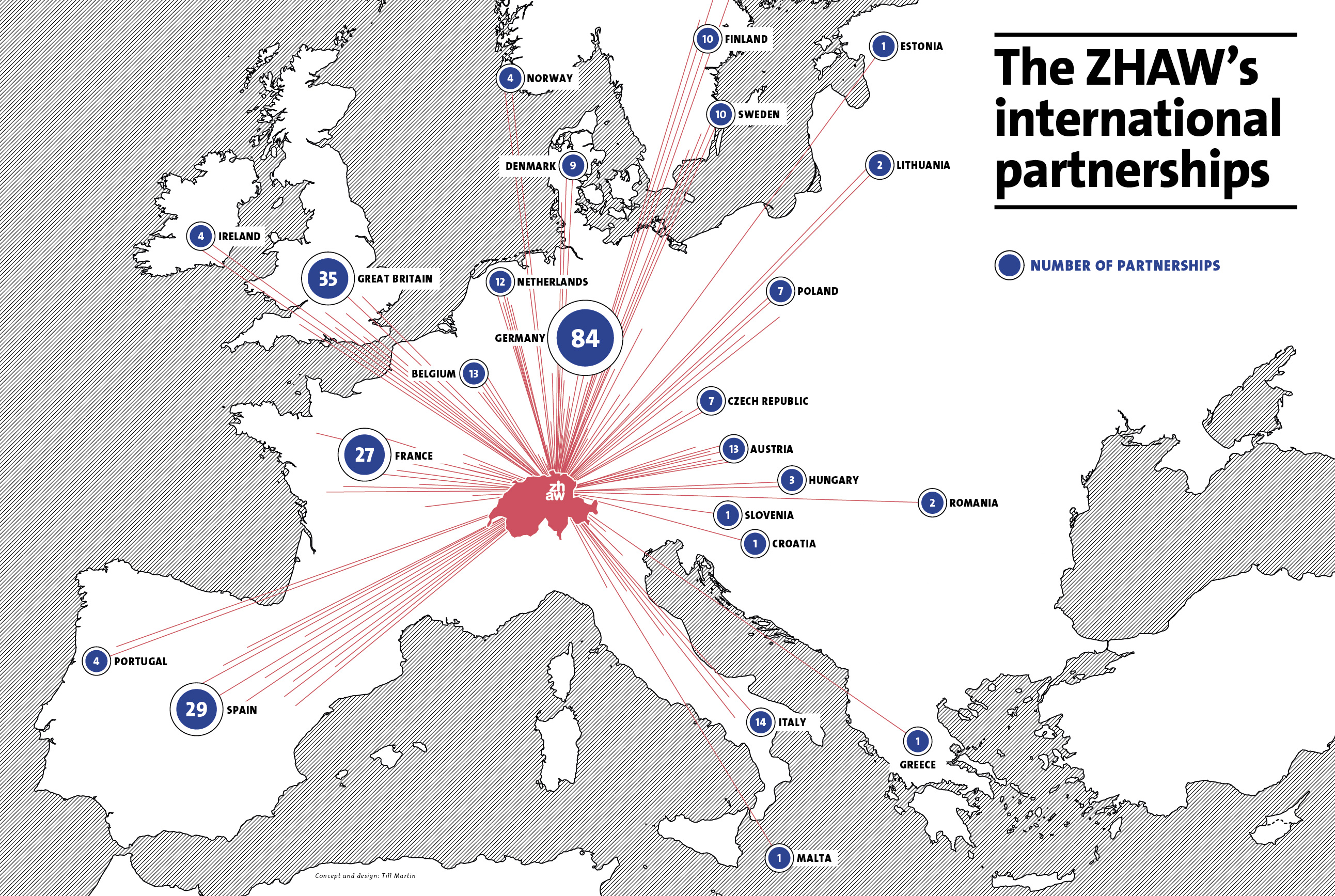 Each year, approximately 250 ZHAW students spend one semester abroad at a European partner university, while almost 200 students from all over Europe come to the ZHAW. Out of a total of 2,973 employees, around 109 go to other European countries each year, for example for a research period or as guest lecturers.
Most popular countries among employees and students
| Country of destination of students | Percentage |
| --- | --- |
| Great Britain | 22% |
| Germany | 18% |
| France | 13% |
| Spain | 9% |
| Country of destination of employees | Percentage |
| --- | --- |
| Germany | 27% |
| Great Britain | 17% |
| Netherlands | 13% |
| Sweden | 11% |
Out of a total of 2,987 employees, 610 are originally from other European countries.
| Country of origin | Number of employees |
| --- | --- |
| Germany | 428 |
| Italy | 53 |
| Austria | 35 |
| France | 10 |
| Great Britain | 10 |