ZHAW visits San Francisco
The ZHAW co-organised the city festival "Zürich meets Your City" for the second time. Together with a delegation from Zurich, ZHAW representatives travelled to San Francisco from 20 to 26 October, where they hosted three successful events in the field of science and technology.
During "Zürich meets Your City", a festival of culture and science, the ZHAW hosted workshops and panel discussions that explored issues concerning our future and the development of an urban and digital society. Representatives from the School of Life Sciences and Facility Management, the School of Engineering and the School of Management and Law discussed these issues with experts from renowned local institutions and the general public.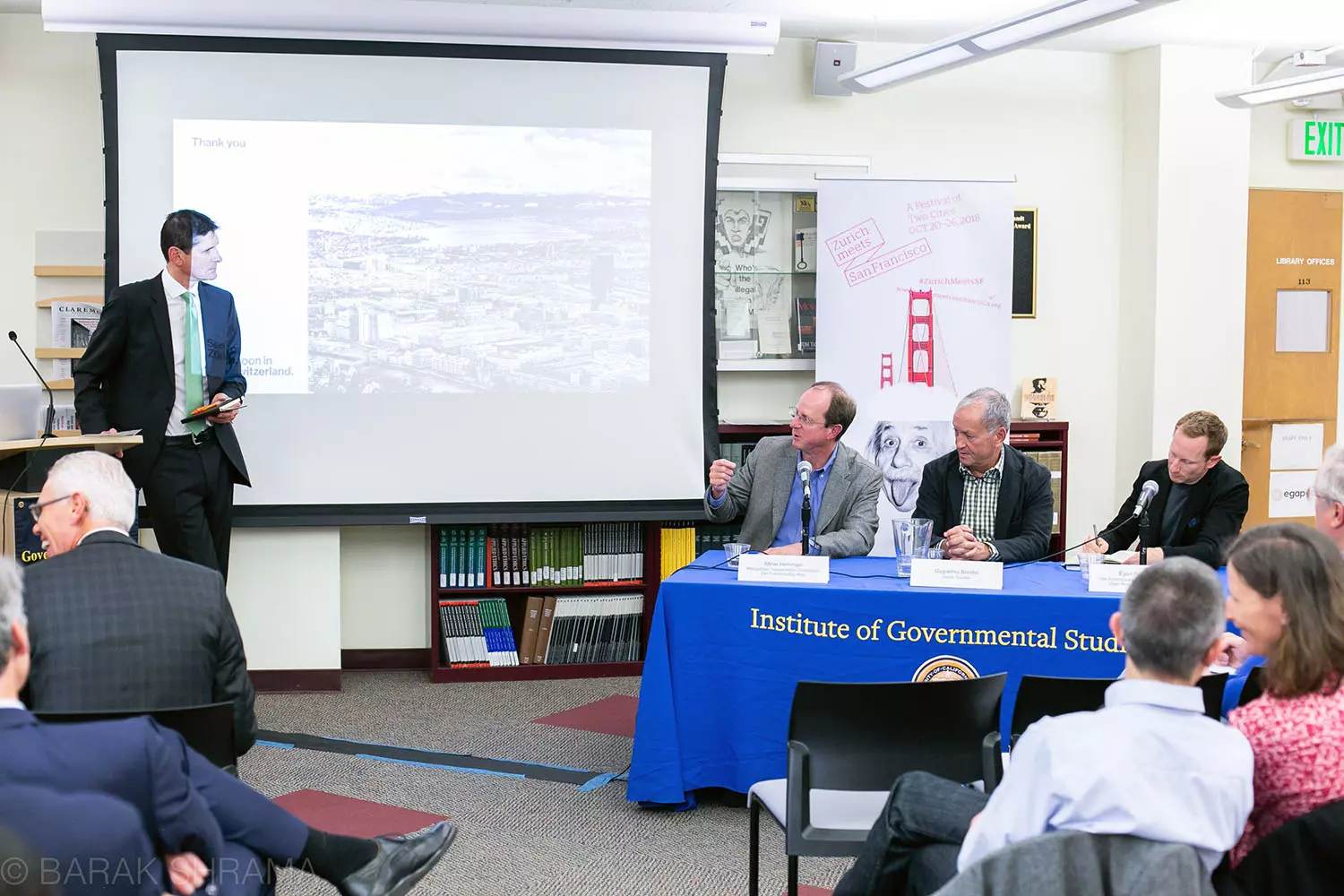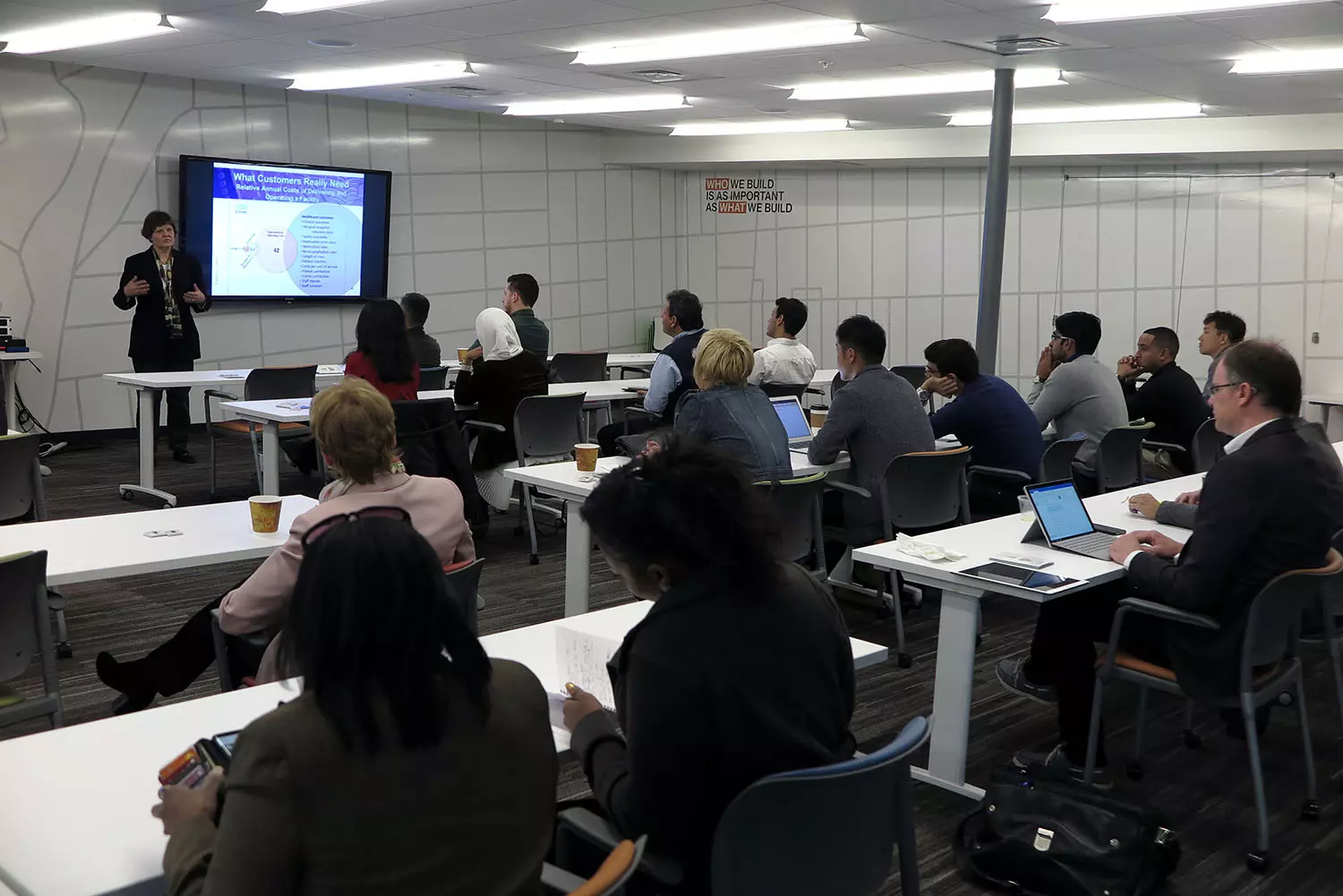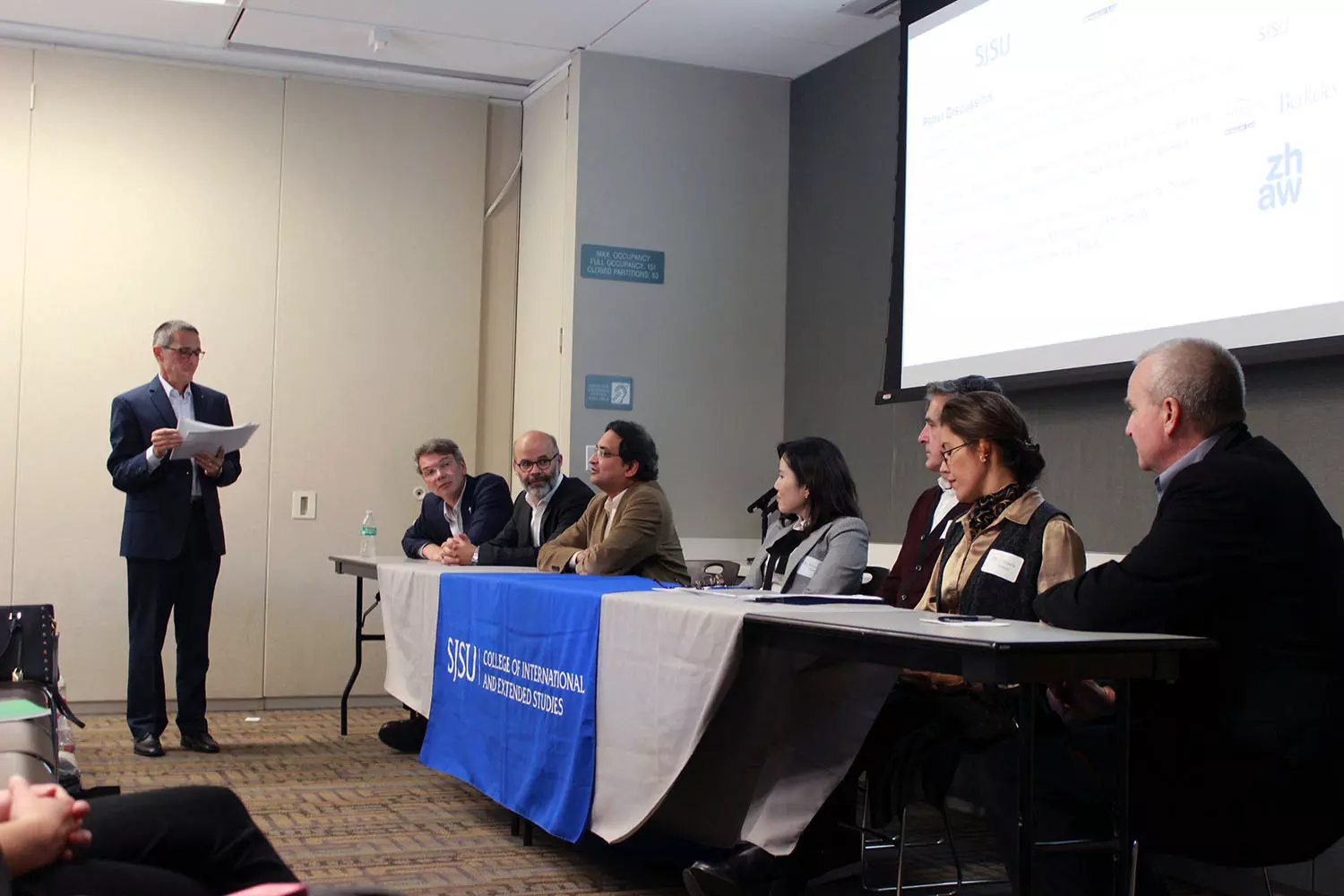 Comparing the metropolitan areas of Zurich and San Francisco
The School of Management and Law organised the event "Governance of Metropolitan Areas – Learning from Europe and the US" together with the Institute of Governmental Studies at the University of California, Berkeley. Carmen Walker Späh, Economic Director of the Canton of Zurich, kicked off the event with an opening message.
According to Reto Steiner, Dean of the School of Management and Law, the difficulty in managing metropolitan areas in the US and Switzerland is comparable in many respects: "The metropolitan areas of San Francisco and Zurich are characterised by a high degree of fragmentation. They both face the challenge of how to finance services while at the same time maintain standards throughout the metropolitan area."
Reto Steiner and Michael Künzle, Mayor of Winterthur, were part of a panel discussion that looked at some of the issues relating to the planning and provision of services in metropolitan areas, and they discussed what Zurich and San Francisco can learn from each other. As Steiner noted, the proportions are of course entirely different, but it is nonetheless instructive to learn how the two countries and cities are taking different approaches to reach the same goal: to offer good services to their citizens.
For this to succeed – and for projects at the metropolitan level to have a greater likelihood of succeeding despite the complexity caused by the many authorities involved – panel moderator Michael Farley of the School of Management and Law said that three requirements should be met: "There needs to be a willingness to break with conventions and take different paths. Public and private sector organisations as well as non-profits and other organisations must also be willing to cooperate. Finally, it requires an ongoing commitment to meet the needs of residents."
User-oriented building design for sustainability and energy efficiency
The second ZHAW event focused on Lean Design and Facility Management. Antje Junghans, Head of the Institute of Facility Management (IFM) at the ZHAW, and Iris Tommelein, Professor at the University of California, Berkeley, explained to the audience how lean management principles can be applied from the initial design right through to the operation of buildings, leading to more sustainable and energy-efficient real estate.
The 'lean ideal' takes into account all stakeholders and is intended to meet the needs of the client in the best possible way. "It aims to give clients what they want, without delay and without wasting resources," Tommelein explained. Junghans contributed the perspective from facility management: "In contrast to conventional construction projects, facility managers are involved from the very outset in planning based on the principles of lean design and life cycle management."
General contractor DPR Construction has put this theory into practice at its San Francisco office. During a tour of the city's first net-zero energy building, DPR Construction's Andrew Arnold and Arundhati Ghosh showed how innovative building technology and IT-based solutions support sustainable building operation.
The event brought together students and representatives from politics, business and academia, and Junghans is looking forward to further international and interdisciplinary collaboration. "By incorporating lean design principles into facility management, we are creating knowledge that will enable us to contribute to greater sustainability in the construction and real estate industries," she said.
ZHAW well positioned in the field of data science
Rapid advances in the field of data science as well as new digital technologies are increasingly influencing all aspects of our society. These were emphasised at the event "Data Science and Beyond: Technical, Economic and Societal Challenges" by experts from the ZHAW School of Engineering, San José State University and the University of California, Berkeley, who demonstrated, for example, how machine learning can be used to identify cancer cells or how data science can be used to tackle cyber security issues.
Kurt Stockinger from the ZHAW Datalab also offered insights into data science trends as well as other applied research projects at the ZHAW. "The ZHAW can compete internationally when it comes to data science applications. One of our biggest strengths is our intensive collaboration with business and industry, which both raises new questions and offers innovative solutions," Stockinger concluded.
Following the presentations, Stephan Loretan of the School of Management and Law, Kurt Stockinger and Dirk Wilhelm, both from the School of Engineering, together with the experts from San José State University and the University of California, Berkeley, discussed the technological, economic and societal challenges facing us as a result of data science and new digital technologies.
When two cities meet
"Zürich meets San Francisco – A Festival of Two Cities" drew over 2,000 participants to some 25 events and succeeded in expanding and strengthening the economic, scientific and cultural exchange between the two metropolises. The festival in San Francisco was the fifth in a series of events organised by the City and Canton of Zurich and Zurich Tourism, which in previous years have been held in New York, Milan, London and Hong Kong.