A Win-win Situation for Students and Companies
Jeremiah Agboola has chosen the work-study Bachelor's degree programme (PiBS) at the ZHAW School of Engineering and is now regularly switching between university and professional practice. The PiBS work-study model is ideal for prospective students with an academic baccalaureate wishing to study at a university of applied sciences without first having to gain the required work experience.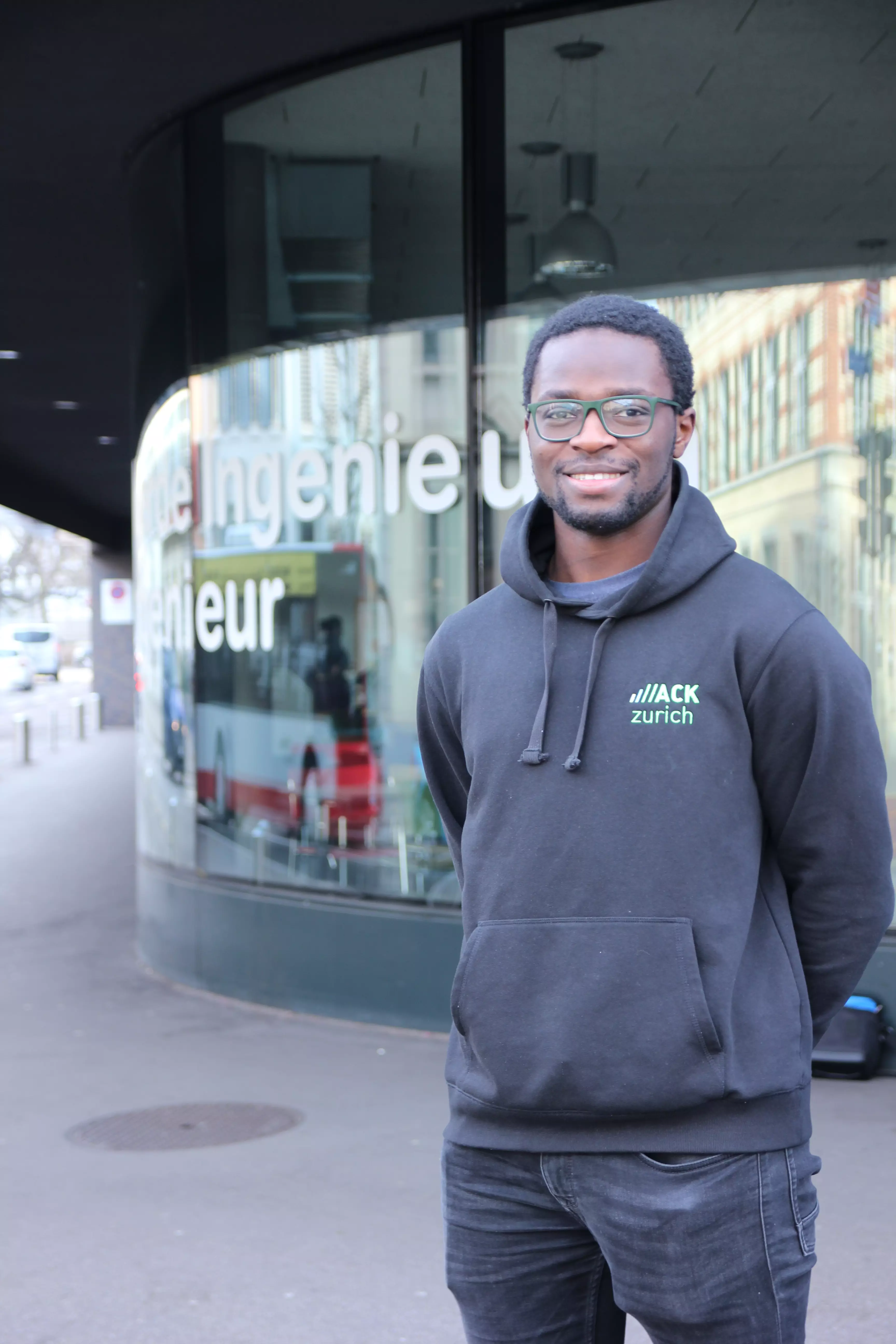 You would be hard-pressed to find even a trace of boredom in Jeremiah Agboola's calendar. Switching between studying at the ZHAW School of Engineering and working for a Zurich-based software firm defines the day-to-day life of this computer science student. Jeremiah Agboola chose the work-study Bachelor's degree programme (PiBS) at the ZHAW because he was primarily interested in the professional practice aspect of his education. "After my academic baccalaureate, I started studying computer science at the ETH. However, after a year I realised that this way of studying was not for me—it didn't have the practical relevance I was looking for." The work-study PiBS model was exactly what Jeremiah needed: professional practice is an integral part of its curriculum. Jochen Castellazzi, who is the Coordinator of the PiBS programme at the ZHAW School of Engineering, sees the main benefits for companies in the recruitment of young engineers: "With the work-study Bachelor's degree programme, companies get to know students early on in their careers, which means they can promote and train them as potential employees." Jeremiah Agboola has chosen the part-time option of the PiBS. This version of the programme takes four years to complete and consists of three days of study and two days of practical work in a company. In the full-time model, students complete their internship as a full-time work placement during the second or third year of studies.
"Among other things, I can apply a lot of what I've learned at ti&m in the project assignments at university, and vice-versa."
Jeremiah Agboola, PiBS student
When he is not in lectures, in the laboratory or in a seminar, the student works at ti&m AG in Zurich Altstetten and develops digital solutions for insurance companies, banks, administrations or transport companies. Most recently, he was involved in digitizing the naturalization process for the canton of Zurich. A major advantage of the PiBS course is that study and work have a positive influence on each other. "In project work, for example, I can use a lot of what I learned at ti&m during my studies, but also vice versa," explains Jeremiah Agboola. "A win-win situation for all parties involved," as Jochen Castellazzi sums it up. Nevertheless, practice does not save you from learning. "I can apply a lot of things at work, but I only learn the theory behind them during my studies," explains the IT student.
Entrepreneurial success with start-up PATON
Jeremiah Agboola does not know yet where his future career will take him. "I'm open to everything," he says humbly, even though he has already had his first professional success: together with his co-founders Raphael Schnyder and Frensi Zejnullahu, he won the 7. ZHAW Startup Challenge for their start-up firm PATON in May 2021. With a software-controlled call bell for patients, the team works towards improving the communication between nursing staff and patients.
After graduation, Jeremiah Agboola does not want to focus exclusively on the new start-up. "I will certainly continue my work with PATON," he clarifies, but adds that he also wants to gain more experience in other companies.
The work-study Bachelor's degree programme
For prospective students
The work-study Bachelor's degree programme (PiBS) combines professional experience and studying. It is ideal for young people with an academic baccalaureate who wish to start studying straight after finishing school, but without first having to do the twelve-month internship required for a traditional degree programme. Generally, the programme can be completed in four years and is available full-time and part-time. Learn everything about the work-study Bachelor's programme here.
For companies
Do you work in a company and would like to offer internships for the work-study Bachelor's degree programme? Find the necessary information and contacts here.