Institute of Embedded Systems (InES)
Distributed systems embedded in processes, also called Cyber-Physical-Systems (CPS), as well as industrial communications solutions, form the core competencies of the Institute of Embedded Systems (InES).
Thanks to their networking between themselves and the Internet, these systems make up the Internet of Things, which is increasingly pervading all spheres of life.
Our mission is developing products, implementing projects, transferring innovative solutions into practice and research.
For our industry partner we identify and optimise suitable technology solutions in the area of embedded distributed systems and ensure that you reach your goals rapidly, cost-efficiently and safely.
We place an emphasis on the following areas of research and development:
With its high-quality reference implementations, InES offers rapid and low-risk access to innovative and cost-effective solutions and an efficient technology transfer from research to the industry.
Bachelor's degree programmes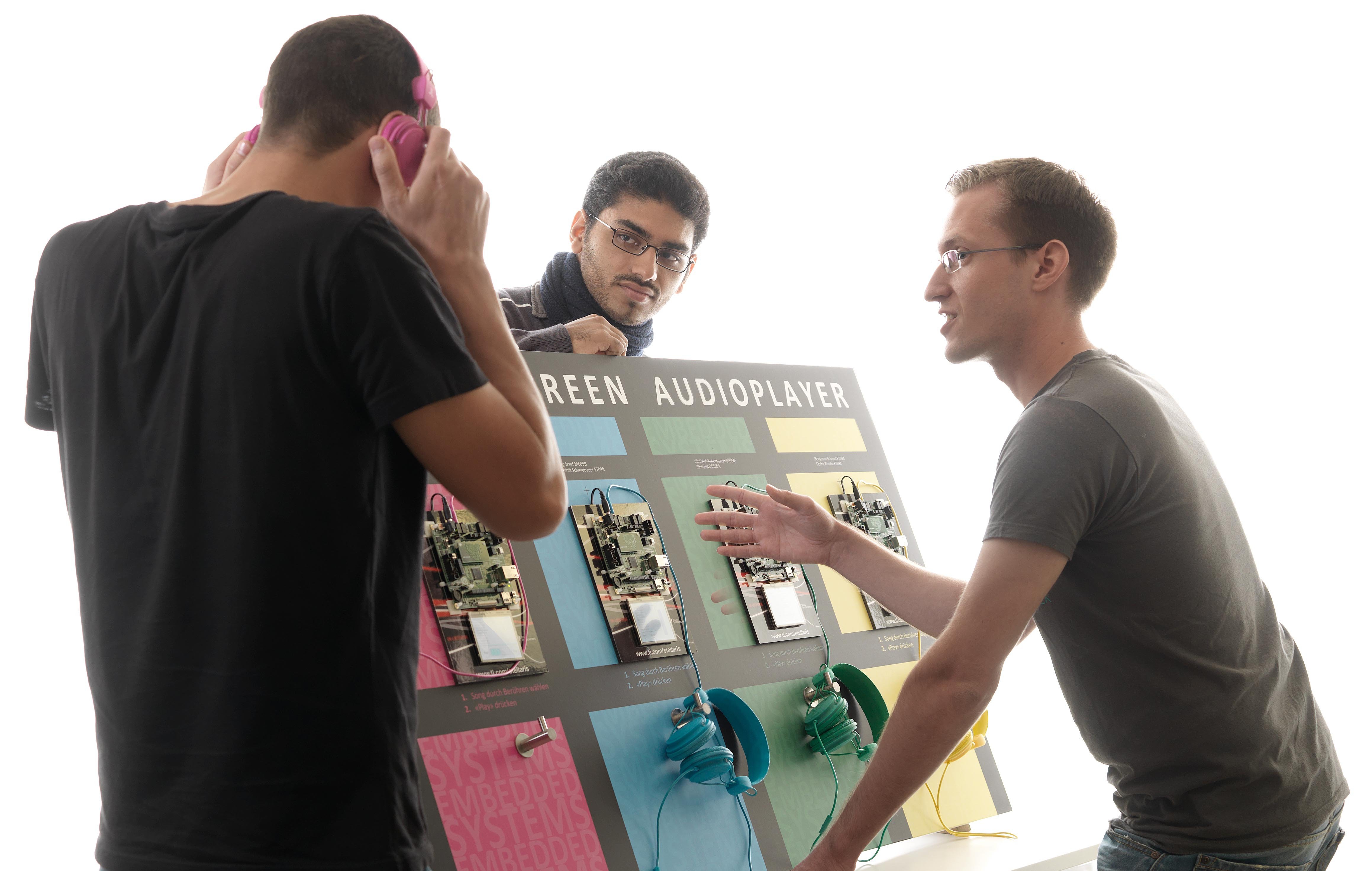 As a student at the Institute of Embedded Systems (InES), we transmit to you empirically established knowledge and solid theoretical foundations. You can independently combine both of these in our laboratories. We constantly update them to the latest technological standard, which we further by our research and development. Thanks to our close cooperation with industry partners, we understand their needs and adjust your education accordingly. Thus, already during your study you will collaborate with industry partners in the context of the project work and the Bachelor theses. In this you will be supervised by our lecturers who have vast professional experience in the areas of communication and information technology as well as outstanding scientific qualifications.
Our diploma and training modules pronounced practice as well as a sound base of engineering skills. To provide students with the skills needed by industry we provide modern labs with state of the art equipment. Project and graduate work we usually conduct in cooperation with industry partners. Beside an academic qualification our faculty has of broad experience in professional practice in the fields of computer science, communications and computer technology.
Our modules are offered in the following Bachelor courses of the School of Engineering: Computer Science, Electrical Engineering, Systems Engineering, Mechanical Engineering, Aviation and Transportation Systems.
Master's degree programme
Are you highly motivated and have you completed your Bachelor degree with very good marks? Then why don't you complete the Master of Science in Engineering (MSE) with InES? This course will enable you to focus on expanding your education in communication and information technology. As an MSE graduate you will be well prepared for a responsible position in the industry.
You can complete the MSE during full-time studies of 1.5 years or part-time studies (e.g. as a research assistant at the InES with 50 percent work hours) in a maximum of 3 years.
The part-time course along with an employment at the InES is especially appealing for students who wish to acquire additional professional experience. Thus you can gain professional working experience in research projects during your studies and collaborate with the industry.