Graduate profile: Aeronautical Engineer
Take off with a Double Degree
Many dream of becoming an aeronautical engineer. Dominic Thaler has made that dream come true and today develops electric-powered aircraft. His path to that career led him through a Double Degree Master's programme that the ZHAW School of Engineering offers in collaboration with Washington State University.
Dominic Thaler has a profession that many engineers can only dream of. "I develop electric vertical takeoff and landing (eVTOL) aircraft – air taxis, so to speak", he says, adding: "I am simply fascinated by anything that flies." He is a design engineer at Aurora Swiss Aerospace, where a new prototype is developed almost every year. From the conceptual sketch to the detail work and to an aircraft's maiden takeoff, Dominic Thaler is involved throughout the entire development process.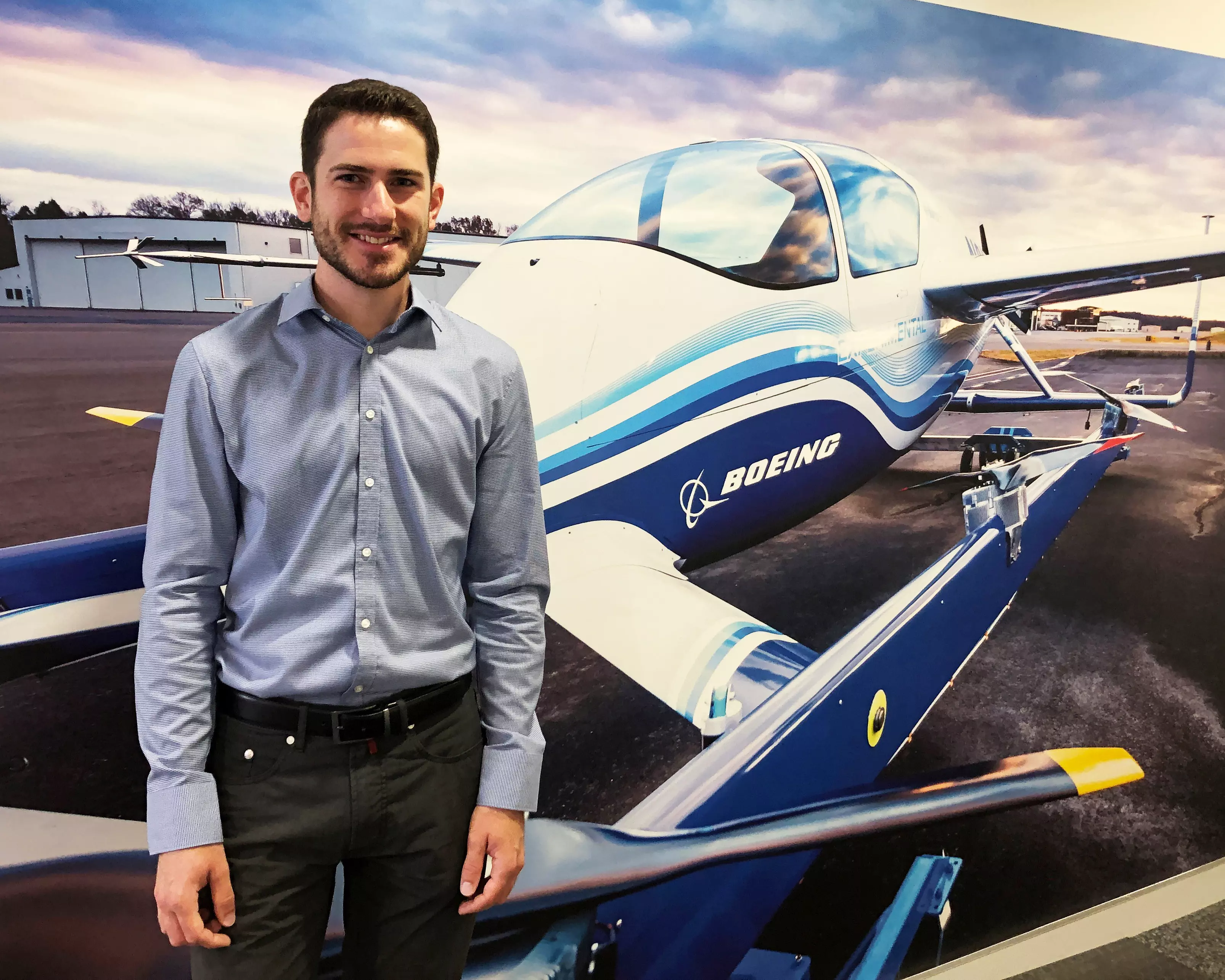 At the outset of his career, Thaler decided to train to become a watchmaker. "I had always been interested in engineering and mechanics. Assembling watches is fulfilling work that requires a lot of dexterity, precision and patience", he says. "But I wanted to unleash my creativity and to bring new things to life." The Mechanical Engineering programme at the ZHAW School of Engineering gave him the opportunity to do that. During the Bachelor's programme, Thaler was already increasingly engaged with the subject of lightweight construction. "But I wanted to go even deeper into detail and to understand the background science", the alumnus says. To delve more deeply into the subject matter, he afterwards opted to pursue a Master of Science in Engineering degree in Industrial Technologies.
Other countries, other university systems
Dominic Thaler already had a goal at that time. He wanted to work in the aerospace industry after completing his studies. "An excellent command of English is indispensable in the aerospace sector", he explains. "I therefore wanted to do an internship abroad or to study overseas." The ZHAW School of Engineering's Double Degree programme in partnership with Washington State University gave him exactly the opportunity he sought. Participants in the programme complete the first half of their studies in Switzerland. Dominic Thaler then spent the third and fourth semesters in the United States on the Tri-Cities campus of Washington State University, where he not only improved his English language skills, but also became acquainted with a different university system. "Probably the biggest difference is the much higher tuition in the United States, which is a common conversation topic and has a big impact on American society", he explains. The Tri-Cities campus is small and almost family-like, so students there have closer contact with faculty. A sense of community prevails there, that is strengthened by a variety of student organisations, recreational and sports facilities, and campus life. "Students at WSU come from a wide array of different countries and I got to know a lot of interesting people", Thaler says.
I learned a lot about intercultural communication in a module on the subject of global management"
Dominic Thaler
A tool for an international work environment
Dominic Thaler finished his student career in 2018 as the first graduate of the Double Degree programme. He then landed a job at Aurora Swiss Aerospace, a subsidiary of US-based Aurora Flight Sciences. "My language skills undoubtedly have given me an advantage", he says. After all, around two-thirds of his everyday work entails speaking English. But other curriculum content also benefits him in his international work environment. Aurora is an innovation center for the Boeing Group and its employees come from all around the world. "I learned a lot about intercultural communication in a module on the subject of global management", Thaler says and concludes: "The year overseas was a very good personal experience for me. I learned to adapt to a new environment and to flexibly address new challenges each day."