Zoom In: Saskia Bilang
Saskia Bilang is in her fifth semester of the undergraduate degree program in International Management at the ZHAW School of Management and Law. The 22-year-old talks about the highlights of her studies, project work with companies, and what the future holds.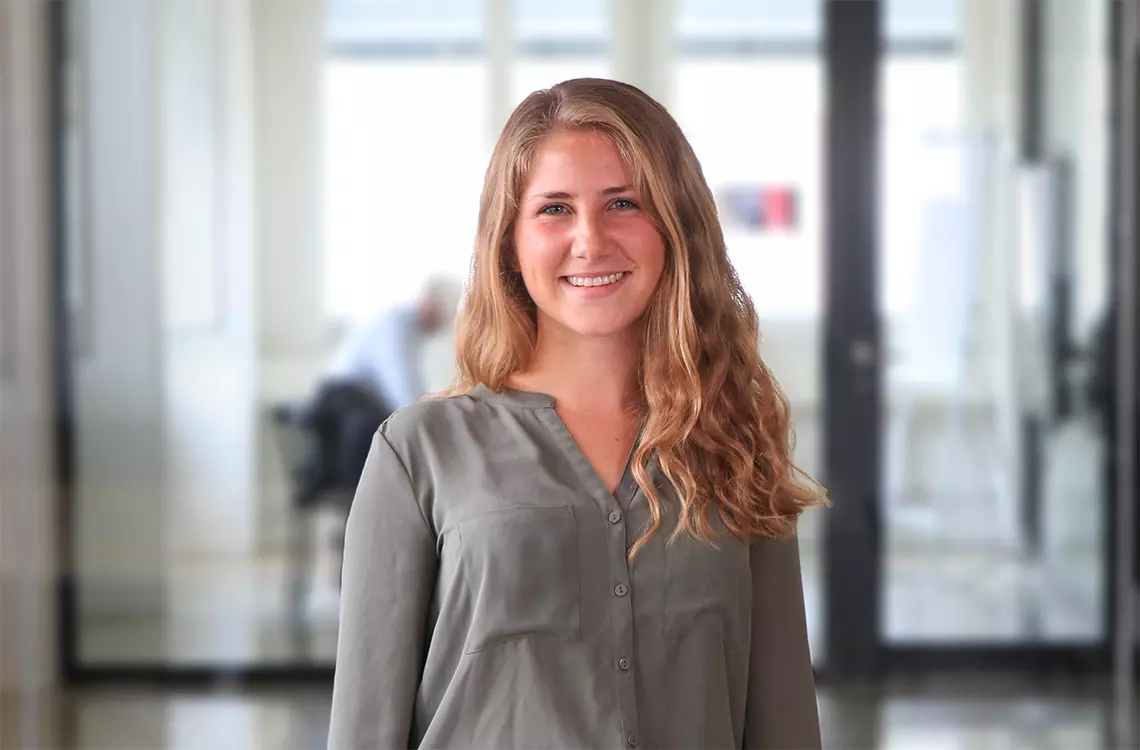 February 2020
You began your studies at the ZHAW School of Management and Law in 2017. What's your previous educational background?
I did a commercial apprenticeship at an event organization company while completing my vocational baccalaureate program. Afterward, I worked for that company for another year. During this period, I prepared intensively for the Cambridge Certificate in Advanced English (CAE) - this qualification is a prerequisite for admission to the Bachelor's program in International Management. Fortunately, I passed this exam before I went abroad so I was able to relax during my vacation.
As part of your studies, you carried out a consulting project with fellow students in the International Business module. What did your group have to do?
Our group worked for Estelle Wettstein, an aspiring Swiss horsewoman and athlete. It was our task to create a sponsoring concept to finance her sporting activities in show jumping and dressage and to find out what requirements multinational companies have for sponsoring top athletes. After our analysis, we also defined target groups for self-marketing and advised Estelle on how she could raise her profile further.
What were the highlights of the project?
When we started, we knew nothing about horse riding as a professional sport, so it was fascinating to learn more about that during our first meeting with Estelle. We met for the first interview at her farm, where she was training in dressage. This involved filming a video to raise awareness of corporate projects at ZHAW - we were also interviewed for this, which was unusual.

Another highlight was the final presentation of the project to Estelle and her family. They were very interested in our findings and really appreciated our work. In these group projects, I realized why I chose this course of study - because it is practice-oriented and offers real challenges!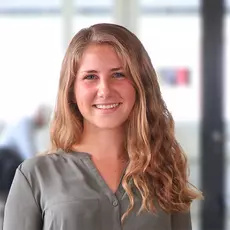 Why did you decide to study International Management at the ZHAW School of Management and Law?
Firstly, because the lessons take place in English, and secondly because there are plenty of realistic projects. You can also spend the second year of your studies at a partner university abroad, which gives valuable insights into another culture. I enjoyed that part very much.
What do you particularly like about your studies?
The structure of the program is ideal. In the first year, students acquire commercial and intercultural knowledge, which they can then apply in their second and third years - for example, in the various company projects. In these projects, we work in groups, so I've learned a lot about myself, which will undoubtedly be helpful for my future career. I also appreciate the fact that the lecturers have a lot of practical experience which they bring to the classroom.
What career opportunities are there after graduation?
There are many possibilities. First and foremost, we are prepared for a role in an international environment, which means opportunities to work abroad as well. On the one hand, I could work for a consulting company where the focus is on providing consulting services to other companies. Alternatively, I could work for an international company in strategy development, carry out consulting activities within that company, or oversee a successful market entry for a proven product.
In general, good analytical skills are required, and our studies prepare us specifically for international issues. Together with our excellent language skills and cultural understanding, we are well-equipped for the job market.
Can you recommend the program to others?
Yes, and I can recommend it especially to people who are extroverted and open-minded, who like to stand in front of others and work in groups, and who would like to study abroad for a year. You also have to be willing to acquire new knowledge in a short time and to leave your comfort zone from time to time.
Thank you, Saskia!